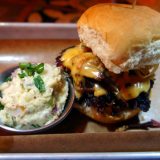 Brick's Smoked Meats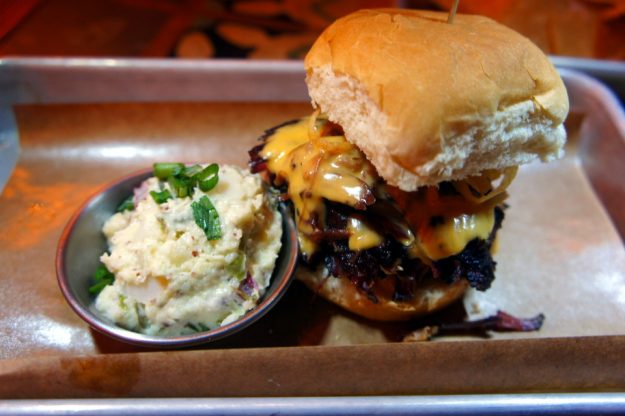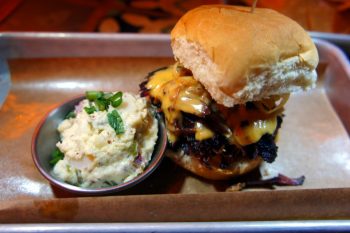 1528 East State Street Sarasota, Florida 34236
941-323-1942
https://brickssmokedmeats.com
View Photo Gallery
SRQ Reviews
on February 1, 2019
BBQ…it is a southern thing!
Perhaps no food type is more American and universally loved than BBQ. With its long haul origins firmly established in the South, BBQ has evolved with many variations, preferences, and styles.
With a late spring early summer 2017 opening, Brick's Smoked Meats brings Texas style BBQ to downtown Sarasota. Brick's offers the distinctive characteristics of Texas BBQ. In particular, slow smoked, dry rubbed brisket, along with other 'cue favorites. Brick's offers a timeous twist on traditional Texas favorites. Opened daily for lunch, happy hour, and dinner, the menus are large and include all the expected smoked meats, but does offer a limited number of vegetarian options as well as salads.
For our meals we chose the following:
Smoked Cauliflower: $4 HH
We love cauliflower so this appetizer held great promise for us. Unfortunately it did not quite meet expectations. The cauliflower was a bit dry and the texture a bit tough. The barbeque sauce helped a bit, but overall disappointing.
Texas Nachos:  $4 HH
The perfect companion to the house Margarita. House-made nacho chips. Heaped with avocado, pickled onions, queso, baked beans, guacamole, pulled pork. Perfect for sharing. Great value!
Bacon Burnt Ends:  Better than bacon.  $7.99
A definite treat…like caramelized candy. Sweet, chewy deliciousness.
Smoked Poblano Queso:  $4. HH
Another great bite for happy hour. Creamy and rich, with a little bit of heat.
Pitmaster Daily Slider:  Brisket with mac and cheese sauce.  $4
A very clever idea for happy hour. Great flavor combination. Another great companion to a frost craft beer and/or Margarita. A warm up for your meal.
Smoked Wings:  6 Wings, BBQ or Spicy $8.99
Meaty and moist; not overly spicy…finger licking good.
Avocado and Shrimp Ceviche:  $6
Don't be fooled by the look. It may appear as guacamole but it is definitely ceviche. With a nice kick.
Hill Country Cobb:  Romaine, chicken, house smoked bacon, black beans, egg, tomato, cotija, avocado, creamy tortilla dressing.  $10.99
Plentiful, fresh. Perfect for someone who prefers greens.
Brick's Burger:  $9.99
A non-smoked burger, unusual for a BBQ oriented menu. An outstanding version, cooked to temp, just the right amount of char. A winner!
Two Meat:  Ribs and brisket. $15.49 Includes 1 cold and 1 hot side. (We chose pit smoked beans and the red bliss potato salad.)
The dry rub formed a great coating. Very lean meat, but still very moist. No sauce required. Tad salty. The sides provided a great accompaniment.
Turkey Breast Platter:  $11.99 Includes ½ pound of meat and 1 cold side and 1 hot side. (We chose Lone Star caviar and State Street corn.)
Lone Star caviar is a bean salad, cool and refreshing. State Street Corn is creamy with a slight hint of heat.Turkey was a non-traditional 'que surprise to find on the menu. It was moist for turkey, not too salty. Great alternative to traditional 'cue.
Now offering some new and exciting additions to their menu! We tried them all:
Deviled Eggs:  Topped with USDA Prime Smoked Brisket, served with house made pickled red onions and finished with micro greens.  $7 
An amazingly great appetizer to share.  We love deviled eggs and this was definitely an attention grabber. Keto friendly.
Butcher's Board:  Cold Smoked Salmon, Bison Sausage, Bacon Burnt Ends, Toast Points, House Pickled vegetables, Pimento Cheese and Sun-Dried Tomato and herb cream cheese.  $17
A charcuterie board which is beautifully presented and delicious in every way. A great sampling of flavors. Perfect for sharing with friends!
Chophouse Salad:  Iceberg, diced tomatoes, bacon burnt ends, house made bleu cheese dressing and croutons.  Large  $11 Side  $5.50
The perfect customization of the traditional chophouse. Fresh, colorful, and full of sweet and tangy flavor. Loved it!
Cedar Plank Salmon:  Seared and finished on a cedar plank then glazed with a honey citrus ponzu.  $18
A definite winner!  We were not sure what to expect. Perfectly prepared, moist and flavorful.
Rotisserie Half Chicken:  Brined and then rubbed with herbs and our sweet heat seasoning. $17
Oh my, so good.  Inside, the meat (even the white meat) was moist and the skin was crispy and full of flavor. Not an easy thing to pull off! Delicious.
Chicken Fried Steak:  Pounded cube steak battered and fried to perfection then topped with house-made country gravy.  $14
Classically presented. Not one of our favorites. But to be fair, we are not big fans of chicken fried steak.
Grilled 16 oz Bone-in Ribeye:  Fresh thyme, crispy fried onions, Himalayan pink sea salt.  $37.50
A top-notch rib-eye; juicy, cooked to temp, with great mouthfeel in every bite.
Apple and Pear Cobbler:  With smoked pecan maple ice cream.  $5
Sweet but not overly so. Very satisfying and a great way to end the meal. Ice cream was outstanding.
Brick's Smoked Meats offers a full bar service, an adequate selection of craft beer, wine, and soft drinks to accompany your meal. Their happy hour is perfect for a late lunch or early dinner or just drinks after work!
The Smoked Manhattan. #srqcocktails
Originally set up as a quick serve, open seating restaurant, Brick's has recently changed from open self service to hostess and table service. We think this change makes for a better dining experience. It is most welcomed. As a result, the service staffs are very friendly, fast, attentive, and efficient.
Southern comfort food served in a casual, relaxed, bright, and friendly setting. What can be better? Get your 'cue!
SRQ Reviews, the restaurant guide you need to find the best dining in Sarasota, Florida.
Try Brick's B-Fast Breakfast Sandwich! Only available Saturday mornings, 9-11, during the Farmers Market. Having a party? Tailgating? Group of friends coming over for the big game? Brick's can customize a catering menu that is just right for you. We attended a party which used this service and it worked out very well.
1528 East State Street Sarasota, Florida 34236