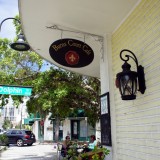 Burns Court Bistro (formerly Burns Court Cafe)
SRQ Reviews
on February 22, 2015
NEW OWNERS, NEW NAME. WILL REVIEW SHORTLY.
Burns Court Café: More than meets the eye…
With its quaint appearance and casual style, Burns Court Café began serving the Sarasota community a little more than three years ago.  A true European café, it serves pastries, sandwiches, salads, smoothies, quiche, soft drinks, coffee, beer and wine. With a unique, innovative and casual style, Burns Court Café quickly created a local presence in the neighborhood.
Since we favorably reviewed the café a number of years ago, we were pleased to learn of their plan to expand the physical space. The café expanded into the adjacent space about 9 months ago. Dubbed the "Burns Court Café French Quarter Wine Bar," the decor is musically themed, yet it maintains a quaint, cozy, intimate atmosphere. With live jazz music offered Wednesday, Friday and Saturday evenings, there's a distinct jazz-club feel at night.  (They are expanding the number of nights for music, so check their facebook page.)
The Wine Bar menu, which is available from 5 p.m. until close, offers a selection of appetizers, charcuterie, small plates, soups, salads, pastas and desserts. It's the perfect menu for sharing and tasting; we tried the following:
Cosmopolitan:  Prosciutto, gruyere cheese, greens and olive tapenade topped with eggs, sunny side up and served on marble bread.  $10

Savory and salty; silky texture from the egg; a very visual presentation.

Smoked Salmon:  House-made boursin cheese, tapenade, black olive and capers.  $9

Such a wonderfully creative presentation of a classic combination. Well done.

Duet Boursin:  Cheese and grape confiture.  $5

Sweet and savory. A fantastic combination of flavors and textures. This could be served as a dessert or appetizer.

Roasted Eggplant:  Tahini sesame, sliced boiled eggs and pickles.  $6 

Artfully presented, fresh and soft. A delightful combination of textures and flavors. Earthy, savory and silky.

Brie Melted:  Infused with roasted garlic and smoked paprika.   $5 

A smoky depth of flavor with a background hint of garlic. Not overpowering.

Mahi Mahi:  Artichoke hearts, sun dried tomato cooked in Sambuca, and side of rice.  $12

Sweet and salty. This was a different type of presentation than we expected. Instead of a fillet, there were small pieces of fish and artichoke hearts in a mélange rather than a sauced topping.

Black Pasta and Atlantic Salmon:  Cooked in tangerines, cream and rosemary.  $12

Creamy and sweet with a subtle tangerine aftertaste. Just the right amount of sauce — not too much, not too little. Perfect for a little bit of "baguette dipping."

Poppy Seed Creamy Pasta:  Prosciutto, asparagus and lemon zest cooked in truffle balsamic cream.  $12

A pleasing crunch from the poppy seeds. Al dente pasta topped with a tangy rich cream sauce.

Tahini and Maple Mousse:  $4.75

Small, but the perfect portion of sweet happiness. If you like the taste of tahini (sesame seed "butter"), like we do, you'll love this dessert. We had it with both a port wine and a chardonnay recommended by the owner. Fabulous pairings!

Tiramisu:  $6.50

One word: heavenly.

Nutella, Banana and Strawberry Crepe:  $9.25

It's large enough to share, but you won't want to. 

Gelato:  $5

What flavor haven't we tried? We think it's the best gelato in town.

Tarts and Tortes:  $6.50

We've had the apple normandy and almond. So delightful. Enjoy it with a cup of coffee.
As one would expect, the wine bar has an extensive list of wines by the glass and bottle. There's also a good selection of beers and soft drinks to accompany your meal. On music nights, the kitchen might be a bit backed up due to the influx of customers at the same time. That being said, we've never found it to be a service issue.
A wonderfully delightful café by day, Burns Court transforms into a hip jazz club at night. Creative cuisine, live jazz and delicious desserts — what could be better?
SRQ Reviews, the restaurant guide you need to find the best dining in Sarasota, Florida.
401 South Pineapple Ave.Sarasota, FL 34236