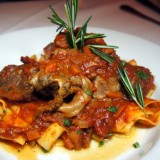 Cafe Amici
SRQ Reviews
on November 10, 2012
Come Home to Cafe Amici…
Located on Main Street in downtown Sarasota, Café Amici is a longstanding fixture in Sarasota dining.  With its understated presence, "Old World" style, and multi-generational family recipes, a visit to Café Amici is just like a visit to my Italian friend's home.  It is warm, comfortable, inviting, and always enjoyable.
Of course, no visit to an Italian friend's home is complete without an abundant selection of foods from which specialty meals may be prepared; Café Amici is no exception.  The menu is extensive, offering a wide selection of "Antipasti," Pasta, and "Second Piatti," which includes beef, chicken, veal, pork, lamb, and seafood.  Making a singular selection can be a tough decision.  For our meals we chose the following:
Insalata Mista di Campo:  Organic field greens salad served with tomato, onion and balsamic vinaigrette. $6.95
Very fresh and colorful presentation, perfect amount of dressing added a silky tanginess.
Arugula and Parmigiano:  Parmigiano cheese on top of organic arugula, tomatoes, sprinkled with balsamic reduction $7.95
A great combination of flavors, peppery, spicy, fresh, crunchy arugula offset with sweet juicy tomatoes, and a slightly salty cheese.
Antipasto Rustico:  Assorted Italian specialty.  $15
Very nice presentation. Wonderful shared beginning to our meal.
Mussels Marinara:  Prince Edward Island mussels sautéed with garlic and fresh tomato $12.95
Fresh, sweet, slightly chewy texture served with the right amount of sauce which is great for dipping some fresh bread.
Eggplant Rollatini:  Rollatini of eggplant stuffed with homemade mozzarella, ricotta, basil and topped with marinara sauce. $9.00
Tender, soft and chewy, a nice combination of distinctive eggplant flavor and sweet creamy sauce.
Polpette and Ricotta Salata:  Homemade meatballs with ricotta salata.  $8
They are flavorful…4 perfect small meatballs.
Beef Carpaccio with Truffle Oil: (Special)
Capellini alla Carbonara:  Pancetta, eggs and parmigiano.  $16
Gnocchi Arugula and Gorgonzola:  Dumpling potato served with gorgonzola sauce and arugula. $13.95
Perhaps one of the best gnocchi; soft, yet firm, "al dente," with a rich savory sauce.
Black Grouper:  Black grouper sautéed in a sauce of fresh tomatoes, olive oil, olives, capers, fresh herbs and spices with potatoes and vegetables. $28.95
Flaky fresh, sweet white fish with a briny, slightly tangy sauce, excellent combination.
Bronzini Mediterranean Sea Bass:  Grilled with lemon juice and olive oil over vegetables and potatoes. $28.95
A very simple presentation, sweet, tender and flaky.
Braciole and Orechiette:  Beef rollatini stuffed with garlic, parmigiano, parsley and slowly cooked, served with homemade orechiette; A Nonna Rita original recipe, $22.00
A traditional dish from Puglia; tender melt in your mouth beef, with layers of flavor and richness brought out by the slow cooked preparation.
Salmone and Artichoke:  Filet of salmon baked with artichoke, capers, olives, tomato, lemon and wine. $23.00
Good size portion, fresh fish, combination of veggies gave a salty/briney taste with a surprise ingredient: beets, which added an overall sweetness. Delicious.
Jumbo Shrimp:  Served with Fra Diavlo over organic vegetables. $25.95
Large, sweet shrimp over a bed of veggies with just the right amount of "kick" from the sauce.
Amaretto Cake:  $6.95
A soft, light, spongy yellow cake, with a delicious creamy almond flavor. Not very sweet, extremely satisfying.
Homemade Tiramisu: $6.95
Light and creamy, not overly sweet, balanced, one of our "faves."
Café Amici offers a full bar service, soft drinks, and a very nice wine list to accompany your meal. The wait staffs are truly warm, gracious, knowledgeable, efficient, and friendly. They make you feel right at home!
Café Amici may not physically stand-out due to its simple sign and muted street presence. However, the food and dining experience most definitely does. So, come home to Café Amici and visit an Italian friend.
SRQ Reviews, the restaurant guide you need to find the best dining in Sarasota, Florida.
Look for their Special Wine/Food Dinners. A few times a year, Cafe Amici puts on wine dinners which incorporate his families recipes with wines from his birth town.
1371 Main StreetSarasota, FL 34236