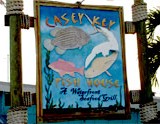 Casey Key Fish House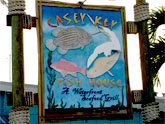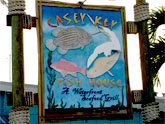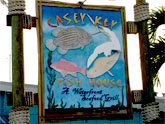 801 Blackburn Point Road Osprey, FL 34229
941-966-1901
http://www.caseykeyfishhouse.com
View Photo Gallery
SRQ Reviews
on April 26, 2009
Old Florida charm, waterfront setting, Tiki Bar, and fresh fish! That's the Casey Key Fish House!
Accessible by car at 801 Blackburn Point Road and by boat at marker 32 Blackburn Point Marina, the Casey Key Fish House serves some of the freshest seafood in a rustic nautical setting.  This is "laid back" casual dining but do not let the style fool you.  The food is fresh and cooked to order with daily specials listed on black boards strategically placed throughout the restaurant.
We chose the following:
House Salad:  Mixed greens with choice of dressing  $4.99
Caesar Salad:  Classic Caesar sans anchovies  $5.99
Seafood Pasta: Shrimp, scallops, grouper, and mussels with fresh basil tomato sauce, over angel hair pasta  $16.99
Black grouper:  Pan seared, black bean and corn salsa, mashed potatoes and carrots  $21.99
Ahi Tuna:  Pan seared, sesame crusted with fresh ginger, soy and wasabi dressing  $19.99
Since this was our first time visiting, we were not sure what to expect.  We found the rustic setting very appealing, but were a bit apprehensive about the quality of the food.  We were not disappointed!  The food was fresh, colorful, cooked to order, and well prepared.  Since we were dining on a Sunday evening, the casual atmosphere served as the perfect punctuation for our weekend.
The Casey Key Fish House offers full bar service, beer, and wine. Also, if you prefer to bring your own bottle of wine, you may do so for $10.00 corkage.
If you are looking for fresh seafood, served in a very casual rustic setting, then The Casey Key Fish House should be on your list.
SRQ Reviews, the restaurant guide you need to find the best dining in Sarasota, Florida.
If you are dining outside or near the dock, take notice of the birds. Beautiful to look at, these birds know good food. You need to be aware when dining or you may find yourself sharing your meal with nature.
801 Blackburn Point RoadOsprey, FL 34229