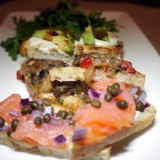 Chianti
SRQ Reviews
on November 20, 2013
Chianti Ristorante Italiano: Charming, Comfortable, Casual, Classic Cuisine
When I think of potential restaurant locations, a commercial condo office park is not the first spot which comes to mind. However, this primarily professional location at 3900 Clark Road, is home to the new Italian restaurant, Chianti. Located in the middle of this office park, the space was formerly known as J Ryan's on Clark and is just a couple doors down from Millie's Café. So, a restaurant in this space is not a total anomaly.
Although the overall space is large, the restaurant is nicely divided providing a small-scale dining experience. Bright and light on the outside, with dark rich wood, warmly colored walls, murals, large sized windows, a well sized bar area, and white clothed tables. The atmosphere is casual, comfortable, and inviting.
The menu at Chianti is large; offering a selection of appetizers, soups, salads, pasta, fish, meat, desserts, and daily specials. All of the items are prepared fresh daily by Chefs Al Massa (Michael's on East and Eat Here) and Edward Pizzuti (chef/owner).
For our meals we chose the following:
Polpo: Grilled octopus, fingerling potatoes, olives, capers, extra virgin olive oil and fresh herbs. $12.50
A wonderfully simple yet elegant presentation. Great texture and flavor…simply delicious!
Polpetti: House made meatballs in tomato sauce. (2) $6.25
Delicious, tender and soft meatballs just like Grandma used to make. Sauce was flavorful and light.
Bruschetta Trio: Choose three for $8.00 (Between our 2 visits, we tried them all!)
There are 2 pieces of bread of each selection.Beautiful presentation. Great for sharing before a meal.
Avocado burrata, dry cured olives.
Sweet and creamy, with a hint of brine.
Smoked Salmon mascarpone cheese, smoked salmon, red onions, and capers
Delicious, a great combination of flavors and colors.
Caponata eggplant, peppers, tomatoes, olives, capers
Smokey and savory with a hint of saltiness.
Prosciutto quince and mascarpone cheese.
Can you say sweet and salty? Great combo.
The classic mozzarella, basil pesto, diced tomato with garlic, basil, olive oil.
Wonderful colors and presentation, fresh and flavorful.
Gorgonzola cheese, honey, walnuts.
A tangy, sweet combination with a bit of crunch…very nice finish.
Tricolore: Radicchio, white endive, and wild arugula, lemon vinaigrette and grana padana. $8.75
A very fresh and colorful combination, a bit of bitter and tangy taste in every bite.
Spinaci: Organic baby spinach, heritage roasted beets, goat cheese, toasted walnuts, and blood orange vinaigrette. $9.50
A wonderful combination of flavors and textures from the sweet beets, tangy cheese, and crunchy nuts.
Chianti Salad: Assorted organic lettuces with house vinaigrette. $6.25
Fresh and simple, not heavily dressed, the perfect way to start your meal.
Carbonara: House made pappardelle, pancetta, egg yolk, parmigiano, onion, black pepper. $14.00
Fresh made, tender yet "al dente", pappardelle (my fave) with a rich creamy full of flavor sauce. The pasta held the sauce very nicely.
Pollo Valdostano: Chicken breast topped with prosciutto, spinach, fontina cheese. $19.00
Similar to a saltimbocca, this dish was moist, tender, and full of flavor. A tad salty but to be expected.
Galletto al Mattone: Cornish game hen, broiled under a brick, wine-herb reduction sauce. $19.00
Perfectly prepared and cooked, crisp skin, moist on the inside. Want to pick up the bones and eat every last piece of meat.
Chianti offers a full bar service with daily happy hours from 4:00-6:30pm. There is a good selection of Italian wines supplemented with options from California. We found the pricing to be reasonable. The waiters were attentive, but at times overly so, which came across as a bit pushy. We place this behavior in the "trying too hard" category and believe it will smooth out over time. In general, we found the wait staffs to be responsive and sincerely interested in making sure all was well with the dining experience.
With its large selection of classic Italian cuisine, warm and inviting atmosphere, and its slightly unusual location, Chianti is a restaurant you need to try. My hunch is once you go there, you will find yourself returning again and again. Buon appetito!
SRQ Reviews, the restaurant guide you need to find the best dining in Sarasota, Florida.
Great Happy Hour and Early Bird Specials! They do change, so, please call to confirm.
3900 Clark RoadSarasota, FL