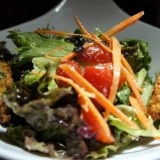 Clasico Café + Bar
SRQ Reviews
on December 1, 2013
Clasico:  The name might sounds Italian…
Although the name may look and sound Italian, Clasico Café + Bar is not an Italian restaurant. In fact, Clasico means classic in Spanish, which is a more apt description for the location, look, feel and the ambiance of this new — yet classic — spot in Sarasota.
Located at 1341 Main Street, at the corner of Main and Palm, Clasico opened its doors in February. Formerly the Sarasota News and Book store, then Cafe Palm, and now Clasico Café + Bar; this prime location has been carefully and completely renovated inside, while maintaining the yesteryear charm of the space. Black-and-white-tiled walls, large glass windows, greenery-covered outdoor walls, a prominent bar and sidewalk dining are just a few of the "classic touches" one feels when visiting Clasico.
The menu at Clasico is large, but not overwhelming. Offering appetizers, salads, sandwiches, entrees and desserts, there is definitely a number of options for both palate and portion preferences. For our meals, we chose the following:
Kale Caesar Salad:  Preserved lemon, parmesan and garlic breadcrumbs.  $9.00
Kale, the new lettuce, is fresh, soft, and very flavorful. A very nice salad.
Falafel Salad:  Baby lettuce, tomatoes, carrots, falafel croutons and tahini dressing.  $9.00
Very fresh; the tomatoes were so ripe, red and sweet. I loved the falafel shaped like a rectangular crouton! Very creative addition to the salad.
Caprese Salad:  Mozzarella, toasted focaccia, tomatoes and basil.  $9.00
Fresh, colorful and full of flavor, this type of salad is always one of my favorites.
Local Beet Salad:  Goat cheese and strawberry balsamic vinaigrette.  $9.00
Fresh, ample size — a great starter for a meal.
The Burger:  Pickled onions, garlic, mayo, and choice of Swiss, feta or white cheddar cheese on a kaiser bun. $12.00
Cooked to perfection, this burger had the right balance of outside "char flavor" and juicy flavor. My mouth is watering as I type.
El Cubano:  Mojo roasted pork, smoked ham, pickles, house mustard and swiss cheese.  $10.00
A very nice rendition of the classic Cuban sandwich. I must admit, I am very partial to the Miami Cuban, but this sandwich is pretty good.
Grilled Mahi-Mahi:  Basmati rice, pineapple salsa and mango drizzle.  $22.00
Vertical presentation. Vegetables in rice added both flavors. Visually, a very pleasing presentation. A tad too salty for me.
Seared Chicken Paillard:  Warm potato salad, arugula, tomato and bacon chutney.  $16.00
Very flavorful and an excellent value, especially since the arugula can be your "salad," plus an entree. However, the description could have been a little more accurate: the chicken (an ample portion) was breaded and the potatoes were roasted.
Cream Cheese Carrot Cake:  Spiced walnuts.  $7.00
An unusual and creative presentation: three thin slices of carrot cake. Moist, not overly sweet — the way we like it.
Clasico offers a full bar service with an adequate selection of craft beers, wine and soft drinks. The wait staff is very friendly, attentive and efficient.
When I think of a classic café, there are certain attributes I expect: a convenient location; a casual, relaxed setting; good food and drinks at reasonable prices; a fun, lively spot with extended hours, and perhaps some type of entertainment. So, the question remains, does Clasico Café + Bar live up to the implications of its name? In my book, the answer is yes; Clasico Café + Bar is a casually comfortable place to meet, eat, drink and have fun.
SRQ Reviews, the restaurant guide you need to find the best dining in Sarasota, Florida.
Always Happy Hour and Late Night special pricing!
1341 Main StreetSarasota, FL 34236