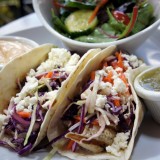 Clayton's Siesta Grille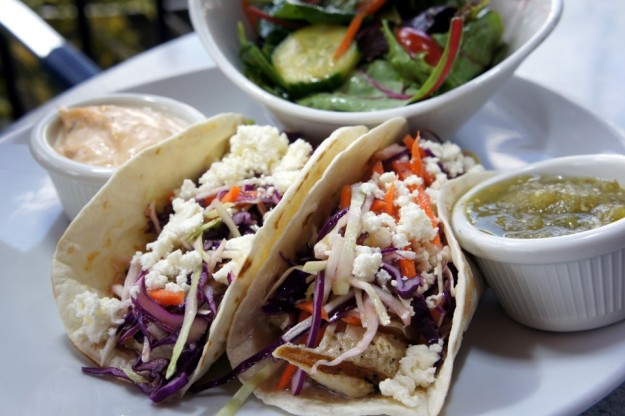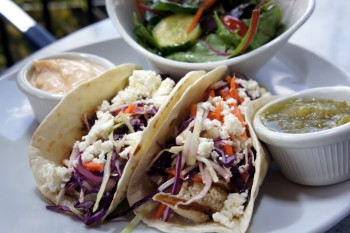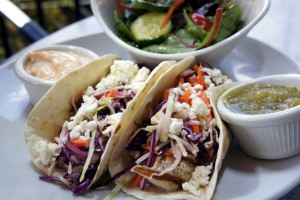 1256 Old Stickney Point Road Siesta Key, FL 34242
941-349-2800
http://www.claytonssiestagrille.com
View Photo Gallery
SRQ Reviews
on November 17, 2014
Clayton's Siesta Grill: A consistent, casual, island-style bistro…
For more than a decade, Clayton's Siesta Grill has been serving Sarasota locals and visitors its casually creative cuisine. Located at 1256 Old Stickney Point Road (near the Siesta south bridge), Clayton's provides a comfortably casual dining space. With a centrally situated bar area, booth and table dining and open-aired space on the covered porch, the seating options offer guests ample choice.
Solidly casual in style and appearance, Clayton's is focused on serving quality food at reasonable prices for breakfast, lunch and dinner. Breakfast and lunch are served from 8 a.m. to 2 p.m. Wednesday through Sunday, with dinner served nightly from 4 p.m. The menus are broad, offering a wide array of options. For our meals, we chose the following:
Old Fashioned Oatmeal:  With raisins and brown sugar and milk.  $5.50, With fresh fruit $6.50

Biggest bowl of oatmeal we've ever been served! Definitely enough to share between two people — maybe three. Very rich, creamy and luscious. Stick-to-your-ribs goodness.

The Sarasota (Omelet):  Spinach, tomato, avocado and Monterey jack cheese.  $8

A large portion of fluffy, light eggs and fresh baby spinach with a creamy texture and filling.

Pressed Cubano Panini:  Roast pork, ham, Swiss cheese, kosher dill pickle and local honey dijonnaise. Choice of side salad, fries, potato salad or pasta salad.  $10

A slight twist on the traditional Cubano. Nicely filled sandwich; not too thick or thin; pressed grill marks — a classic Cuban updated with dijonnaise. Fresh salad. Very tasty.

Mahi Mahi Fish Tacos:  In grilled flour tortillas with chipotle crema, cabbage slaw, cilantro, feta cheese and tomatillo red chili salsa. Choice of side salad, fries, potato salad or pasta salad.  $11

All fresh ingredients; a fully stuffed taco with subtle, mild flavors and a slight kick to the salsa.

Mixed Greens Salad:  Roasted grape tomatoes, julienne carrots, English cucumbers, feta cheese and balsamic vinaigrette.  Reg $8, Small $4

A very fresh mix of colorful ingredients. The small size is a perfect way to begin a meal.

Caesar Salad:  Romaine hearts, toasted garlic croutons, Caesar dressing and shaved parmesan.  Regular: $8, Small: $4 (add anchovies: $1)

Fresh and crispy greens with a well-made Caesar dressing. I like the idea of a small-sized salad to accompany the meal.

Funghi Brick Oven Pizza:  Roasted mushrooms, caramelized onions, fontina cheese, arugula and white truffle oil.  $13

A very thin-crusted, individual-sized pizza that's sweet, salty and garlicky. Perfect for sharing as an appetizer.

Macadamia-Nut-Crusted Grouper:  Shiitake mushrooms, baby bok choy, Yukon gold potatoes and mango-ginger vinaigrette.  $28

Grouper was firm and fresh. Vinaigrette added a wonderful depth of flavor to the fish.

Crispy Duck:  Five-spice roasted half duck, with sautéed sugar snap peas, dried cherries and red wine sauce.  $25

A simple, yet tasty dish. Moist, tender and crispy duck with a slightly sweet, slightly tart flavor from the sauce. Well-balanced and prepared.

With full bar service and an adequate selection of craft beers, wine and soft drinks, Clayton's offers a wide selection of beverages to accompany your meal. We found the wait staffs to be very friendly and attentive but not at all pushy. They were truly interested in making sure our experience was a pleasant one.
On our first visit to Clayton's we noticed a small cadre of regulars at the restaurant, which for us is always a good sign. On subsequent visits to the restaurant, our experience was very similar, which confirmed our assumption. Clayton's is the kind of place where you can go to time and again. It's a casual, understated restaurant, serving bistro-styled cuisine at reasonable prices — always a good formula!
SRQ Reviews, the restaurant guide you need to find the best dining in Sarasota, Florida.
Do you like breakfast "food" for lunch? This is the place! They serve breakfast until 2:00pm.
1256 Old Stickney Point RoadSiesta Key, FL 34242