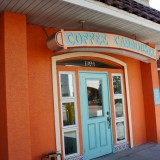 Coffee Carrousel
SRQ Reviews
on May 13, 2011
A Downtown Diner Reminiscent of Simpler Times
One step inside Sarasota's Coffee Carrousel (sic) and you will swear you took a step back in time.  An "old school" diner with Formica counter, vinyl tiled flooring, basic table and chairs, and even a manual cash register, the current owners of the Coffee Carrousel began serving breakfast and lunch to the Sarasota community in July, 1987.  Dare I say few things have changed over that period?
As one would expect, the simple décor is reflective of the menu options.  Standard breakfast and lunch items served in a no frills way, with prices which are also reminiscent of a bygone time.  For our meals we chose the following:
One Egg:  Served with choice of pan fries, hash browns, or grits, toast and coffee.  $2.75
Cooked just the way I ordered it, you add the extra butter in the grits or not…I like making those choices. The entire breakfast is the price of a cup of coffee in many restaurants!
Three Egg Cheese Omelet:  Choice of American or Swiss cheese. Served with choice of pan fries, hash brown, or grits and toast. $3.90
Griddle styled omelet, flat and folded served with flavorful pan fries.
Chicken Salad Sandwich Platter:  Chicken salad sandwich with French fries and cole slaw. $3.70 (sandwich) $1.75 (platter) $.15 slice of tomato
Tasty, basic chicken salad sandwich, good cole slaw.
Combo Plate:  Chicken salad, tuna salad and egg salad on a bed of lettuce with tomato and cucumber. $5.75
Egg salad was unavailable substituted pickled beets, fresh, tasty, just the right amount of food.
The Coffee Carrousel offers a range of soft drinks, coffee, and tea to accompany your meals.  We found the wait staff to be very friendly, attentive, and efficient.
The Coffee Carrousel a perfect place for a simple, no frills breakfast and lunch which is easy on your waistline and wallet!
SRQ Reviews, the restaurant guide you need to find the best dining in Sarasota, Florida.
A throw back in time…things were much simpler and prices were much lower.
1644 Main StreetSarasota, FL 34236