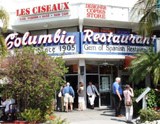 Columbia Restaurant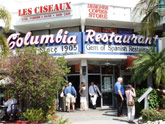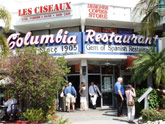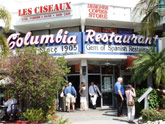 411 St. Armands Circle Sarasota, FL 34236
941-388-3987
http://www.columbiarestaurant.com/sarasota.asp
View Photo Gallery
SRQ Reviews
on July 1, 2009
Old World Experience, New World Taste
With its large presence, open aired setting, and multi-generational family owned/operated (for over 100 years), the Columbia Restaurant is a major anchor on St. Armands Circle.  Serving Spanish cuisine from 7 locations throughout Florida, the first impression might be "tourist trap".  True, some of the "tourist trap" attributes are present: large scale, multi-locations, always busy, and quick turnover.  However, this is no "tourist trap"!  Columbia bills itself as a "Gem of Spanish Restaurants" and we agree.
With an extensive menu, making a selection can be a challenge.  There are many tempting dishes to consider.  We chose the following:
Cuban Black Bean Soup:  Frigoles negros served over a bed of white rice and topped with diced raw Spanish onions.  100% vegetarian.  Cup $3.95 Bowl $4.95
Columbia's Original "1905" Salad:  Tossed at your table.  Crisp iceberg lettuce with julienne of smoked ham, natural Swiss cheese, fresh tomatoes, olives, grated Romano cheese and their famous garlic dressing (100 year old family recipe of fresh garlic, oregano, wine vinegar and Spanish extra virgin olive oil).  $8.95
The Original Cuban Sandwich:  Smoked ham, roast pork, Genoa salami, Swiss cheese, dill pickle and mustard on pressed hot Cuban bread.  Served with plaintain chips.  $7.95  Cuban sandwich and a cup of soup $9.95
*Includes Cuban bread service.
Due to our "tourist trap" first impression, we were somewhat apprehensive on the quality of the meal.  Our concern was a "cookie cutter", non-descript experience.  Upon our first taste, the concern immediately vanished.  The "1905" Salad is a MUST HAVE.  Prepared tableside, it is fresh, colorful, unique and most importantly, delicous!
With its long heritage, extensive menu, quality food, and old world experience, the Columbia Restaurant provides a memorable dining experience for all to enjoy.  Try it, you will not be disappointed.
SRQ Reviews, the restaurant guide you need to find the best dining in Sarasota, Florida.
If you want to try more than 1 specailty but are concerned about the large portions, order the Half and Half combo: Choice of two, one half of a Cuban sandwich, one half order of a Columbia's "1905" Salad or a cup of soup. $8.95. Great Value!
411 St. Armands CircleSarasota, FL 34236