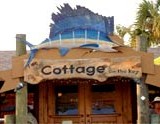 Cottage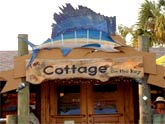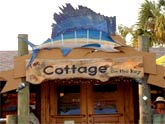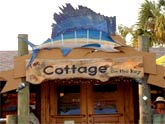 153 Avenida Messina Siesta Key, FL 34242
941-312-9300
http://www.cottagesiestakey.com
View Photo Gallery
SRQ Reviews
on June 16, 2011
Cottage has a new menu. We will be posting a new review shortly.
A Casual Beachy Feel with Serious Food and Reasonable Prices
The Cottage, located in the village of Siesta Key, is a small, casual, nautically styled restaurant. Offering 3 distinct dining areas: front deck/porch, wood paneled indoor dining room, and the backyard patio.  The Cottage projects a definite "I am on vacation!" feel; very relaxing. However, do not be fooled by the laid back attitude and assume the food is your typical beach bar basic.  It is not!
The Cottage's menu is innovative and has a creative style of blending various ingredients, spices, and cuisines that are apparent throughout the menu.  It is a Peruvian influenced menu, The Cottage offers a range of appetizers, salads, Ceviche, shellfish, sandwiches, and entrees.  The menu does offer something for everyone; however it is ideal for those of us that like to try a number of items and share.  For our meals we chose the following:
Cottage House Chopped Salad:  Spring mix and romaine lettuce with tomato, onion, avocado, cuzco corn, black beans and queso fresco with orange honey chipotle vinaigrette.  $9.99, add 5 shrimp $4.00
Large portion, very flavorful, mixture of textures, delicious.
Teriyaki Mahi Mahi Sliders:  Garnished with slaw, pickled ginger and wasabi mayo.  $12.99
Fresh and flavorful, a great combination of flavors.
Siesta Fiesta Caesar Salad:  Romaine lettuce, manchego, red onions, and plantains with rocotto dressing.  $9.99
Very fresh, a large portion offering a nice mix of flavor and textures.
Mixed Ceviche:  Fresh fish, shrimp, mussels, and octopus in Cottage yellow pepper lime juice with cilantro, red onions, cuzco corn skewer, and cancha and yam.  $14.99
Deliciously fresh, citrusy, with nice texture; summertime at its best.
Steamed Calms:  Eastern little necks $11.99
A delightful alternative to the longneck softer shell steamer, firm and briny, very nice.
The wait staff was very friendly, fast, and attentive.  The Cottage offers a full bar service, beer wine, and soft drinks.  In addition to the fine food and drink, Happy Hour is offered Monday through Friday 12-7pm with live music nightly.
If you are looking for a fun, relaxed, easy going type of place with some really interesting food, look no further than The Cottage.
SRQ Reviews, the restaurant guide you need to find the best dining in Sarasota, Florida.
Especially in season, The Cottage can get very crowded. Plan accordingly.
153 Avenida MessinaSiesta Key, FL 34242