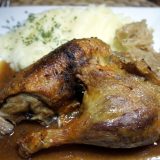 Cremesh European Restaurant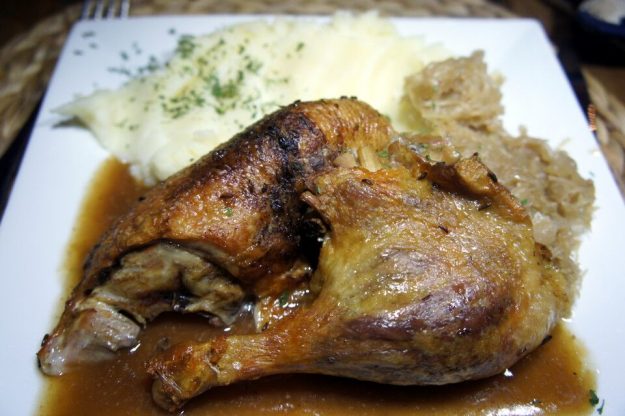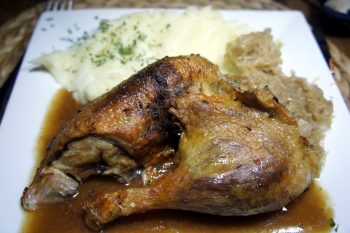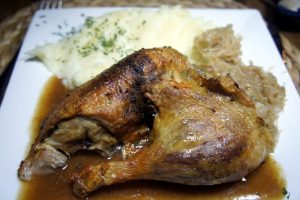 7232 Manatee Avenue West Bradenton, Florida 34209
941-896 9422
https://cremeshrestaurant.com
View Photo Gallery
SRQ Reviews
on March 4, 2019
The wonderful flavors of "Old World" European cuisine now in Bradenton!
Tucked into the northeast corner of a busy strip mall at 7232 Manatee Avenue West, one needs to be on the lookout for this hidden gem of a restaurant. Offering lunch and dinner service daily (Tuesday through Sunday) Cremesh offers a casual, unassuming, pleasantly charming dining locale.
"Made from scratch" is not trendy jargon at Cremesh; one of Bradenton's newest additions to the local dining scene. For Pavel Hasenohrl, Cremesh's chef/owner, it is a way of life. Chef Pavel's passion for quality is apparent in all his culinary creations. Combining years of in-depth, hands-on knowledge and experience, with fresh, high-quality ingredients; the menu offers a journey through Eastern European cuisine. Making a singular choice is often a dilemma. For our meals we chose the following:
Grilled Smoked Sausage:  Grilled bratwurst served with mustard, horseradish sauce and rye bread.   $9.00
When the waitress placed the plate on our table, the aroma was mouth watering. The bratwurst was very flavorful, the horseradish had an eye-watering kick and the rye bread deliciously house-made.
Bohemian Potato Pancakes: Three potato pancakes served with applesauce and sour cream.  $9.00
Three good size pancakes. Crispy on the outside, moist and stringy on the inside. Good comfort food.
Roast Pork: Slowly roasted pork cooked with garlic, onions and fresh herbs, and served with brown gravy. Served with your choice of 2 sides. We chose red cabbage and mashed potatoes.   $18.00
True European comfort food. This dish reminded me of my youth.
Tender mouth-watering pork with a rich, slightly salty gravy. Very filling and completely satisfying.
Beef Goulash:  Hunks of beef in a hearty paprika sauce, onion and tomato sauce. Served with your choice of 2 sides. We chose seasonal vegetables and sauerkraut.  $18.00
This is home comfort food that your grandmother would cook. The beef melted in your mouth. The paprika sauce was mild and added a great depth of flavor.
Soup of the Day:  Lentil with German sausage.  $4.95
Perfect for a chilly day! Thick, smoky, rich and filling.
Cheese, Bacon, and Tomato Grilled Cheese Sandwich:  $8.00
Served with warm German potato salad, bacon, parsley, a little bit of vinegar, no mayo. Choice of rye or white bread, both are house made. We chose white bread. Bread was thick, delicious butter for the toasting. Absolutely delicious. A classic. One of the best grilled cheese around. Filled with gooey cheese, thick bacon, and tomato. Toasted perfectly.
Schnitzel Sandwich:  Pork or chicken cutlets pounded and breaded, topped with pickles, German mustard, lettuce, tomato and sweet and spicy sauce.  $9.50
Served with warm German potato salad. Choice of house made rye or white bread. We chose rye bread. The bread makes the sandwich! Very filling. Great combination of flavors from the various ingredients. Real comfort food.
Roast Half Duck:. Slow roasted half duck served with rich dark gravy.  Entrees served with choice of makes potatoes, spatzle, German potato salad, rice, or pasta and your choice of fresh seasonal vegetable medley, sauerkraut or red cabbage. $27.00
Crispy on the outside, rich, moist and tender on the inside. The gravy added another layer of flavor and texture.
Stuffed Chicken Breast: Stuffed with spinach, ricotta cheese, and garlic. Entrees served with choice of makes potatoes, spatzle, German potato salad, rice, or pasta and your choice of fresh seasonal vegetable medley, sauerkraut or red cabbage. $20.00
The chicken breast was very rich creamy, lots of garlic and cheese in the sauce. Very filling.
Cremesh:  Vanilla cream pudding and fresh seasonal fruit between layers of puff pastry.  $7.50
The signature dessert. An absolute winner! We can see why he chose it for the name of his restaurant. Very light. Perfect.
Apple Strudel:  Apples and raisins in pastry, served with a scoop of vanilla ice cream.  $7.50
We LOVE Chef Pavel's apple strudel! When he had his former restaurant we would buy the strudel for our family celebrations. Our delicious memories came to life! Not too sweet. Firm and full of apples. Yum!
Cremesh offers an adequate selection of imported beers, wine, and soft drinks to accompany your meal. The wait staffs are super friendly, more than willing to guide and explain menu selections, and quite efficient.
If you are like us, that is, always on the hunt for new and exciting restaurants offering interesting, flavorful cuisine, then make your way to Cremesh. Discover one of Bradenton's hidden gems for dining.
SRQ Reviews, the restaurant guide you need to find the best dining in Sarasota, Florida.
Cremesh is the name of a delicious house-made dessert. Save room! (Also Chef's apple strudel!)
7232 Manatee Avenue WestBradenton, Florida 34209