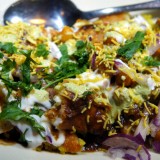 Curry Station
SRQ Reviews
on January 3, 2015
THIS REVIEW IS FOR THEIR OLD LOCATION, WE WILL UPDATE SHORTLY. (ADDRESS AND PHONE # LISTED HERE ARE CORRECT.)
Curry Station: A culinary adventure awaits…
The stretch of Washington Boulevard running north from Main Street to 17th Street is a real mélange of commerce. Mostly comprised of small strip-mall shopping centers, gas stations, banks, pawn shops, fast food and convenience stores, it would be easy to overlook some of the small ethnic mom and pop restaurants sprinkled about the area. This would be unfortunate for those who crave culinary exploration.
Exploring under-the-radar culinary experiences isn't for everyone. Oft times these spots have remained undiscovered for a reason, be it food quality, location, décor, service or various other issues. Nonetheless, every once in a while, we come across a place worth highlighting.
Curry Station is one such place.
Located in a small strip mall at 1303 N. Washington Blvd., Curry Station is a small, unassuming Indian restaurant. It's quiet with colorful décor and tables scattered in the dining room. The subtle aromas of Indian spices wafting throughout the restaurant immediately turns the focus to the food with great anticipation.
The menu is large and chock-full of both meat and vegetarian choices. It's the perfect place to share an authentic Indian experience with friends and perhaps try something new. We did exactly that on one of our visits. In fact, we asked the chef/owner to make some suggestions for us.
For our meals we had the following:
Naan Bread:  Freshly cooked bread in a Tandoori clay oven.  $2.00

Soft, warm and freshly baked. A great complement to any meal. We love naan!
Garlic Naan: Naan bread with minced garlic cooked in Tandoor oven. $2.99


Onion Kulcha:  Spiced onion bread.  $3.99

Naan stuffed with sweet onions adds a silky texture with a sweet flavor finish.

Samosat Chat:  Savory veggie samosas with tamarind and yogurt chutney.  $5.99

This was a very interesting appetizer: a combination of chickpeas, potato, fresh chilis, onions and yogurt. We ordered medium spiced, and it was not too spicy; it had a nice little kick. Lots of flavor, textures and very colorful.

Onion Bhajji:  Crispy fried onion in spiced batter.  $4.99 

A classic starter dish — tender, soft onions with a smooth batter, fried crisp and sweet.
Papadam: Lentil crisps served with tamarind and mint chutney. $1.99
Lamb Vindaloo:  Spicy goan style lamb cooked with red chili and spices.  $15.99


Lamb Sheek Kabab:  Lamb mince marinated with herbs and spices applied on skewer and cooked in Tandoori.  $16.99 

Served on fresh salad. Tender and very flavorful. This too was a unique authentic Tandoori dish: very satisfying, and it paired perfectly with an Indian beer!

Murg Mussalam:  A tender whole chicken cooked in rich onion tomato gravy from the city of emperor.  $14.99 

A very rich and creamy gravy that was silky and velvety smooth. The chicken was fall-off-the-bone tender, moist and full of flavor.

Aalu Gobi Matar Masala:  Potato and cauliflower curry flavored with onion and tomato gravy.  $12.99 

The potato and cauliflower provide a great flavor and texture combination. The dish had some spice but was not very spicy.

Daal Tadka:  Mixed lentils cooked with garlic and tomato.  $12.99 

One of the many vegetarian options available on the menu. Creamy with nice colors, subtle flavors and good accompaniment with other dishes.
We found all the dishes to be very well prepared, offering a nice balance of spice, flavor, textures and colors. We enjoy Indian food, and this restaurant stood out for its authenticity. In addition to its Monday-through-Saturday dinner service, Curry Station also offers a daily lunch buffet for $8.99. A small selection of beer, wine and soft drinks are available to accompany your meal.
The owner was very attentive, taking time to describe the dishes and make suggestions on items to try. This type of advice is always good for those unaccustomed to Indian cuisine.
So, if you are an aficionado of Indian food, or would like to add another cuisine to your dining palate, why not consider Curry Station? A great culinary adventure awaits you.
SRQ Reviews, the restaurant guide you need to find the best dining in Sarasota, Florida.
Lunch Buffet, $8.99! 11:30 am – 2:30 pm, Monday through Saturday.
3550 Clark RoadSarasota, FL