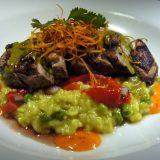 Darwin Evolutionary Cuisine
SRQ Reviews
on January 22, 2018
With a culinary lineage which includes Selva, Darwin's on 4th, and Darwin Brewing, Chef Darwin Santa Maria is doing it again!
In Sarasota, a name synonymous with innovation, creativity, ethnicity, and a quality dining experience, Chef Darwin is showcasing his talents once again. Located in a small strip mall on the South Trail, (4141 S. Tamiami Trail) Darwin's Evolutionary Cuisine is a small, casual, colorful, and tasteful dining space.
Staying true to his Peruvian roots, Chef Darwin melds traditional Peruvian cuisine with local ingredients and a twist in presentation. The result: a colorful, flavorful dish, where ethnicity and creativity combine to form a uniquely "Darwin's dining experience." The menu is large offering a range of starters, small plates, salads, and entrees. Although the menu has an ethnic bend, there are options for the less adventurous diner. In other words, there is something for everyone on the menu.
For our meals we chose the following:
Picada" Chopped Salad:  Spring mix, romaine lettuce, tomato, onion, avocado, chocio, black beans, queso fresco, orange chipotle vinaigrette.  $9
Full disclosure…I LOVE Darwin's chopped  salad.  Served chilled, it is the perfect blend of textures and flavors, soft crunchy, smooth, and wrapped in a citrus dressing.
Pulpo Causa: Octopus, salsa, criolla, avocado, black olive sauce, and beet potato causa.  $17
A beautifully plated, "work of art presentation." Citrusy, briny, a true melange of textures and flavors. One of my faves!
Crispy Pulpo:  With pine nuts, aji limo gastrique, pickled daikon, and la col rizada.  $19
Prepared as described, tender yet crispy on the outside (not an easy thing to do.) Nice char and color on the outside adding a little smokey flavor. This smokiness was complemented by the sweetness in the accompanying sauce. A great combination.
Camaron Ceviche:  Shrimp, mango, red bell pepper, jalapeno, seaweed, mango and orange marmalade.  $7
Sweet, tropical flavors and colors. Great crunch from the fried corn. A tropical escape from winter weather
Thai Shrimp Lettuce Wrap:  Chorizo Amazonico, peanut, cilantro, mint, spicy tamarind chutney.  $7
Refreshing, super moist, a 3 napkin handle, very juicy.
Chicken Rollito Peruano:  Creamy chicken spring rolls, guacamole and sweet chili sauce.  $6
Crispy, creamy, colorful, crunchy. A great classic starter!
Tuscan Kale and Wild Arugula Salad:  Ginger lime rocoto dressing, chili walnuts, parmesan, cancha.  $8
Creamy and crunchy, with a nice kick, fresh greens, the kale was very tender.
Arroz Con Pato:  Grilled duck breast, green pea and cerveza rational risotto, criolla roasted red pepper.  $24
Such a classic dish. Super moist, tender, with a creamy risotto base. Very rich and filling. A large portion easily shared. One of my "go to" dishes.
Darwin's Skirt Steak:  Grilled skirt steak, roasted sweet plantain, salsa beet criolla, Chimichurri.  $10
Another classic rendition. Simply grilled, tender, with a nice contrast between the Chimichurri and the sweet plantain. Very satisfying.
"Shipibo" Patarashca Prawns:  Grilled prawns, stewed spicy tomatoes, chorizo wrapped in banana leaf and coconut rice.  $26
Nice presentation, prawns were moist. The rice was sweet and delicious…almost like a pudding. Even though there was some spice/heat, it was not at all overpowering and the flavors came through deliciously.
Malbec Braised Short Ribs:  Truffle chive risotto, crispy yucca.   $26
Tender and rich. Very filling. Another plate easily shared between two people.
Darwin's offers an adequate selection of wine, local craft beers, and soft drinks to accompany your meals. We found all the service staffs to be very friendly, knowledgeable, ready to assist in answering any menu questions, fast, and efficient.
If you are a lover of food, a culinary explorer, or someone just looking to try something new and exciting for dinner, Darwin's Evolutionary Cuisine should be on your list. With a dining decor casual in outward appearance, plates detailed in presentation, and food exquisite in taste, the evolution of Chef Darwin Santa Maria continues.   
SRQ Reviews, the restaurant guide you need to find the best dining in Sarasota, Florida.
One of the most delicious deals in town! Darwin's Happy Hour Monday – Saturday 5:00 – 7:00. In addition, on Friday and Saturday nights, from 10:00 until closing, Darwin has a Late Night menu (similar to his HH menu).
4141 S Tamiami TrailSarasota, FL 34231