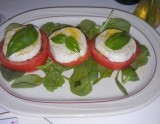 D'Corato Ristorante (formerly Bellagio Ristorante)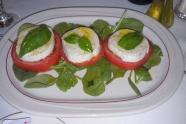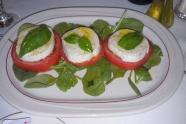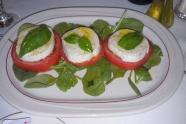 322 South Washington Boulevard Sarasota, FL 34236
941-330-1300
http://www.dcoratoristorante.com
View Photo Gallery
SRQ Reviews
on May 16, 2012
Bellagio has recently changed its' name to D'Corato Ristorante.  We will be updating our review.
Bellagio Ristorante: An Unexpectedly Delightful Dining Experience

If there is any truth to the old saw "You can't judge a book by its cover", then the culinary corollary might be "You can't judge a restaurant by its outward appearance."  This is most definitely the case at Bellagio Ristorante.  Located on a small stretch of South Washington Boulevard (Rt. 301) south of Ringling Boulevard, dotted with small shops and tucked back from the street, the front entrance to Bellagio is small and unassuming.  If one were not specifically looking for the restaurant, it could easily be overlooked.  However one step inside and any preconceived notion you may have begins to transform.  The décor is casual, warm, inviting, simple yet tasteful; clearly a prideful family run restaurant.  White linen table clothed tables with a simple vase and flower add a nice little "touch."
Although the menu is large in its offerings, it is neither overly extensive nor overwhelming.  In fact, the menu offers a range of appetizers, salads, pasta, seafood, chicken, and veal with the latter two similarly prepared.
For our meals we chose the following:
Romana:  Bellagio's version of classic Caesar topped with homemade dressing and parmigiano reggiano.  $6.95
Fresh and crisp, nicely dressed, flavorful.
Enzo:  Fresh mixed greens, orange, served with house dressing.  $6.95
Nicely presented with bread sticks, ample amount of salad greens, the oranges gave it a refreshing lightness with a basic balsamic for dressing.
Caprese:  Vine ripe tomatoes with fresh buffalo mozzarella, fresh basil, and extra virgin olive oil.  $9.95
Delicious tomatoes with fresh mozzarella and topped basil from the herb garden out back, and served over a bed of baby spinach.
Mixto Italiano:  Mixed vegetables grilled (eggplant, zucchini, mushrooms, peppers, garlic with extra virgin olive oil).  $9.95
A large sized appetizer easily shared by 2, well prepared and presented.
Farfale:  Farfale pasta, mixed vegetables, garlic in a Light pink cream sauce and fresh mozzarella and parmigiano reggiano.  $15.95
A very large sized portion, nice color and presentation, rich with cheese, very filling, had some to take home which is a rare occurrence for me.
Di Mare:  Shrimp, clams, mussels, and calamari sautéed in garlic, extra virgin olive oil, and white wine with a touch of marinara sauce, spicy or mild served linguini pasta.  $19.95
Good size portion, fresh seafood, slightly spiced just the way I requested.
Barece:  Grouper sautéed with garlic, extra virgin olive oil and lemon butter sauce served with fresh vegetables.  $19.95
A very nice sized portion of fresh fish well prepared.
Saltimboca:  Sautéed veal scaloppini topped with prosciutto di parma, fresh mozzarella, mushrooms and fresh tomato in a homemade demi-glaze served with fresh vegetables.  $19.95
A large sized portion with the right amount of cheese and prosciutto, beautiful blend.
Veal Marsala:  Sauteed veal medallions in a marsala wine sauce with mushrooms, served with fresh vegetables.  $19.95
Three tender pieces of veal, well sauced, melt in your mouth goodness.
Forestiera:  Chicken breast sautéed with mushrooms and topped with our homemade demi glaze, served with fresh vegetables.  $19.95
Ample portion size, a richness of flavor.
All of the dishes tasted were served on oversized plates with ample portions and simple presentations with focus on the food.  The bread was warm, fresh, and served with an herb seasoned olive oil for dipping.  Although the wine list is not large, it is adequate, offering a range of choices.  Clearly a family run operation, the wait staff consisted of 2 brothers working in tandem with their parents overseeing operations in the back.  We found the staff to be fast and efficient.
Finding Italian food in Sarasota is not a difficult task. However discovering an Italian restaurant slightly different from most is not as easy.  Bellagio Ristorante, a casually simple, family owned and operated restaurant is waiting to be discovered.
SRQ Reviews, the restaurant guide you need to find the best dining in Sarasota, Florida.
If you are offered the home-made limoncello at the end of your meal…don't turn it down! It is delicious!
322 South Washington BoulevardSarasota, FL 34236