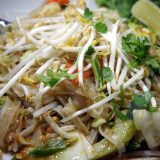 Drunken Poet Cafe
SRQ Reviews
on November 14, 2018
Simple, Quiet, Tasty Thai on Main Street in downtown Sarasota!
When looking for a respite from the busy hustle bustle of seasonal downtown Sarasota, The Drunken Poet Cafe is the perfect venue. A quiet, unassuming restaurant location with dark woods, tastefully decorated, simple, casual, and comfortable. The Drunken Poet provides a warm welcome with seating in the dining room, at the sushi bar, or outside cafe style under the awning on the sidewalk.
With a broad selection of soups, appetizers, vegan selections, entrees, and noodle dishes, the menu is large and offers something for everyone. In fact, there are so many appealing options, we suggest ordering a few, sharing, and then taking home the leftovers.
For our meals we chose the following:
Thai Salad:  Marinated grilled chicken breast, egg on a bed of mixed greens with tomato, cucumber, carrot, red cabbage, and red onion served with our homemade peanut sauce.  $12.95
A great lunch salad! Fresh, colorful, and crisp.
Sexy Man Roll:  Tuna, avocado, tempura eel and sexy sauce.  $14.00
One of their specialty rolls, colorfully creative, an interesting presentation, great appetizer to share.
Shrimp Sashimi:  $6.50
Spicy Tuna Roll:  7.95
Artistically presented. Spice level as ordered. Fresh.
Fresh Roll:  Steamed shrimp, chicken, fresh basil, cilantro, bean sprout, wrapped in rice paper, served with peanut dipping sauce.  $6.95
Very fresh! Crunchy, sticky, peanut-y. Certainly one of our faves.
Curry Puff:  Stuffed with sweet potato, onion and curry powder.  $7.95
A sweet, savory and slightly spicy option.
Hamachi Kama:  Grilled yellowtail collar, served with homemade teriyaki sauce and sesame.  $13.95
This is a beautifully presented dish. Crispy and meaty. Vinegar soy sauce, a nice complement.
Thai Spare Ribs:  Marinated ribs in garlic, served with sticky rice.  $23.95
Thai comfort food. Fall-off-the-bone ribs, filled with crunchy veggies, the broth brought all the subtle flavors together.
Broccoli and Shrimp Entree:  Sauteed with fresh broccoli, carrots and our delicious oyster sauce. Served with white rice.  $12.95
The vegetables were prepared perfectly; fresh, firm, not soggy, and full of tasty flavors.
Vegetable Pad Thai:  The most famous Thai noodle dish with egg, bean sprout and ground peanut.  $15.95
Chock full of fresh, crisp veggies. Sweet, silky and a little tangy. One of our favorites, this version is large and completely satisfying.
Pineapple Fried Rice (served in half fresh pineapple):  Wok fried with shrimp, cranberry, fresh pineapple, roasted cashew nut, croutons.  $19.95
An artistic, colorful, and creative presentation. Tremendous combination of flavors. A wow type of dish!
Lamb Shank King Massaman:  A complex secret sauce with potato, cardamom, tamarind curry (contains peanuts).  $20.95
Waffle cut veggies give nice mouthfeel. The sauce is rich, with layers of flavors, savory, earthy, slightly spicy, sweet.
Grouper Ginger/Basil:  Tempura style, steamed vegetables, ginger or basil sauce.  $21.95
It's a heavy tempura battered filet, which is very crispy and the grouper flaky and moist. Generous portion.
Chicken Stir-Fry:  With spicy basil (pad gra pow). Stir-fried sweet basil leaf, fresh garlic, and chili.  $16.95
Bright basil flavor. Good balance of flavors from peppers, onions, and chicken.
Farro Island Salmon Triyaki/Panang Curry:  Grilled salmon (sushi grade) steamed vegetables with homemade teriyaki/panang.  $21.95
Generous portion! Sweet, slightly, spicy, creamy, crunchy veggies, mild heat.
Thai Crispy Duck:  Choose tamarind or panang or chili.  $23.95
We chose chili. Beautifully presented dish, sizzling, steaming. Spicy, (we ordered a 3 on a scale of 1-5.) could have it even spicier. Duck is crispy on the outside, yet tender.
Vegetable Curry Kang Massaman:  A complex secret sauce with potato, cardamom, tamarind curry (contains peanuts). $15.95
Filled with broccoli, cauliflower, carrots, celery, cabbage, and potatoes. The curry very good, it is coconut sweet, a little salty from the peanuts and a little spicy.
Asian cuisine, especially Thai, tends to be simple yet elegantly presented, and full of flavors. The Drunken Poet Café met our expectations for such. The food was fresh, spicy but not overpowering, and simply presented for our enjoyment. We found our wait staff to be very friendly, attentive, and sincerely focused on making our experience pleasant. The Drunken Poet Café offers an adequate, selection of wines and beer.
A perennial Sarasota favorite, The Drunken Poet continues to provide all the dishes we crave while adding some interesting new ones for us to try.
SRQ Reviews, the restaurant guide you need to find the best dining in Sarasota, Florida.
1572 Main StreetSarasota, FL 34236