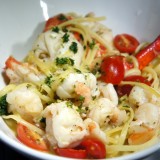 Duval's Fresh. Local. Seafood.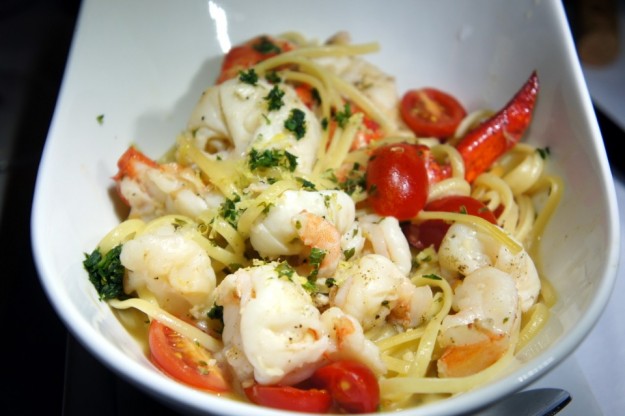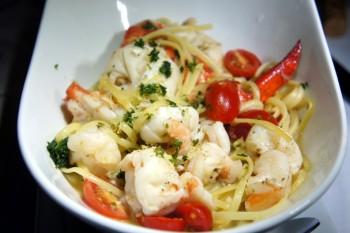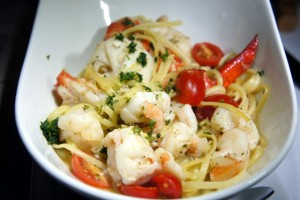 1435 Main Street Sarasota, FL 34239
941-312-4001
http://www.duvalsfreshlocalseafood.com
View Photo Gallery
SRQ Reviews
on November 10, 2014
Duval's: New name, newly remodeled — same great taste
Originally opened three years ago as Duval's New World Cuisine, we found Duval's food to be well prepared, flavorful, innovative and reasonably priced. Yet we always struggled to clearly and succinctly define the restaurant. Something was not quite right, but we were unable to put our finger on it. The menu was eclectic, with various flavors and dishes from around the world. There was a definite emphasis on seafood with a New Orleans overtone. So, describing the restaurant by cuisine posed a challenge: Cajun? No. Southern? Yes. Seafood? Not quite.
This concept of cuisine clarity was similarly manifested in trying to describe the restaurant's dining style. With an upscale yet casual décor, the restaurant was neither casual nor upscale in dining style. There was a definite disconnect between the quality of the food served and the visual setting of the restaurant. As such, the restaurant created another messaging dilemma. Many people, including myself, commented that they liked the food, but expressed general blasé regards for the décor. Something just was not right. To their credit, the Duval's team recognized these inherent obstacles. A comprehensive plan was developed that could be summarized in one word: transformational.
With a completely remodeled interior, the addition of a full bar and lounge area and an increased focus on the menu; the Duval's team aggressively addressed any concerns people might have. In fact, if you walk past the newly remodeled restaurant, you might not even recognize the place.
Even though the newly tweaked menu has a definite seafood focus, there are a number of options for the non-seafood aficionado. We chose the following:
Signature Salad:  Mixed spring greens tossed in raspberry vinaigrette with red onion, crumbled bleu cheese, cashews and grape tomatoes.  $5.50
A very fresh and colorful mix of greens; full of great flavors and textures.
Smoked Fish Dip:  Citrus-smoked white fish, cheese and fresh herbs served with grilled crostini and yucca chips.  $8.00/$5.00 (happy hour)
This is a great item for sharing while enjoying happy hour drinks with friends.
Grilled Cheese and Candied Pepper Bacon Sliders:  Served with creamy tomato bleu cheese soup.  $7.00/$5.00
Perhaps the ultimate comfort food. Great combination of textures and flavors. Outstanding!
Potato Croquettes:  Five cheese-potato croquettes fried golden brown and served with creamy tomato bleu cheese dipping sauce.  $6.00/$5.00 (happy hour)
A crispy, smooth mouthful of subtle flavors. A great accompaniment to any cocktail, beer or wine at happy hour.
Crispy Calamari:  Calamari, banana peppers and lemon flash fried golden brown and served with a zesty tomato sauce,  $10.00
Lightly fried, crisp and fresh with a great texture.
Famous Po' Boys:  Smoky ragin-cajun remoulade, crisp Napa cabbage and juicy roma tomatoes on a freshly baked French baguette served with your choice of flash fried.  Shrimp $12.50, Oyster $14.50, Chicken $10.00/$5.00 (happy hour)
We chose the oyster, which was outstanding — crispy and lightly fried with a little spice, but not overpowering. Great bread makes the sandwich!
Ocean Scampi:  Lobster, shrimp and linguini finished with lemon garlic butter sauce and diced tomato.  $25.00
A very nice presentation of seafood and pasta. The sauce was most definitely citrus-based, which was the perfect complement to the shellfish.
Signature Duo Salad:  Duval's signature salad featuring mixed spring greens tossed in raspberry vinaigrette with red onion, bleu cheese, cashew and grape tomato topped with our signature crab and shrimp cake.  $15.00
A colorful combination of flavors. Light, very fresh and the perfect plate for a light or late dinner.
The wait staff is very friendly, attentive, fast and efficient. There is full bar service and a good-sized wine list to accompany your meal.
With a stunning remodel of the restaurant, the addition of a full bar, new colors and intimate dining spaces, Duval's is poised to become one of downtown Sarasota's hot new dining destinations; perhaps a candidate for the "Comeback Restaurant of the Year" award.
SRQ Reviews, the restaurant guide you need to find the best dining in Sarasota, Florida.
/
1435 Main StreetSarasota, FL 34239