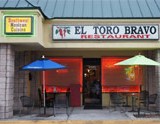 El Toro Bravo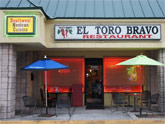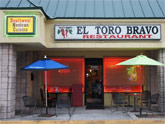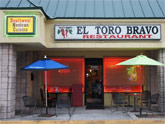 2720 Stickney Point Road Sarasota, FL 34231
941-924-0006
http://www.torobravoclub.com
View Photo Gallery
SRQ Reviews
on July 16, 2011
Una familia orientó el restaurante que servía el alimento mexicano verdadero…A family oriented restaurant serving real Mexican food!
We have been to El Toro Bravo many times, and like many things in life, it keeps getting better. The staff friendly and customer focused. The food pleasingly spicy, fresh, and well apportioned.
We were a group of six, so reservations were needed; especially in season. Upon arriving we were immediately seated; chips and salsa were ready for us at the table. The menu is extensive yet manageable being divided into specialty sections: Southwest Mexican, New Mexican, Mexican, and American. There is also a children's menu.
Our meals include the following:
Chimichanga: (non-fried) A flour tortilla with refried beans & ground beef, topped with melted cheddar cheese, green chile sauce, guacamole, sour cream, and served with salad.  $10.50
A large sized portion, cooked to order (no onions,)spicy but not overpowering.
Chalupa Plate:  Two crisp tortillas with refried beans, beef or chicken (we choose beef) with cheese, guacamole, served with a blanket of lettuce, tomatoes, and 4 cheeses.  $9.95
Also a good sized portion, fresh greens, very cheesy and tasty.
Acapulco:  Rolled enchilada, beef, chicken or cheese, (we had chicken), red or green chile sauce $11.25
Flavorful, spicy, a great balance of flavor and spice.
Veracruz:  The same as the Acapulco with an additional enchilada.  $12.50
See comments above.
Fajita Burrito:  Flour tortilla with thin strips of grilled, marinated beef or chicken sautéed onions and multiple colors of bell peppers, refried beans, topped with melted cheese, red or green chile sauce, served with rice and salad.  $12.95
A very colorful, flavorful presentation.
Monterrey Combination Plate:  Two rolled enchiladas, beef, chicken or cheese, red or green chile sauce. Served with taco, refried beans, rice and salad.  $10.50
A large portion of well spiced food with very flavorful sauce. Very filling.
How does one enhance quality food? At El Toro Bravo the answer to the question is add a friendly staff. Although it was a busy night, Chef Ruben's presence was felt in the dining room. Occasionally leaving the kitchen, Ruben would greet his customers and make everyone feel welcome and right at home. Su casa es tu casa. His house is your house. A small restaurant frequented by regulars, with a simple, colorful décor, and an extensive well priced menu, El Toro Bravo is sure to please gastronomically and economically.
With the proliferation of Mexican chain restaurants, finding authentic, homemade Mexican food is a rarity. El Toro Bravo is the real deal!
SRQ Reviews, the restaurant guide you need to find the best dining in Sarasota, Florida.
If you like the home made salsa (we did), El Toro Bravo sells a take home pint for $4.50.
2720 Stickney Point RoadSarasota, FL 34231