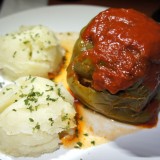 European Restaurant and Deli
SRQ Reviews
on January 26, 2015
European Restaurant and Deli: Discovering an unknown dinner spot…
Uncovering a little-known or unexplored Sarasota restaurant is one of the most rewarding aspects of writing about food. 
I recently received a lead from one of our readers regarding a small, authentic Hungarian restaurant, which she assured us was the real deal. Since she was Hungarian by decent, my interest was piqued. I immediately added the European Restaurant and Deli to my list of must-try restaurants.
Located in a small strip mall on the northeast corner of Procter and Swift, the European Restaurant has a subtle, unassuming presence, and it's really four businesses: a deli, a café, a specialty food store and a restaurant, all operating in one location with a common connection of Eastern European specialty foods. Even though there are multiple options for food, we were most interested in the dinner service.
As we entered the building, we noticed the deli on the left and a good-sized dining room on the right. The décor is simple, clean and unassuming. Comfortable seating, table-cloth-covered tables and subdued lighting add to the casually charming ambience.
Although the menu is small, there are many tempting old-world specialties and daily specials which make a singular selection difficult. Sharing entrees is definitely a good option. For our dinners, we chose the following:
Mushroom Soup:  16 oz. $3.99; 32 oz. $7.98 

A very generous portion of chicken-based broth with light cream. Very light and filled with mushrooms, potatoes and carrots.

Hungarian Goulash Soup:  $4.99 16 oz., $9.98 32 oz.  

Filled with tender meat, noodles and veggies. A wonderfully paprika-colored beef broth with layers of subtle flavor. It's hearty and quite filling.

Caesar Salad:  $4.95

A plate of fresh, crisp romaine lettuce with a garlicky dressing, homemade croutons and some nontraditional additions, like thinly sliced tomatoes and onions.

Pierogies:  Your choice of potato and cheese, meat, kraut and mushroom.  8 pieces $12.99 

We had a sampling of all three. Authentic, plump and firm, nicely filled with sweet caramelized onions and potatoes. These were a big hit with all at the table.

Stuffed Cabbage:  With mashed potatoes.  $12.99 

Just like my mother and grandmother used to make! Tender cabbage leaves rolled tightly, filled with moist tender meat and rice, covered with subtle tomato and brown gravy. A true winter comfort food; not too heavy but very satisfying.

Stuffed Pepper:  With mashed potatoes.  $12.99

A tender, very generously filled with a meat and rice combination. Cooked to perfection, the pepper was tender, yet firm and held its shape when cut with a knife. Flavorful.

Hungarian Beef or Pork Goulash Stew:  With nokedli (noodle dumplings.)  $12.99

We chose beef. Nicely browned, very tender bite-sized cubes of beef in a rich, slightly spicy sauce. Well-prepared, generous portion.
Although English is clearly a second language, communication wasn't a problem. We found the staff to be very friendly, polite, warm and welcoming. On one Saturday evening we were treated to a complimentary glass of Prosecco and a plate of Hungarian sausage and pogacsa (which we called Hungarian breadsticks).
The European Restaurant and Deli offers an authentic, home-style Eastern European dining experience without the frills, but with plenty of palate-pleasing and wallet-friendly food. It's the perfect place for a casual night out or for satisfying old-world comfort-food cravings.
SRQ Reviews, the restaurant guide you need to find the best dining and new restaurants in Sarasota, Florida.
The European Restaurant regularly posts their daily specials for the week on their Facebook.
https://www.facebook.com/pages/European-Restaurant-and-Deli/1416700718549623
2805 Proctor RoadSarasota, FL 34231