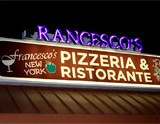 Francesco's NY Style Ristorante & Pizzeria
3664 Webber Street Sarasota, FL 34232
941-929-7600
http://francescospizzasarasota.com
View Photo Gallery
SRQ Reviews
on October 18, 2011
Family Friendly, Financially Fit, Flavorful Food…that's Fracesco's
Tucked into the middle of a strip mall on the corner of Webber and Beneva, it would be easy to miss Francesco's.  A "local's" type of place serving New York/New Jersey styled pizza, pasta, calzones, and salads in a casual yet somewhat up styled setting.
On any given night you will see families, couples, young and old, enjoying well prepared Italian specialties in this always active fast-paced restaurant.
For our meals we chose the following:
Asparagus and Artichoke Salad:  Fresh asparagus, artichoke, shaved Parmesan cheese, tomato and onion over mixed greens.  $8.99
A nice presentation of fresh ingredients, lots of extras not just lettuce.
Grouper Francese:  In a white wine lemon butter sauce with capers and asparagus.  $18.99
A very generous portion of fresh grouper, simply prepared and very flavorful.
Pasta Rustica:  Your choice of pasta tossed in a garlic light cream sauce with diced chicken, artichoke, roasted red peppers and sun dried tomato then topped with shaved Parmesan cheese and oregano to season.  $17.99
A very generous and hearty presentation, a nice blend of textures and flavor.
Borsellini di Pera:  Pasta purses stuffed with Granada padano, parmigano, provolone cheeses and fresh pear; tossed in a Marsala cream sauce with mushrooms and peas.
Served with mixed green salad $17.99
An elegant, artful presentation with refined flavor, very nice.
Francesco's offers an adequate selection of beer, wine, and soft drinks to accompany your meal.  Even though we were not "regulars" at Francesco's, we found the wait staff to be very friendly and attentive.
If you are looking for a casual Italian dining experience, which is family friendly, with good food for kids and adults alike, not to mention reasonable prices, then Francesco's is your place!
With food and service like we experienced, we just might become regulars!
SRQ Reviews, the restaurant guide you need to find the best dining and new restaurants in Sarasota, Florida.
Francesco's offers a number of nightly specials:
"Creative Tuesdays": Create you own pasta dish $9.99
"Wino Wednesdays": ½ off bottle of wine with 2 dinner entrees
"$10 perfect 10 Thursdays": Any size pizza, up to 5 toppings, for $10
3664 Webber StreetSarasota, FL 34232