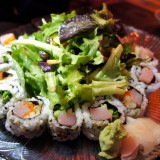 Goichi's Sushi Café
SRQ Reviews
on May 12, 2014
Goichi's Sushi Café: Not your typical sushi spot…

Located in a small strip mall on Bee Ridge Road, Goichi's is not your typical place for sushi. Open nightly, the space is tiny, seating only 1 to 15 people. Very casual in style, the restaurant is well lit but lacks a visible sushi bar. All of the meals are prepared in the back kitchen. A small board, near the door, lists the daily (Monday through Thursday) specials.
This is your "neighborhood sushi spot."For such a small location, one might expect the menu to be limited. While the non-sushi items are limited, the sushi options are extensive. Offering an array of rolls, nigiri, sashimi and special Asian salads, Goichi's is a go-to place for dining in or takeout.
For our meals, we chose the following:
Pork Gyoza:  $4.95

A simple presentation of dumplings. Tender.

Seaweed Salad:  $3.95

Fresh and colorful, nice dressing and a good-sized portion.

Vegetable Spring Rolls:  4 pieces,  $3.95

Great crunch, simple presentation and subtle flavor.

Ika:  Two pieces (nigiri)  $6.95

Two small pieces — fresh, love the texture.

Tako:  Two pieces (nigiri)  $6.95

Two small pieces. Nice color, firm, chewy texture — just the way I like it!

Crunchy Yellowtail Roll:  With masago, cucumber and tempura flake.  $6.95

Hamachi is one of our faves; fresh, with a nice flavor and crunch from the cuke.

Yellowtail and Scallion Roll:  $6.95

Such a great combination; nice flavor and texture.

Hawaiian Roll:  Tuna, salmon, avocado, mango and masago.  $6.95

How good is avocado in a roll? Really good; loved the combination of fresh ingredients.

Rainbow Roll:  California wrapped with assorted fish.  $9.95

A colorful presentation of this classic roll. Very nice.

Oomori Roll:  Smoked salmon and avocado.  $9.95

A creamy, soft-textured roll.

Arctic Roll:  Spicy tuna with cucumber and avocado.  $4.50

Another great combination of ingredients. Fresh, crunchy and full of flavor.

Tampa Roll:  Fried white fish, avocado and mayo.  $5.50

A nice mix of flavors and textures in this roll.

Spicy Yellowtail Roll:  $4.95

Spicy hamachi. Wow! Such a great flavor combo.

Mexican Roll:  Tempura shrimp and avocado.  $5.50

Love the crunch in this one. Given the name, it could be a little spicier for my taste.
Goichi's offers a range of beer, wine, sake and soft drinks to accompany your meal. The wait staff is very quick and efficient.
Can such a small place really offer fresh sushi? On our first visit, we wondered if it was possible. I think the answer is yes, and it has to do with volume. The prices are very reasonable, the tables turn over regularly and we observed a fair amount of takeout orders the times we visited. As a result, there is a sizeable amount of sushi turning over daily, which results in fresh ingredients.
If watching the sushi chef perform his or her magic or visually absorbing the artful presentation of sushi on the plate are important aspects of dining for you, then Goichi's is not the right place. However, if you are looking for a very casual neighborhood kind of place where the sushi is good, the selection is large and the prices are fair, then Goichi's Sushi Café is a place you should consider trying.
SRQ Reviews, the restaurant guide you need to find the best dining in Sarasota, Florida.

Weekday specials: Monday – Ramen Noodle, Tuesday – 3 Roll Expanded, Wednesday – Sushi Sampler, Thursday, Lava Roll
4563 Bee Ridge RoadSarasota, FL