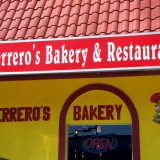 Guerrero's Bakery & Mexican Restaurant
SRQ Reviews
on May 5, 2016
Authentic Mexican Front and Center!
Guerrero's Bakery & Mexican restaurant is really 2 entities; Mexican Bakery and Restaurant operating within a singular location. The building, part of a small strip mall on the northwest corner of Webber and Beneva, can be easily overlooked. Although signage is visible from the street, Guerrero's is tucked back and not immediately seen. Parking is tight and, at times, limited but do not let that discourage you from trying this authentic Mexican restaurant.
If you are a fan of true, fully flavored, Mexican cuisine, then this place is for you. The menu is full of traditional Mexican dishes offering breakfast, lunch, and dinner daily. For our meals we chose the following:
Chile Relleno:  Two poblano peppers filled with Mexican Chihuahua cheese dipped in rich egg butter mixture to golden brown and smothered in our mild salsa ranchera.  $9.50
Large portion but not overly stuffed, mild flavors, nice egg batter, smooth to eat, cilantro garnish.
Tortas:  A torta is a kind of sandwich served on an oblong 6″ firm, crusty white roll called telera, similar to a Cuban sandwich, and filled with a variety of Mexican food and refried beans, mozzarella, tomato, onion, jalapenos, aguate and mayonnaise. Tortas de Carnitas (pork):  $6.99
Avocado, onions, great combination of flavors. Soft bun, crusty on the outside, very fresh. Pork is a tad dry. This is an oversized sandwich; very filling.
Fajitas:  Your choice of steak, chicken or shrimp with sautéed onions and bell peppers. Served with Pico de Gallo, guacamole, sour cream and your choice of corn or flour tortillas. (We chose chicken and corn tortillas.)  $12.99
Fajita lovers rejoice! This is the real thing! From the great grainy texture of the tortillas, to the rich full mélange of flavors from the chicken, peppers and onions. Very tender chicken. Another dish offering generous portions.
Enchiladas, Beef or Chicken:  Four corn tortillas rolled and deep in green, red or mole sauce, topped with sour cream, Mexican crumble cheese, onion and fresh cilantro. (We chose chicken and red sauce.) $9.50
Leveraging the skills from the bakery these fresh homemade tortillas are outstanding, generously filled with chicken and a mild sweet, slightly spicy sauce topped with fresh cilantro…a nice touch.
Burritos:  A flour wrap tortilla topped with melted cheese, red sauce, filled with beans, rice, and your choice of beef or chicken.  $7.99
The ultimate Mexican comfort food…soft, tender, creamy, and a tad spicy this dish is full of flavor and texture. Delicious and, once again, a generously presented portion.
Mole con Pollo:  Chicken breast topped with traditional mole sauce Puebla style, served with your choice of our home made corn or flour tortillas.  $9.50
I must admit, I love traditional mole sauce and this version certainly pleased. Very tender chicken with a deeply rich layered mole, dark, thick, with sublet flavors. My mouth is watering as I write this description.
Caldo de Mariscos:  Shrimp, octopus, oyster, crab, and fish soup with vegetables served with tortilla or bread.  $10.99
The perfect dish for cooler weather, this fully loaded stew is chock full of potatoes, carrots, and assorted seafood; the octopus was exceptionally tender. Served with fresh chopped onions, cilantro, peppers and lime.  The taste starts out relatively mild and not too spicy, but continues to build as more is consumed.
Guerrero's offers an adequate selection of beer, wine, and soft drinks to accompany your meal. The wait staffs are very friendly, quick, efficient, and always willing to assist you.
Over the years Mexican cuisine has become very bland and predictable. The freshness of ingredients and the spicy flavors homogenized. Guerrero's, on the other hand, stands out for its authenticity. The flavors, colors, and the dining experience are traditional Mexican cuisine; unique among Mexican restaurants in Sarasota.
SRQ Reviews, the restaurant guide you need to find the best dining in Sarasota, Florida.
3557 Webber StreetSarasota, FL 34239