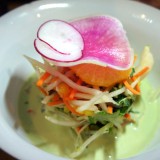 Ionie Raw Food Cafe
SRQ Reviews
on July 1, 2014
Ionie Healing Center & Raw Food Café: A holistic approach to dining…
Located at 1241 Fruitville Road, the Ionie Healing Center & Raw Food Café occupies an understated, casually relaxed type of building. If one were not looking for it specifically, he or she might easily overlook it. Offering a wide range of health and wellness classes, spa treatments and, of course, food, Ionie's approach to living life is holistic, integrated and complete. The food is just one component to a healthy lifestyle.
The Raw Food Café is located in the front of a Florida-style cottage. A small, intimate space inside with outdoor seating on the front porch, the setting is cozy and relaxed. A number of refrigerated cases line one wall, offering grab-and-go options for many of the menu items and some drinks. Offering raw, organic and vegan options, the menu is small but full of interesting items.
For our meals, we chose the following:
Chopped Salad: Chopped veggies, plus apples and berries tossed with a brazil-nut-ginger power dressing. $12.00
Truly a fresh, colorful bowl of greens, punctuated with crispy bites and tastes of sweet and tangy. The ginger power dressing was a great addition, adding a slight kick to the salad.
Pizza, Greek: Macadamia nut cheese, spinach, kale, olives, rosemary and lemon zest. $9.00
A very interesting rendition; crisp and colorful — a great combination of briny citrus flavor and an interesting mix of textures.
Garden Wrap: Pumpkin-seed pate, marinated spinach, carrots and onion, plus avocado, tomato and tomato pesto, all wrapped in a juicy collard leaf. $12.00
A wonderfully colorful wrap of wholesome freshness; a creamy, slightly crunchy experience in every bite. If you like garlic, you will enjoy this; the garlic flavor in the pesto comes through.
Buddha Bowl: Coconut soup of fresh ginger, green onion, jalapeno, dates and spinach, served over julienned carrots, bok choy, watermelon radish, daikon radish, basil, mint, cilantro, mango (when available), avocado, cucumber and grapefruit. $14.00
A signature dish, this beautiful presentation is quite impressive: colorful and visually appealing. Every mouthful was fresh and crunchy, with subtle ginger flavor throughout. Although listed as a soup, it was more a collection of fresh vegetables artfully stacked, served in a bowl and accented with some very tasty broth. One word: delicious!
Thai Noodles: Kelp noodles, veggie noodles of broccoli, carrots, cauliflower, red and white cabbage and cilantro in a creamy cashew ginger sauce. Yum! $15.00
One of my favorites; offering a nice mélange of colors, textures and, of course, flavors. The dish was not very spicy, and in my opinion, could use a little more kick.
As one would expect, Ionie's does not offer beer or wine. However, there is a good sized selection of juices, shakes, elixirs and smoothies to accompany your meal. The wait staff is super friendly, courteous, very knowledgeable and willing to take the time to explain the menu and make suggestions on items. Since the preparation of raw food does take some time in the kitchen, be prepared to wait some for your meal. If you know what you want to order, you can call ahead for takeout or dine-in service.
The movement toward a healthier lifestyle continues to grow and permeate our culture. Ionie Healing Center & Raw Food Café is a prime example. Although not exclusively an organic, vegan raw-food restaurant, it is a great spot for a healthy, nutritious and holistic meal — one part of a healthier lifestyle.
SRQ Reviews, the restaurant guide you need to find the best dining in Sarasota, Florida.

This is not a fast food restaurant. Everything is made to order, so your wait maybe a little longer than expected.
1241 Fruitville AvenueSarasota, FL 34236