Isan Thai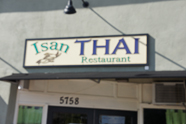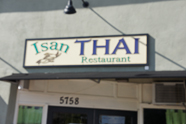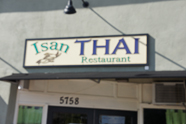 5758 South Tamiami Trail Sarasota, FL 34231
941-923-1232
http://isanthairestaurant.com
View Photo Gallery
SRQ Reviews
on January 22, 2013
A Taste of Northeast Thailand on the South Trail
Isan is the northeastern region of Thailand bordered by Laos, Cambodia, and separated from Northern and Central Thailand by the Phetchbaun mountain range.  Its food, distinct from Central Thai cuisine, often incorporates chili peppers, and is often served with sticky rice, a Northeastern Thai specialty.
Isan Thai Restaurant opened its doors to the Sarasota community in late February, 2012.  Located on the South Trail, Isan offers a small, simple, yet tastefully decorated dining area, with cozy Asian styled booths, a dining space to accommodate larger parties, and a couple of outdoor tables as well.  Simple and clean, an air of authenticity is sensed without even a glance to the menu or a taste of food.
The menu at Isan is extensive, offering beef, pork, chicken, duck, seafood, tofu and vegetarian options in a wide range of preparations spices and "heat."  As mentioned earlier, northeastern Thai cuisine is characteristically spicy.  However, Isan offers a range of spiciness from mild to "Thai hot."
For our meals we chose the following:
Fresh Roll:  Carrots, Thai basil, bean sprouts, lettuce and tofu wrapped in rice paper, served with peanut sauce.  $4.50
Simple, colorful, a fresh salad in your hands, the added mint made it very refreshing.  A great starter!
Crispy Duck:  Crispy boneless duck with steamed mixed vegetables.  $18.95
Everything cooked perfectly…the duck meat was rich, fork tender, and moist, the skin very crispy, the vegetables were colorful …a great mix of flavors, colors, and textures.  We ordered ours mild spicy.
Pad Thai Shrimp:  Rice noodles sautéed with egg, bean sprouts, ground peanuts and scallions.  $14.95
Not your traditional Pad Thai…simple almost monochromatic yet deliciously fresh…the noodles were firm and had an individual texture with fresh peanut taste.  The shrimp popped in your mouth.  We ordered our dish mild with hot sauce on the side but the request was lost in translation.  However, the dish was outstanding for spicy food lovers!  My mouth is watering as I write this description.
Krapow Chicken:  Thai basil, onion, red and green bell peppers and mixed vegetables.  $11.95
Snap fresh and crisp vegetables with a sweet and tangy flavor from the basil and onion.  Classic Thai blended flavor.  We ordered ours mild spicy.
Panang Curry Chicken:  Panang curry paste in coconut milk with mixed vegetables, chicken and ground roast peanuts, served with steamed jasmine rice.  $12.95
A favorite at the table!  A sweet spicy colorful sauce/broth filled with veggies and tender bits of chicken.  We ordered ours medium spicy.
Ped Phad Prik Geang:  Roast boneless duck with curry paste, Thai basil, and mixed vegetables.  $19.95
Dark, rich, and spicy…this is a hearty warming meal…perfect for a cool evening. We ordered ours medium spicy.
Krapow Tofu:  Tofu sautéed with Thai basil, onion, red and green bell pepper and mixed vegetables.  $19.95
A vegetarian version of the chicken above…the tofu was well prepared, firm, with a slight resistance and crunch upon chewing…a nice presented platter.  We ordered ours medium spicy.
Adding to the authenticity, all of our selections were served in a Thai green ceramic pot or platter.  The wait staff are very friendly and attentive but a times there were slight communication gaps; nothing critical, however, if you do have food allergies I would be cautious.  There is an adequate selection of beer, wine, and soft drinks to accompany your meal.
There are many Thai restaurants in the Sarasota area from which to choose.  Even though the range of experiences can vary from place to place, generally speaking it is hard to find something that stands out from all the others.  Look no further than Isan.  Its casual Thai elegance, slightly different menu, and its level of authenticity make it a stand-out amongst its peers.
I now have a new "go to" Thai restaurant.
SRQ Reviews, the restaurant guide you need to find the best dining in Sarasota, Florida.
5758 South Tamiami TrailSarasota, FL 34231