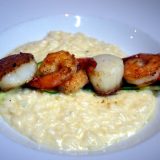 Italian Tradition, Restaurant and Martini Bar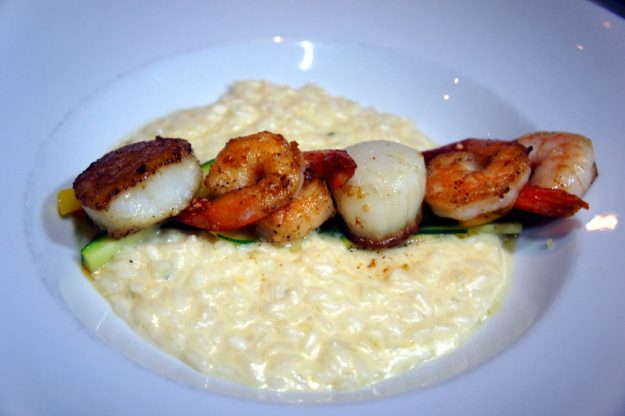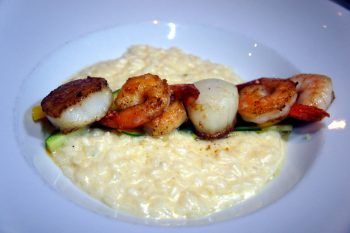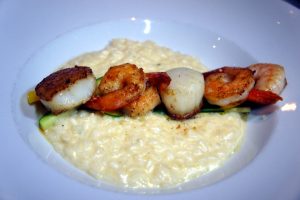 481 N. Orange Avenue Sarasota , FL 34236
941-706-1677
http://www.italiantraditionsarasota.com
View Photo Gallery
SRQ Reviews
on December 9, 2018
Casual Italian dining…upscaled!
With new shops and restaurants seemingly opening monthly, the lively and exciting Rosemary District in Sarasota continues to grow and evolve. A relatively new establishment to the Rosemary, (opened for a little more than a year.) The Italian Tradition Restaurant & Martini Bar, located at 481 North Orange Ave., occupies the former restaurant space of Pomona Bistro.
With 2 well-appointed dining rooms, a small understated bar, and a beautiful outdoor patio space complete with gas fireplace; the setting is unique, elegant, warm, and inviting. Carving a niche between casual and fine dining, Italian Tradition offers a welcomed twist on Italian dining in Sarasota.
The menu is tightly focused and as expected offers a range of traditional Italian starters, salads, pasta, and entrees. For our meals we chose the following:
Insalata di Rucola:  Arugula salad topped with carrots, cherry tomatoes, parmesan cheese, and pistachio.  $11
A very fresh and innovative take on the traditional salad, crisp carrots and roasted pistachios were colorful and crunchy additions.
Tonnato di Vitello:  Roasted veal tenderloin served in a creamy shaved caper and tuna sauce.  $15.50
This appetizer is really one of my favorites. The sauce was thicker than usual with a defined yet subtle tuna flavor; in no way overpowering. Nice subtle brine from the capers. Veal was paper thin, tender and served on a bed of arugula which added a fresh peppery flavor. Very good.
Cozze allo Zafferno:  Saffron seasoned mussels served with fresh cherry tomatoes.  $13
The saffron aroma intoxicating, the bowl was filled with fresh plump mussels. Subtle, fresh, light, and satisfying.
Tagliatelle al Ragu di Bolognese:  Tagliatelle pasta served with homemade tomato sauce and ground beef.  $19.50
Sensibly sized portion. Pasta was al dente. The sauce was rich, with a hearty, beefy flavor.
Gamberi e Capesante:  Sauteed scallops and shrimp served with cheese risotto and organic vegetables. $29
Fresh tender shrimp and scallops. Sweetly seared with great crust and color. Presented like a skewer on thinly sliced zucchini and pepper. The risotto was rich and creamy yet al dente. One of the best!
Filetto di Branzino al Forno:  Baked sea bass fillet with potatoes, cherry tomatoes, black olives, capers, and extra virgin olive oil.  $31
This dish was a bit disappointing and not the best example out of the kitchen. The dish was a bit overcooked, almost mushy, so I wasn't able to enjoy the different flavors and textures.
Gnocchi Pesto alla Genovese:  Gnocchi served with fresh basil, pine nuts, parmesan, and pecorino cheese and extra virgin olive oil.  $18
Another fine presentation from the kitchen. The gnocchi were served in a parmesan and pecorino shell. The pesto was flavorful and creamy.
Ossobuco con Risotto allo Zafferano:  Veal ossobuco served with saffron risotto.  $37.50
"Fall off the bone" deliciousness, rich, filling, and very satisfying.
Filetto so Tonno:  Grilled tuna fillet with guacamole and organic vegetables.  $36
 An extremely fresh piece of tuna perfectly cooked to order. Guacamole and vegetables all very fresh flavor.
Italian Tradition offers a full bar service with some creative, stylish cocktails, an adequate selection of beer, wine, and soft drinks to accompany your meal. The wait staffs are warm, friendly, fast, and efficient.
Threading the needle between upscaled casual and fine dining, Italian Tradition has created a unique personality amongst Sarasota restaurants.
SRQ Reviews, the restaurant guide you need to find the best dining in Sarasota, Florida.
481 N. Orange AvenueSarasota , FL 34236