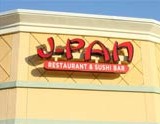 J-Pan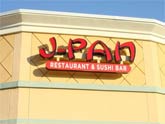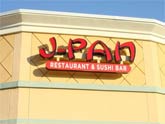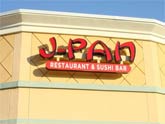 3800 South Tamiami Trail Southgate South, FL 34239
941-954-5726
http://www.jpanrestaurant.com
View Photo Gallery
SRQ Reviews
on September 14, 2011
Sublime Sushi
Located in a nondescript area of The Paradise Plaza Shopping Center, J-Pan Restaurant may not make a big first impression from the outside.  However do not allow that first impression to fool you.  Chef/Owner Daniel Dokko is preparing serious sushi, sashimi, and Japanese cuisine.  Recently expanded, J-Pan offers two good sized dining rooms with a simple, minimalist but tasteful décor providing juxtaposition to the outside appearance.
The menu offers a wide selection of sushi, sashimi, appetizers, soups, salads, and entrees including pork, chicken, beef, and seafood.
For our meals we chose the following:
Wakame Salad:  Japanese seaweed salad.  $4.00
A small fresh and flavorful salad.
Spicy Tuna Roll:  Spicy tuna and cucumber.  $6.00
Very fresh, slightly spicy with a crisp crunch.
J-Pan Roll:  Tuna, avocado, cucumber rolled in crunch flakes.  $9.00
A very fresh mix of textures and flavors.
Kamikaze Roll:  Shrimp tempura, asparagus, topped with spicy tuna and kanikama.  $10.00
A great combination with a slight spiciness.
Samba Roll:  Tempura salmon topped with avocado and passion fruit sauce.  $10.00
An interesting combination of flavors and textures.
Volcano Chicken:  Chicken served with a spicy ginger-garlic sauce.  All entrees served with soup, salad, vegetables and rice.  $17.00
Amply sized portion of chicken in a spicy, flavorful sauce, very nice.
All of the food was fresh, prepared to order, and very nicely plated.  We found the wait staff to be friendly, informative, and efficient.  J-Pan offers a broad selection of beer, wine, and sake to accompany your meal.  One note, we tried one of J-Pan's sake infusions and were delighted with the creativity and fresh taste; something I would definitely order again.
Although J-Pan Restaurant may appear to be an ordinary strip mall restaurant, its cuisine is far from ordinary; give it a try, you will not be disappointed.
SRQ Reviews, the restaurant guide you need to find the best dining in Sarasota, Florida.
Want to try a creative, refreshing sake cocktail? Try one of the sake infusions; fresh, cool, and flavorful.
3800 South Tamiami TrailSouthgate South, FL 34239