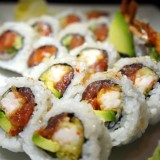 Kazu's 2.0 Gastropub
SRQ Reviews
on March 17, 2014
Kazu's 2.0: Where sushi meets craft beer…
Touted as Sarasota's only Japanese gastropub serving authentic sushi and craft beers, Kazu's 2.0 certainly piqued my interest. What could one expect from a Japanese gastropub? We decided to find out.
Kazu's Sushi & Asian Bistro, the predecessor restaurant to Kazu's 2.0, located on Siesta Drive, started serving Japanese cuisine from its Southgate location in 2004. A lifelong musician, Kazu Tsuchiya desired to blend his musical and culinary interests. In December of 2012, Kazu and his wife Akiko opened Kazu's 2.0 in the Gulf Gate area.
Located in what I call a "Goldilocks" sized building (not too big and not too small), Kazu's 2.0 décor offers a fusion of styles. With a center-placed sushi bar, black-and-white color scheme and minimalist décor, the Japanese influence is apparent. However, the open-spaced seating, dark colors, accented lighting and the craft beer bar offer a club-like setting where music is part of the experience. Both styles were perfectly balanced, setting the stage for a unique sushi dining experience.
Primarily a sushi bar, Kazu's 2.0 offers a range of Japanese and non-Japanese tapas, soups, salads, and of course — sushi. For our meals, we sampled the following:
Shumai:

 Shrimp dumplings.  $5.50 

Small, simple, smooth and subtly flavored dumplings. 

A great little non-sushi starter.

Gyoza:

  Beef and pork dumplings.  $5.50 

Subtly flavored dumplings with a flavorful dipping sauce. Another great non-sushi starter.

Japanese Nachos: 

Crispy tortilla chips topped with fresh sashimi-encrusted tuna, served with wakame seaweed salad.  $11.00 

A very interesting and innovative creation. Beautiful presentation and flavor, and the textures were matched perfectly.

Caliente:

 Spicy tuna roll wrapped with fresh tuna and topped with jalapeño.  $10.50 

If you like spicy rolls, then this is for you. A very simple, yet creative presentation. Full flavor, which may challenge your palate but not overwhelm it. My mouth is watering just writing about this roll.

Lotus Roll:

 Brown rice rolled with asparagus, avocado, cilantro and tofu topped with coconut curry.  $7.50 

A very nice blend of flavors — soft and fresh.

Rainbow Roll:

 California roll wrapped with fresh tuna, fresh salmon, white tuna and avocado.  $9.75 

Perhaps one of the most colorful and flavorful rolls on the menu. Freshness and flavor are foremost. A definite winner.

Randy Roll:

Yellowtail cucumber, scallion.  $6.00 

Fresh and subtly flavored, with a little bit of crunch from the cucumber. Tastes like summer.

Siesta Roll:

 Spicy tempura shrimp, avocado and cilantro.  $5.95 

A nice crunchy roll with the freshness of cilantro as the perfect accent.

Octopus (Nigiri):

 $2.25/piece 

Just the right sized piece of Tako — firm and chewy. One of my favorites.

Squid (Nigiri):

 $2.25/piece

A nicely colored piece of Ika with just the right amount of resistance in the bite.

Yellowtail (Nigiri): 

$2.75/piece 

Always one of my favorites. Fresh flavor and smooth, almost creamy texture. Nicely done.

Genji:

 White tuna, avocado and cream cheese, coated in crispy tempura and topped with spicy mayo and jalapeno.  $10.75 

An interesting roll, which takes its name from the Boston sushi restaurant Genji. A nice blend of flavors.

Three Amigo:

 Spicy tuna, tempura shrimp and avocado.  $7.75 

Terrific combination of flavor, crunch and creaminess, all in a single roll.

Yamato:  

Fried oyster, avocado, cucumber and greens.  $9.95 

A wonderfully light, yet crunchy roll for the oyster-lover.

Spicy Salmon:

 Spicy salmon, cucumber.  $5.95

A classic roll with just the right amount of spiciness.
The selection of craft beers at Kazu's 2.0 is very good, with a staple of standard selections and seasonal specialties. In addition to the craft beers offered, there is also an adequate selection of wine and sake to accompany your meal. We found the wait staff to be very friendly, fast and attentive.
Attention all sushi and craft beer lovers: When I first heard the Japanese gastropub moniker, I was a bit skeptical. Could a sushi and craft beer bar co-exist? Would one style overshadow the other? Kazu Tsuchiya has created a unique balance between both, which places Kazu's 2.0 in a class by itself.
SRQ Reviews, the restaurant guide you need to find the best dining in Sarasota, Florida.
Happy Hour 4:30-6:00 pm and Late Happy Hour from 10:00 pm. Also, on Tuesday nights from 7:30, Chef/owner Kazu and fellow musicians, play jazz. Wonderful way to spend time….eating, drinking and listening.
6566 Gateway AvenueGulf Gate, FL 34231