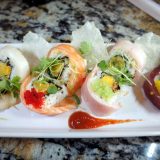 Kiyoshi's Sushi
SRQ Reviews
on May 22, 2016
Kiyoshi's Sushi, A Family Affair
No stranger to the art of sushi preparation and presentation, Kiyoshi's Sushi has emerged as "the new sushi restaurant" in the Gulf Gate area. With 40 plus years' experience as a master sushi chef, Kiyoshi Noro has honed his craft with precision, creativity, culinary excellence, and humility.
With the assistance of his sons and wife, Kiyoshi's Sushi offers a special sushi dining experience. Small and simply stylish, the restaurant offers a clean, crisp, colorful, décor. Center stage is the sushi bar, with colorful seats, complete with a conveyor offering a continuing fresh sampling of sushi options, for those who cannot wait to order; very cool, especially for Sarasota.
As one would expect, the menu is heavily weighted with an array of fresh, traditional and unique sushi. However, there are a number of non-sushi options for the diner looking for sushi alternatives.
For our meals we chose the following:
Stone Crab Bon Bon:  Special, stone crab meat wrapped in avocado.  $10.00
This was a beautifully presented special item on the menu…amazingly delicious with a hint of subtle lemon flavor in the background.
Edamame:  Lightly salted boiled Japanese soybeans.  $4.00
Always a crowd pleaser for nibbling when deciding what sushi to order…served steaming hot and lightly salted.
Gyoza:  Pork dumplings pan steamed and fried.  $6.00
One of our favorites, these dumplings were very fresh, tender and had a delightfully satisfying flavor.
Kushiage Sampler:  Beef & avocado, shrimp & beef, salmon & scallion, chicken & onion…all panko fried.  $9.00
A beautifully plated delicate presentation…savory salty and sweet…a great starter especially for the non-sushi diner.
Japanese Beef Ramen:  Half $6.50, Full $12.00
An incredible presentation! A meal unto itself. Filled with, noodles, beef, bok choy and radishes. The broth was exceptional…not at all salty…hearty and completely satisfying. Perfect for non-sushi diners!
**Ramen is offered as an every other week special; so call to make sure it is on the menu.
Sushi Special:  Hot Salmon, Salmon with mango, avocado and chili sauce.  $6.00
A very creative, beautifully presented, slightly spicy, silky smooth, and subtly sweet combination of flavors and textures…loved it!
Sushi Combo:  Tuna roll and 9 nigiri sushi of Chef's choice. Served with miso soup and ginger salad. $23.00
A great way to sample a number of different sushi options…fresh, flavorful, and full of color.
Siesta Beach Roll:  Yellowtail, white tuna, tuna, salmon, tobico. Inside tempura peach, crème fraiche, sriracha, cobia garlic sauce.  $12.00
A very creative combination…sweet, crunchy, colorful, and artistically plated.
Chicken or Salmon Teriyaki:  Japanese style glaze grilled entree. Served with ginger salad, miso soup and white rice.  $16.00/$18.00
The perfect alternative to sushi…a simple yet flavorful presentation…carefully prepared and moist.
Spider Roll (4 pieces):  Tempura soft shell crab, avocado cucumber, Japanese Omelette, radish sprouts, pickled ginger, shiso leaf.  $12.50
An artistically presented roll…Large and wide with a fabulous combination of textures and flavors.
Loved it!
Moshi (Rice Cakes) filled with Ice Cream:  $5.00
Soft chewy rice cakes and ice cream (we've had it twice, once with vanilla ice cream, the other time with green tea ice cream).  The perfect ending (even the spoons were chilled) to a perfect Japanese meal…soft, cold, firm, not sweet. Beautifully presented…very satisfying and not overfilling.
Kiyoshi's offers an adequate selection of beer, wine, sake, and soft drinks to accompany your meals. The wait staffs are very friendly, attentive, and efficient. We found the family owner/operators to be sincerely appreciative of our business; refreshing.
An "under the radar" restaurant, Kiyoshi's offers a simply delightful Japanese dining experience. However, if you are interested in giving this place a try, you need to get there soon. Because once the word gets out…this small stylish space in Gulf Gate will be very busy!
SRQ Reviews, the restaurant guide you need to find the best dining in Sarasota, Florida.
6550 Gateway AvenueSarasota, FL 34231