Knick's Tavern & Grill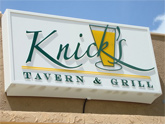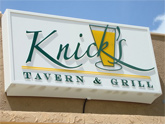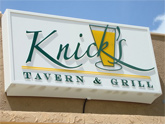 1818 South Osprey Avenue Sarasota, FL 34239
941-955-7761
http://www.knickstavernandgrill.com/
View Photo Gallery
SRQ Reviews
on April 24, 2010
If Sarasota had a place like Cheers, I think Knick's Tavern and Grill in Southside Village would be it!
This is a neighborhood kind of place frequented by regulars and for good reason.  The staff is very friendly, the prices reasonable, and the food very good.  Warm, friendly and inviting, the décor and atmosphere exude comfort; not to mention their comfort food specials: Monday = Chicken Pot Pie, Wednesday = Meatloaf, and Friday = Prime Rib.
For our meal we had the following:
Knick's Famous Salad with Grilled Shrimp:  Smoked gouda cheese, fresh and dried fruit, sugar roasted walnuts, over house salad  $14.95
Fresh greens, great combination of flavors, loved the texture combination of dried and fresh fruit, very tasty
Chicken Pot Pie:  Chunks of chicken, peas, carrots in a creamy sauce covered with phyllo and baked  $12.95
The ultimate comfort food, tasty and filling
Chipotle Crumbled Bleu Cheese Burger: Served with pasta salad, potato salad, coleslaw, french fries or side salad  $8.25
Slightly spicy smoky, juicy, grilled to perfection
Kentucky Derby Pie:  Pecan pie with chocolate chips and bourbon  $4.25
Rich, gooey, sinfully delicious; need I say more?*
* The desserts are home made and change on a regular basis.
In addition to their full bar service, Knick's offers a wide assortment of beer and wine to accompany your meal.
Casual comfort, a friendly helpful staff, good food, and reasonable prices make Knick's a regular place for regular people. If you have not done so already, try the Sarasota version of Cheers!
If you frequent Knick's enough, they might just know your name.
SRQ Reviews, the restaurant guide you need to find the best dining in Sarasota, Florida.
The comfort food specials on Monday, Wednesday, and Friday are very popular and do sell out. So if you desire one of the specials, plan on dining a little earlier than usual. We would not want you to be disappointed.
1818 South Osprey AvenueSarasota, FL 34239