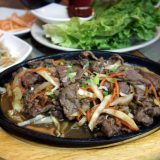 SSAM Bar Korean/Sushi Restaurant
SRQ Reviews
on March 30, 2009
Casual, simple, interesting dining options…
The strip mall located at 1303 N Washington Blvd, is the home of SSAM Bar Korean/Sushi restaurant. Nestled amongst small shops and markets; SSAM is a simple, unassuming, casual, inexpensive, dining space. Bright, clean, and functionally cozy, the decor is simple Asian, with the staff warm and welcoming.
The menu at SSAM is bifurcated offering traditional Korean and Sushi cuisine. The menu is large, accommodating and designed for sharing a variety of dishes. The staffs are very helpful in making suggestions, explaining the dishes, and guiding the ordering process.
For our meals we chose the following:
Korean Pancake:  With assorted seafood.  $12
This is a great way to start your meal; easily shared.
Kimbap:  Rice, carrot, pickled radish, fish cake and beef bulgogi, rolled in seaweed.  $8
A large roll nicely presented. Mild in flavor. Easily shared by 2 or 3 people.
House Salad:  Romaine lettuce, cucumber and carrot with homemade ginger dressing.  $3
Fresh and simple, nothing but fresh greens. A great value for any salad cravers!
Tteok-Bokki:  Korean spicy rice cake.  $10
This was not one of our favorite choices, we found the texture to be a bit "gummy" for our tastes.
Korean Spicy BBQ Fried Chicken:  $8
Another generous portion appetizer, great for sharing. Crispy chicken and BBQ sauce. Good balance between texture and tastes.
Beef Bulgogi:  Thinly sliced marinated beef. Served with mama's side dishes and white rice.  $18
The classic dish of Korean cuisine. Big leaves of lettuce to make a wrap of flavorful beef, carrots, cabbage, pickled veggies, paste. Very filling and satisfying.
Stone Pot Bibimbap:  Bi bim bab in stone pot. Choice of chicken, beef, pork or tofu. (We chose chicken) $14
Definitely a wow presentation! One of our favorites! A big sizzling pot filled with layers of rice, vegetables, your choice of protein, with an egg on top. Mix it all up and eat! Crispy, caramelized rice on the bottom.
Beef Bulgogi Bowl:  Beef bulgogi in a clay bowl with sweet potato noodle.  $16
Definitely the Korean version of comfort food. Steaming hot! Chock full of very tender beef, lots of noodles. Perfect for a cool evening dinner.
Spicy Squid Stir Fry:  Stir-fried squid with Yun's spicy sauce and vegetables.  $16
On a scale of 1-5 with 5 being most spicy, we chose a 3 for spiciness. A good balance between heat and flavor. Crunchy veggies, tender pieces of squid. Ample amount of noodles. Another great option for cool evening dining.
SSAM offers an adequate selection of beer, wine, and soft drinks to accompany your meal. As previously mentioned, we found the staffs to be very warm and friendly. Their assistance in explaining the menu, offering a suggestion, and guiding us in the selection process was superb. The service was fast and efficient.
Do you like culinary adventures? How about trying new or different types of cuisine? Do you have friends always looking to do "something different" when going out to dinner? Then SSAM is a potential dining option for you to consider. Go with friends; order up a variety of dishes; and enjoy the adventure.
SRQ Reviews, the restaurant guide you need to find the best dining in Sarasota, Florida.
1303 N Washington BlvdSarasota, Florida 34236