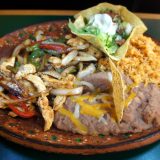 La Brisa, Tacos y Mariscos
SRQ Reviews
on November 5, 2016
One of our many foodie pleasures is finding "under the radar" restaurants in the Sarasota area. One such find is La Brisa Tacos y Mariscos. Located on Washington Blvd (Rt. 301 just south of 12th St,) one could easily drive past this restaurant. The signage is small and the building is set back some from the street. However, if you are looking for authentic, family oriented Mexican cuisine, make an effort to get there. Although the décor is simple and unassuming, bordering on austere, the food is real and the people very friendly. So, do not be discouraged.
Offering lunch and dinner, the menu is large, offering all the dishes one would expect with a few surprises. For our meals we chose the following:
Tacos:  Three tacos topped with cilantro and onion. Served with rice and beans.  $8.99 Choices: Carnitas, pastor, chorizo, chicken, asada, lengua, pescado, camarones.
We chose chicken, pork (carnitas) and steak (asada). Fresh, soft, homemade tacos…nicely filled with all the right stuff! The chicken was my favorite. No lettuce, only cilantro (which I love). The rice and beans were a stand out too. Simply delicious. Cannot be beat for the price and flavor!
Camarones al Mojo de Ajo:  Shrimp sautéed with onion and exquisite Mexican garlic sauce served with rice and salad.  $12.99
Once again, homemade flavors permeate this dish, a pronounced garlic flavor and aroma with fresh tender shrimp and avocado, crisp green salad. A satisfyingly healthful choice.
Spinach Enchiladas:  Two spinach enchiladas with red or green sauce rice and beans.  $5.99
We chose green sauce. This was a creamy rich, fully packed enchilada with a great deal of spinach and smothered in cheese. So filling.
Torta Cubana:  Mexican sandwich on fresh baked bread. Comes with avocado, lettuce, onion, tomatoes, and jalapenos. Served with French fries.  $8.99
Fresh soft baked bread with well-seasoned strips of pork, fried egg, lettuce, tomato, onion, Swiss cheese, pickles, mustard, avocado. Wow! Mouth wateringly delicious. Most definitely filling; not to mention satisfying.
Taco Salad:  Tortillas she'll filled with beans, corn, lettuce, tomatoes, onions, tortilla strips, and avocado ranch dressing.  $5.50
Not your typical taco salad…a large amount of fresh, colorful, crunchy, and cool, veggies with a creamy, ever so slightly, spicy dressing. Refreshing.
Chile Relleno:  Poblano pepper stuffed with cheese, served with rice, beans, and handmade tortillas.  $10.99
A well prepared rendition. When done correctly, this is one of my favorite Mexican dishes. No disappointment here. Nicely stuffed pepper. Fresh cheese. With a silky smooth batter, the pepper was still firm and offered substance. Accompanied by refried beans and sauce. Real Mexican comfort food. Delicioso.
Chicken Fajitas:  Grilled chicken with bell pepper and sautéed onion.  $11.99 Choice corn or flour tortillas.
We chose the corn tortilla and it was a great choice! A sizzling plate offering great aromas, sounds, and color. The chicken was very moist, the veggies soft offering great juices and flavors. My mouth is watering just typing and remembering the experience.
La Brisa offers a limited selection of beer, wine, and soft drinks to accompany your meal. We found the wait staffs to be very friendly, attentive, and efficient. When dining there, we often felt as if we were visiting a family home. Our presence was appreciated and we were treated very nicely.
Whether you consider yourself a "culinary explorer" or just looking for a new "culinary adventure," La Brisa is the place for you. While it may not offer fine dining, it most definitely offers fine food at very reasonable prices.
SRQ Reviews, the restaurant guide you need to find the best dining in Sarasota, Florida.
1156 N. Washington Blvd.Sarasota, FL