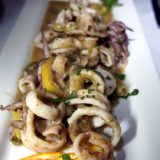 La Dolce Vita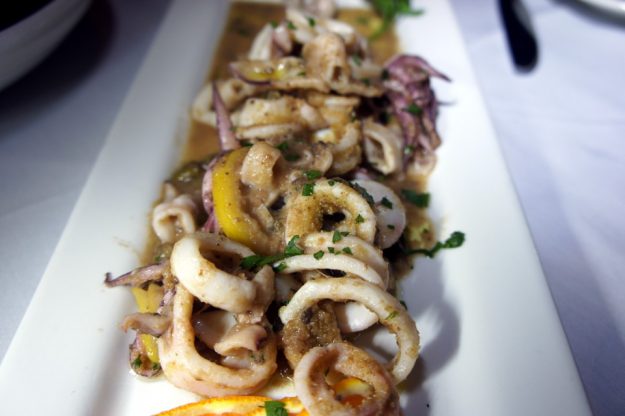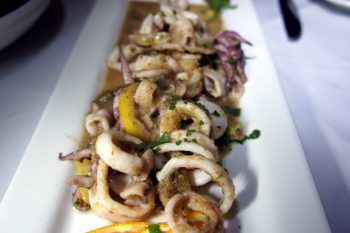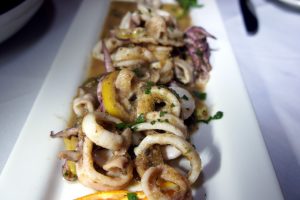 2704 Stickney Point Road Sarasota, Florida 34231
941-210-3631
http://ladolcevitasarasota.com
View Photo Gallery
SRQ Reviews
on December 14, 2018
Simple, Seafood, Italian Style.
La Dolce Vita is a charmingly understated, family run, authentic, Italian restaurant. Located in a small strip mall on Stickney Point Road, just east of Rt. 41; the restaurant space is small, simple, and tasteful in appearance. Casually relaxed, La Dolce Vita is the perfect place for an easy going dinner with friends and family.
With an influence from Southern Italy, the menu offers a selection of shellfish, seafood, meat, and of course house-made pasta with regularly changing specials.
For our meals we chose the following:
Cozze alla Marinara:  Steamed mussels, simmered in our tantalizing homemade marinara sauce, paired with fresh garlic and parsley.  $14.95
Very fresh mussels, big and plump. The marinara was light, not overpowering and filled with fresh tomatoes and garlic.
Insalata di Polpo con Patate:  Octopus with "farm to table" potatoes, freshly grown parsley, a hint of garlic and olive oil.  $18.95
A classic rendition of this classic salad. Olive oil and garlic at the base, arugula, potatoes, and octopus on top. Slightly spicy, peppery, pieces of garlic add a nice little surprise. Fresh and flavorful. Squeezed lemon adds a nice little citrus accent.
Insalata Mista Farcita:  Fresh romaine lettuce, savory ripe pears, and walnuts, topped with gorgonzola cheese and hand crumbled bread.  $8.95
Fresh, sweet, savory, crunchy, crisp.
Scialatielli Gamberie e Asparagi:  Semolina flour pasta, pan tossed asparagus, shrimp, fresh garlic and olive oil.  $25.95
Very fresh homemade pasta. A fair amount of shrimp lightly oiled. Light yet filling.
Saltimbocca di Vitello alla Romano:  Tender veal slices, served with prosciutto, Italian aged provolone, with your choice of broccoli or spinach.  $26.95
The veal was cooked to perfection. Very light and tender with a nuanced flavor of sage.
Corvino Special:  Prepared in a piccata sauce. Served with your choice of broccoli, spinach or pasta. $31.95
Excellent, the Corvino was fresh, moist, cooked perfectly. The piccata was creamy with just the right amount of lemon. The broccoli was firm, not mushy.
Cioppino Special:  Mussels, clams, shrimp, calamari and corvino.  $34.95
Another classic dish. Huge portion! Easily shared between 2 people. Filled with seafood in a light, subtle tomato-based broth.
Seasonal Vegetables:  Side.  $5.95
Fresh vegetables, simple but very good.
La Dolce Vita offers a selection of beer, wine, and soft drinks to accompany your meal. The wait staffs are very friendly and accommodating. However, speed and efficiency are not part of the dining experience. In other words, La Dolce Vita is the place to relax and savor your meal. All of the food is cooked to order. Therefore expect some wait for your meal while you enjoy another glass of wine!
Although the setting is far from Italy, La Dolce Vita does create an authentic Italian dining experience. Sip, savor, dine, and relax; Italian style. La Dolce Vita! Enjoy the good life!
SRQ Reviews, the restaurant guide you need to find the best dining in Sarasota, Florida.
2704 Stickney Point RoadSarasota, Florida 34231