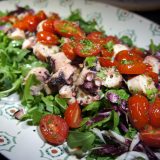 La Violetta (formerly La Scarpetta)
SRQ Reviews
on December 1, 2016
Same owners, different name….La Violetta sets the pace for casual, country kitchen Italian dining…
Located in an out of the way location on Tuttle Avenue, just north of Bee Ridge, La Scarpetta Rustic Italian Kitchen is setting the pace for authentic, casual, countryside dining. The unassuming exterior contrasts with the eclectically decorated interior. The warm, inviting, simple and rustic interior is reminiscent of an Italian countryside inn or farmhouse.
The menu offers a range of appetizers, salads, pastas, meat, fish, and nightly specials. While the menu is large, it is not overwhelming. However, making a singular selection may pose a challenge. It is the perfect venue for exploring and sharing dishes amongst family and friends.
For our meals we chose the following:
Budino di Parmigiano:  Warm pudding of parmesan cheese with porcini mushrooms and truffle sauce.  $13.90
Definitely an Italian comfort food…warm, creamy, earthy, and rich…the perfect starter on a cool evening.
Caprese di Burrata:  Burrata cheese with truffle sauce, walnuts, tomato and parma ham.  $15.90
An innovative presentation of the classic Caprese. Creamy and slightly salty in taste…very satisfying.
Rucola:  Arugula, tomatoes, and parmesan cheese.  $8.90
The peppery arugula and salty parmesan combine for classic taste. A very fresh way to begin your meal.
Smoked Duck Prosciutto:  Housed smoked duck breast.  $15.90
Perhaps one of the most interesting, innovative, and flavorful dishes I have tried. Smoky, silky, I wish you could smell how amazing it really is!
Polpo:  Octopus in a bed of arugula, radicchio and baked cherry tomatoes.  $17.90
A generously sized portion which could easily be shared between 2-3 people as a salad/appetizer. The arugula was very fresh and peppery in taste, the octopus fresh and tender with no fishy smell or aftertaste. Excellent.
Tagliatelle ai Porcini Freschi:  Tagliatelle with fresh porcini mushrooms, asparagus and truffle sauce.  $17.90
I must admit, this is one of my favorite pasta dishes. I am very partial to the combination of mushrooms and pasta. This version offered a fresh, earthy, and slightly musty flavor. It tasted like spring and fall at the same time.
Sausage Ravioli:  With broccoli sauce. (Special)  $22.90
Such a great combination, well balanced, very filling and a bit rich.
Frutti de Mer:  With spaghetti. (Special)  $22.90
A HUGE, heaping platter of fresh seafood…clams, mussels, octopus, scallops. Well prepared, tender, delicious! Easily shared.
Branzino:  Baked branzino served with olive oil and garlic spaghetti.  $29
A fabulous presentation, whole fish, but deboned! Cooked perfectly, moist, sweet, light and delicious. A true Mediterranean meal.
Torta Sbrisolona:  Rustic crumble cake with almonds served with Vin Santo sweet wine.  $12.90
Simple, slightly sweet, with layers of flavor…my type of dessert.
As one would expect, La Scarpetta offers an adequate selection of Italian wines, beer, sparkling water, and other soft drinks to accompany your meal. We found the wait staff to be friendly, attentive, and willing to help. At times there were some minor issues with language comprehension, but we were always able to work it out. The dining experience at La Violetta is European styled; meaning everything is cooked to order and there may be a wait in between courses. This is not the place to go for a quick turnaround meal. Rather it is a place to linger, drink some wine, share a conversation, and enjoy the experience.
So why not give it a try? We think you will like it.
SRQ Reviews, the restaurant guide you need to find the best dining in Sarasota, Florida.
3809 South Tuttle AvenueSarasota, FL 34239