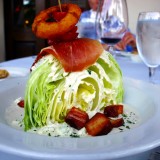 Libby's Neighborhood Brasserie, Southside Village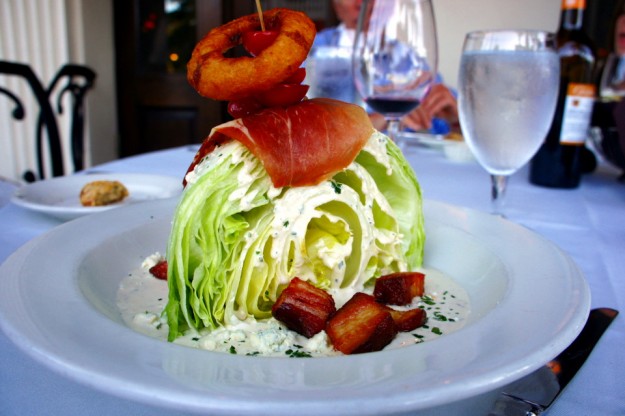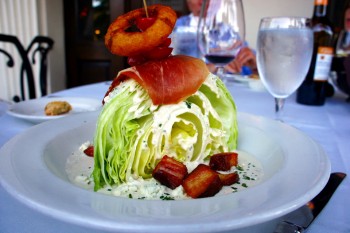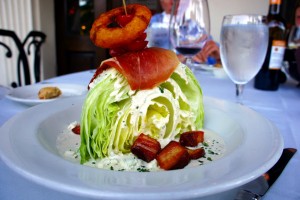 1917 South Osprey Avenue Sarasota, FL 34239
941-487-7300
http://www.libbyscafebar.com
View Photo Gallery
SRQ Reviews
on September 28, 2013
Libby's has been recently renovated with a new menu. We will update our review shortly.
Libby's Café & Bar: A Standout in Southside Village……
When I think of Libby's, one word that always comes to mind is choice.  This concept of choice extends well beyond the selections on the menu.  In fact, Libby's offers a wide range of dining options: indoor and outdoor seating, two good-sized bar areas, a value priced menu for early dining, happy hour, Sunday brunch, lunch and an extensive, seasonally updated dinner menu.  Suffice it to say, Libby's can accommodate many individual preferences for dining.
Located at 1917 South Osprey Avenue, the setting is casually upscale with white-clothed tables, wood panels, high ceilings and indoor and outdoor seating, it's bright and airy; think American bistro.  Although the physical setting is large, the ambience is cozy with an exciting auditory buzz in the background.
As previously mentioned, the seasonally updated menu at Libby's is large, which can accommodate most people's preferences.  For our meals, we chose the following:
A Nice Little House Salad:  Organic greens, cucumber, marinated grape tomatoes, ricotta salata, golden balsamic.  $6
The name says it all. Fresh greens nicely presented, perfect size for a side salad.
Grilled Sustainable Salmon Salad: Organic greens, wakame, thin veggies, ginger-miso dressing $14
Salmon was grilled perfectly. The salad was fresh with the addition of cabbage, carrots and peppers for a nice crunch.
5 & Dime Lunch:  Choose one of five lunch selections for $10 served with your choice of small house or Caesar salad or cup of tomato soup.  $10
Classic cheeseburger: LCB pickles, house chips.  $10
A traditional choice, with a thin, soft cheeseburger bun; it's the perfect size for those looking for a light lunch.
Half-Pound Prime Hamburger:  Caramelized onions, blue cheese, truffle Parmesan fries.  $12
This is the real-deal burger, thick and juicy, a great combination of sweet caramelized onions with the tangy creamy bite of blue cheese; my mouth is watering from this write-up.
Famous Iceberg Wedge: Prosciutto, Moody blue cheese, Applewood bacon, cherry tomatoes, onion rings.  $9 / $17 (Enough to share)
A great presentation of a signature salad. Large, colorful, fresh, full of flavor; could be a meal on its own.
Grilled Boneless Rainbow Trout Amaretto Almondine:  Wilted spinach, Fuji apples, dried cherries, Fuji apple vinaigrette.  $23
Excellent, layers of flavors, sweet cherries, tart apples, savory sauce, fresh trout. Simple and elegant.
Seared Ahi Tuna Steak: Kimchi fried rice, edamame, sweet peas, tempura flakes, Thai ginger-mango glaze.  $26
Asian influenced all the way with a great mix of flavors — spicy, sweet, tangy, with a little crunch.
Dutch Baby:  Libby's classic baked-to-order caramel-apple cake with cinnamon ice cream: $10
This is a must-try for dessert. Although I am partial to chocolate, this moist, rich cake is perfectly topped by the creamy, cool cinnamon ice cream. Loved it!
Warm Drunken Peach Crostata:  Almond paste, Amaretti crunch, vanilla bean ice cream, honey caramel: $10
A great mix of flavors and textures; sweet and creamy with a nice little crunch.
In addition to its full bar service, Libby's offers a large selection of beer (draft and bottle), wine and soft drinks to accompany your meal.  The service staff is quite friendly; staff members offer menu suggestions, quickly take your drink orders, yet allow you the time to make your food selection.  All meals were nicely plated, served at appropriate temperature and delivered without an unreasonable wait.
Sarasota has its share of many fine restaurants; being a standout is not an easy accomplishment.  Yet, Libby's seems to make it happen with aplomb.  So, if you are looking for that perfect place that can accommodate particular palates and diverse dining preferences, visit Libby's Café + Bar; a standout in Southside Village.
Offering a wide range of choices in dining, venue, and price range, Libby's has become one of our "go to" places. To read our "Friday Faves" blog post about Libby's click here
SRQ Reviews, the restaurant guide you need to find the best dining in Sarasota, Florida.
Libby's has lots of wonderful dining options…Happy Hour Specials and Early Bird Specials. Their outside dining is best described as elegantly casual (white linens).
1917 South Osprey AvenueSarasota, FL 34239