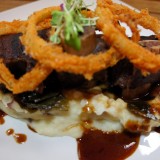 MADE (Modern American Delicious Eats)
SRQ Reviews
on February 2, 2015
Made: Sarasota's sweet, almost-secret surprise…
Made Restaurant opened in its current location, 1990 Main Street, across from the Hollywood 2o, two years ago. Although not intuitive to the casual consumer, the clever name is an acronym for Modern American Delicious Eats, and it aptly describes the restaurant. The shared vision between two friends, Michael Ripatranzone and Mark D. Woodruff, Made ambitiously created an updated and, dare I say, upscale version of classic American comfort food.
Even though the restaurant's footprint is large, comprised of outdoor seating, two amply sized dining rooms and a spacious bar and lounge area, there's still a sense of charm and comfort. With subdued lighting, dark woods and table tops, the team at Made creates a casually elegant, cozy and comfortable setting for meeting, eating and drinking.
The menus at Made (brunch, lunch, dinner, happy hour and late night) are varied, but share the common theme of American comfort food with a twist. Indeed, all my tasting experiences included a delightful surprise ingredient or texture that made the dish pop.
For our meals, we had the following:
Empanadas:  Crispy duck, sweet potato, radish slaw, navel orange and cherry chimichurri.  $11
Four good-sized empanadas. The dough was perfectly browned, and the filling was rich and flavorful. The corn on the plate had a wonderful kick.
Grilled Caesar:  Grilled romaine, cornbread croutons, Made peppercorn Caesar dressing and shaved Parmesan.  $10
A clever presentation of the classic Caesar. Crispy and flavorful — loved the cornbread croutons!
Made Chopped Salad:  House-blended greens, grilled corn, cucumber, roasted pork shoulder, deviled egg and ranch.  $11
Fresh — just the right proportions of pork and corn to the crisp lettuce made this salad light, yet filling and delicious.
Salad:  Local greens, roasted vegetables, hard cheese and maple-balsamic vinaigrette.  $9
The perfect size to start your meal. Fresh greens with a sweet, tangy dressing.
Fried Green Tomatoes:  Cornmeal and panko-crusted green tomatoes, marinated baby-tomato salad, buttermilk green goddess.  $8
I must admit, I'm not a big fan of fried green tomatoes, but these were delicious. I would order it again.
Ribs:  Dry rubbed, applewood smoked, peach barbecue glaze and slaw.  $13
A large portion of meaty, smoky ribs coated in a sweet and spicy sauce. Fall-off-the-bone tender and finger-licking good.
Made Burger:  Made beef blend, barbacoa, barbecued peppers and onions, pepper jack, fried heirloom tomato and butter lettuce accompanied by cheese tots with malt mayo.  $13
A hearty, juicy and flavorful burger with complementary toppings, perhaps one of the best in SRQ. The crunchy, soft and creamy cheese tots were addictive.
"Four" Meatloaf:  Billionaire bacon, roasted brisket, duck confit and ground blend, Made ketchup sauce. $17
Not your mother's meatloaf. Layers of flavor. Rich, yet comforting and very satisfying.
Scallops:  Pan-seared with jalapeño grilled cream corn, "risotto style" and micro wasabi green salad.  $23
Outstanding presentation of sweetly seared scallops, dark and richly caramelized and placed upon a sweet and spicy bed of grilled corn. I loved the contrasting tastes and complementary textures. A signature dish in my book.
Gulf Red Grouper:  Cast-iron seared red grouper, roasted red pepper and jalapeño corn cake, mussels and tomato confit broth.  $21
A very artistic presentation. Tender, fresh fish in a delicate light broth with layers of flavor — simply wonderful.
Double Dipped Fried Chicken:  Buttermilk and cholula brined hot-n-honey crust, crispy herbs, Gruyère and black pepper waffle.  $17
Dark and crunchy on the outside; just the way I like it. A tender, juicy explosion of flavor. Full disclosure: I'm not a big fried-chicken fan, but this is one of the best around.
Apple Pie:  Deep-dish apple pie with cinnamon crumbles.  $5
A light, tasty slice of America, supplemented with a scoop of vanilla ice cream. Delicious.
Banana Pudding Crème Brulee:  With vanilla wafers.  $5
A silky, rich, creamy mouth feel full of banana flavor and not too sweet.
The full bar service at Made offers a good selection of premium American spirits, beer, wine and soft drinks. We found the staff to be very friendly, helpful, fast, efficient and genuinely interested in making our dining experience a pleasant one. Well done.
Made continues to surprise on many levels:
*Its unassuming outside appearance and casually elegant décor
*Its simple American comfort food menu with genuine culinary creativity
*Its high-quality experience with reasonable prices
Even though the surprise might not be so secret anymore, the experience is one worth repeating. If you haven't been to Made yet, make your plans to do so. Better yet, surprise your friends and suggest a group visit — you'll all be pleasantly surprised.
SRQ Reviews, the restaurant guide you need to find the best dining in Sarasota, Florida.
A Very Happy Hour, Monday to Friday 4:00-7:00:
$3 Bud Light/Yuengling 20oz. drafts
$2.50 PBR tall boys
$4 wells (we pour a premium well) and $4 house wines
$6 MADE specialty cocktails…the MADE Manhattan is outstanding!
1990 Main StreetSarasota, FL 34236