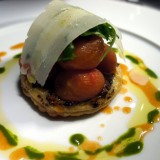 Maison Blanche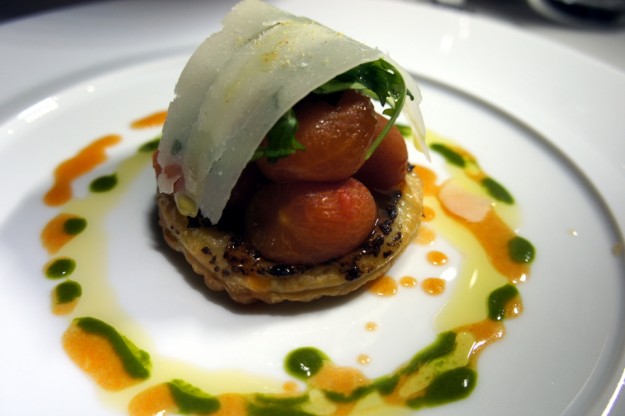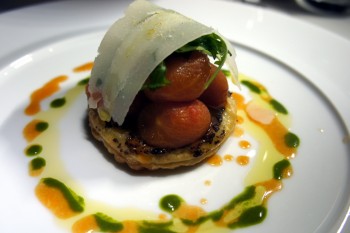 2605 Gulf of Mexico Drive Long Boat Key, FL 34228
941-383-8088
http://maisonblancherestaurants.com
View Photo Gallery
SRQ Reviews
on January 6, 2015
Maison Blanche: Must-try fine dining…
As a Sarasota food writer, I'm often asked for opinions on dining. "Where's the best restaurant in Sarasota?" "What's your favorite restaurant?" "What place has the best food?" Although there's no singular answer to these questions, one restaurant that's always in my mix of answers is Maison Blanche.
Owner / chef Jose Martinez' acclaimed culinary career commenced in France at an early age. With apprenticeships under renowned chefs Joel Robuchon, Alain Senderens and Michel Guerard, Martinez developed his skills and refined his culinary talents. His first iteration of the Maison Blanche restaurant was in Paris, and it earned the coveted Michelin Star for outstanding culinary achievement. The second incarnation started on Longboat Key in 2002 and continued to acquire culinary accolades for Chef Martinez. In 2010, he was nominated as one of the best chefs in the South by the James Beard Foundation. Most recently,OpenTable diners selected Maison Blanche as one of the 2014 Best Restaurants in America. Maison Blanche's recognition for culinary excellence and quality are exemplary.
Despite the culinary accolades and recurrent recognition, I'm always surprised to learn that many people are unaware of the restaurant, its location, reputation or the quality of the fine-dining experience. We recently revisited the restaurant, and we continue to be amazed.
The European-style menu offers a selection of appetizers, entrees and desserts; one is not overwhelmed by choice. There's a three-course $65 prix fixe, which includes a choice of appetizer, entrée and dessert, as well as a-la-carte items. However, making a selection isn't easy, because every item sounds exceptional. Clearly, Martinez is focused on making the dining experience one to remember.
Although it wasn't an easy decision, we chose the following:
Mesclun Salad:  Field greens with fresh herbs, pine nuts, cilantro and shaved parmesan cheese. (prix fixe only)
Fresh and flavorful with the right amount of crunch from the pine nuts.
Tomato Tart:  Baked and served with basil juice. (prix fixe only)
Surprisingly sweet and fresh tomato taste; explosions of fresh tomato flavor in your mouth. Outstanding.
Mediterranean Sea Bass:  Roasted and served with baby spinach and menuniere sauce.  $35
Fish is silky smooth with subtle flavors and unusual pairings of spices; a nice blend of flavors and texture.
European Sea Bass:  Pan-fried with braised fennel.  $30
A silky, flaky fish complemented by the subtle texture and flavor of the fennel; a great combination.
Halibut:  Pan- fried halibut with ratatouille.  $35
Presentation was beautiful. Halibut was sitting on top of ratatouille that was shaped like a flat hamburger. Each forkful combined the savory ratatouille with the subtle, thick, moist, flaky and fresh halibut. Wonderful.
Suckling Pig:  Baked in the oven, sauté of Brussel sprouts and vanilla jus.  (prix fixe)
Incredible. Crispy skin; extremely tender meat. The meat cuts like butter. Filled with flavor.
Red Snapper:  Baked in the oven with crushed potatoes and lemon.  (prix fixe)
A wonderfully simple yet completely flavorful presentation; great combination of citrus flavor from the lemon potatoes and fish.
Chocolate Warm Cake:  Caramel sauce and topped with yogurt sorbet.  $12
Warm, sweet, moist, gooey chocolate cake contrasted by the yogurt sorbet; plate-licking delicious.
Apple Tart:  Very fine layers with brown sugar and apple sorbet.  $12
Classic tart. Flaky, sweet and full of flavor. Double down on flavor with the apple sorbet.
In true European style, we were provided small "extra" tastes between courses, compliments of the chef — a very nice touch. Additionally, Maison Blanche has an extensive wine list from which to choose your perfect pairing. The service was friendly, unobtrusive, focused and efficient; very professional and attentive.
Accolades aside, the dining experience at Maison Blanche is uniquely superb; it's the perfect spot for a special dining occasion. If you are one of the many unaware or vaguely familiar with Maison Blanche, treat yourself to a true culinary treat and make a New Year's resolution to dine at Maison Blanche.
SRQ Reviews, the restaurant guide you need to find the best dining and new restaurants in Sarasota, Florida.
Click for a virtual tour of Maison Blanche
With seating up to 10 people, Maison Blanche can provide a customized private dining experience for any special occasion.
2605 Gulf of Mexico DriveLong Boat Key, FL 34228