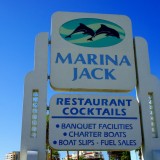 Marina Jack's Restaurant, Deep Six Lounge
SRQ Reviews
on July 11, 2011
Many Venues, Many Menus
Marina Jack's projects a high profile presence on the Sarasota Bay front, but at times, may be overlooked as a dining destination by Sarasota locals.  With 3 different dining venues on land and 1 on the water onboard the Marina Jack II, dining options range from the casual to more formal with menu selections and prices adjusting accordingly.  The Marian Jack's restaurants are as follows:
Portside Patio:  A casual open aired space with tropical drinks and live music.
Deep Six Lounge:  Also a casual dining experience, the Deep Six Lounge offers indoor and outdoor dining on the main level; with music at the piano bar most nights.
Dining Room:  A more formal dining experience on the second floor with spectacular views of Sarasota Bay.
Marina Jack II:  Lunch and dinner cruises on the well appointed ship.
For this review, we chose the Deep Six Lounge, and had the following:
Topped Golden Pineapple Salad:  Your choice of salad toppings served over sliced golden pineapple and accompanied with seasonal fruit and sweet bread.  Tuna or chicken $12.95/Seafood salad $15.95
Sweet, fresh, refreshing and delicious; perfect for a hot summer's day lunch.
Deluxe Club:  Triple decker club featuring fresh turkey, ham, lettuce, tomato and crisp bacon.  All sandwiches include french fries and pickle spear.  $9.95
A classic, nice presentation, good sized portion, very tasty.
Spinach Portabella Flatbread:  Grilled portabella mushrooms, sautéed spinach, artichokes and mozzarella, topped with toasted pine nuts.  $13.95
The flatbread is like a thin cracker with all the tasty toppings; pre-cut into bite size pieces
Sweet and Spicy Duck Flatbread:  Citrus marinated charbroiled duck breast topped with spicy dragon sauce, gorgonzola cheese and mango.  $13.95
Very flavorful, a great appetizer or light meal option.
Marina Jack's offers a full bar service, beer, wine and soft drinks to accompany your meal.  We found the wait staff to be very friendly and attentive.
For casual outdoor or indoor dining with a view of the marina and Sarasota Bay, the Deep Six Lounge at Marina Jack's is a spot worth considering.
SRQ Reviews, the restaurant guide you need to find the best dining and new restaurants in Sarasota, Florida.
The setting at Marina Jack's is a great one, the perfect spot for a drink and appetizer in the afternoon.
2 Marina PlazaSarasota, FL 34236