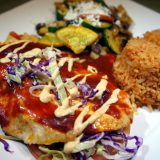 Mariscos Azteca Mexican Seafood Restaurant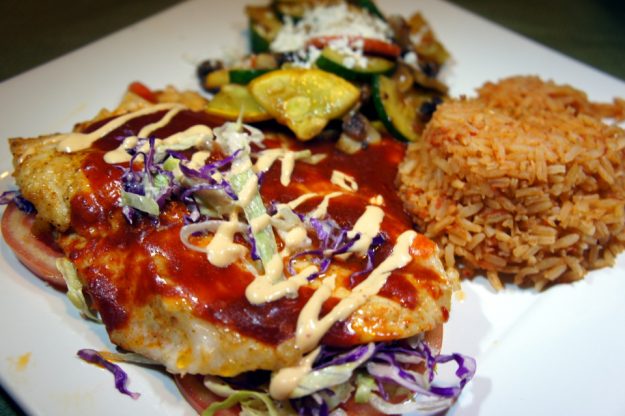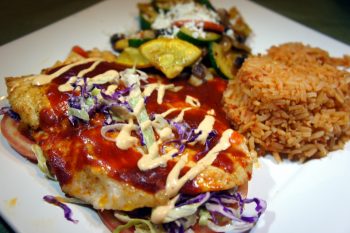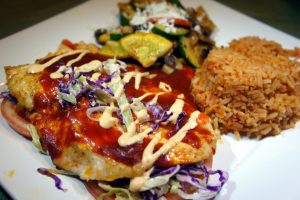 1100 North Tuttle Sarasota, FL 34237
941-210-3873
http://www.aztecasarasota.com/Home.html
View Photo Gallery
SRQ Reviews
on December 19, 2017
When thinking of Mexican cuisine, one often conjures up images of enchiladas, tacos, rice, and refried beans. Yes, those dishes are part of traditional Mexican cuisine, but, so too is seafood. Known as a Marisqueria, Mariscos Azteca is a Mexican seafood restaurant. Yes, Mariscos serves the familiar Mexican cuisine, but the restaurant does specialize in authentic Mexican seafood.
Located adjacent to Ed Smith Stadium, in a small strip mall on the corner of Tuttle and 12th, Mariscos is a small, unassuming, very casual, family friendly restaurant. With a modest, clean, and simple decor, one is completely at ease when entering the restaurant.
Open daily at 11:00am, Mariscos Azteca serves lunch and dinner. The menu is large offering a wide variety of Mexican favorites, lunch specials, and of course, seafood. In other words, a multitude of delicious options which means something for the picky eater, and a tough decision for the connessior.
For our meals we chose the following:
Tostadas de Ceviche:  Raw fish or shrimp cooked in fresh lemon juice, mixed with fresh tomatoes, red onions and cilantro in our specialty spices, topped with avocado slices. We chose Camaron o Pulpo $11.50
Fresh and colorful. A great contrast between the soft fish and crunchy tortilla. Ample pieces of shrimp and fish. Hint of cilantro. Plenty of thinly sliced red onion but not overpowering.
Azteca Salad:  Hearts of romaine lettuce, tomato, red onion, cucumbers, sliced avocado, Mexican queso fresco and our very own avocado vinaigrette dressing.  $6.95
A very fresh and crisp salad. The avocado dressing was mellow with a lucious mouthfeel.
Shrimp Empanadas:  Fried flour tortilla dough filled with shrimp, Monterey Jack cheese, garnished with sour cream, guacamole, lettuce and tomatoes.  (3) $9.95
Light and flaky, not overly filled but adequate. The guacamole was a tad salty. A good starter.
Pork Tamales:  Corn based dough steamed in a corn husk leaf wrapper filled with our specialty marinated pork. Topped with our house green tomatillo sauce, lettuce, and Mexican queso fresco.  (4) $8.75
Great flavors with a slightly spicy kick! The pork's textures was stringy and was well seasoned. The steamed corn was mild. Great value! Easily shared.
Tacos de Camaron o de Pescado:  Soft corn tortilla served with grilled shrimp or fish, topped with lettuce and guacamole.  $2.95
Tortilla was soft, earthy, grainy texture. Guacamole was too salty. Seafood was fresh.
Pescado Sarandeado:  Roasted marinated adobo filet of fish seated in a bed of Chipotle Coleslaw and fresh tomatoes.  Grouper $15.90
Ah yes summer on a plate. Refreshing coolness from the lettuce, cabbage and tomatoes, contrasting with the fresh seasoned fish and sauce. Cool and slightly spicy. Ample size.
Mole Poblano:  An absolute must have chicken breast covered with Azteca style mole made from some of the 30 ingredients, chilies, nuts, seeds, spices, and Mexican chocolate. Rich, bold flavor. Served with a side of Mexican style rice, lettuce, tomato typed with our very own avocado vinaigrette.  $11.25
The Mole was a beautiful dark brown color. Rich and deeply seasoned. Layers of flavors. Slightly spicy. If you are a connoisseur of Mexican cuisine, this is a must try dish.
Chile Relleno:  Large poblano pepper stuffed with your favorite filling: queso fresco, ground beef, carne asada, pastor, carnitas, or shredded beef. Topped with ranchero sauce and our Mexican queso fresco. Served with side of tortillas, rice and beans.  $11.50. (We chose queso fresco.)
Large chile pepper. Amply filled. Soft, tender, not too spicy. Mouth wateringly delicious. A favorite of mine.
Ground Beef Enchilada:  Enchilada topped with enchilada red sauce. Served with rice and beans.  $7.25
A traditional Mexican cuisine favorite.
Chicken Enchilada:  Topped with sour cream sauce, mole sauce or green sauce. Served with rice and beans.  $7.25. (We chose green sauce.)
The texture of the fresh corn tortilla and a little bit of kick in the green sauce made for a tasty enchilada.
Mariscos Azteca offers an adequate selection of soft drinks, imported and domestic beers and wine. The wait staffs are very friendly, work together, fast, helpful in explaining items on the menu, and efficient.
The perfect spot for a casual ethnic meal, Mariscos Azteca is a short drive from downtown; definitely worth the trip!
SRQ Reviews, the restaurant guide you need to find the best dining in Sarasota, Florida.
1100 North TuttleSarasota, FL 34237