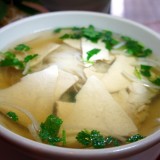 Miss Saigon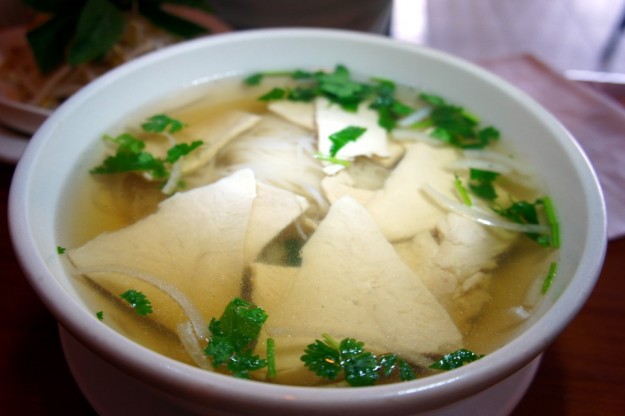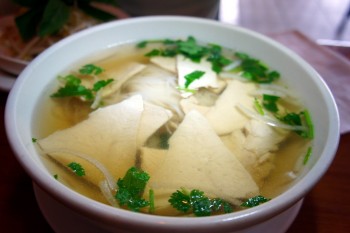 560 N Washington Blvd E Sarasota, FL 34236
941-955-4662
http://misssaigonsarasota.com
View Photo Gallery
SRQ Reviews
on May 14, 2014
Miss Saigon: Simply delightful Vietnamese cuisine…

Located in a small strip mall just north of Fruitville Road, Miss Saigon has an understated presence in the middle of the mall. A small, storefront type of entrance, the restaurant is clean with a simple décor and offers comfortable seating in a rectangular configuration.
The dining room is quiet, with a television in the back of the dining room, near the kitchen. All the tables are set with silverware, wooden chopsticks and a condiment tray. When compared to other Asian restaurants, Miss Saigon offers a simple, yet slightly upscale casual dining space for lunch or dinner.
The menu at Miss Saigon is extensive and reads like a book of culinary creations. Offering a range of appetizers, fresh salads, Pho, noodles, rice and vegetarian dishes, there's something for everyone on the menu. For our meals we had the following:
Banh Mi Ga Nuong:  Sandwich with grilled chicken and topped with carrot, cucumber, cilantro, onions and sliced pepper with special sauce.  $5.50
One of the best Banh Mi sandwiches. Great crispy baguette, nicely filled and full of fresh flavor. One word: Delicious!
Khai Vi Dac Biet:  Vietnamese special appetizers: Two egg rolls, two spring rolls and four shrimp puffs. Served with house and peanut sauces.  $10.50
This is a great way to try a number of Vietnamese appetizers. Perfect for sharing in a group — the spring rolls were nice and crispy, the fresh rolls filled and fresh and the shrimp puffs had a nice crunch and flavor.
Pho Ga:  Sliced white meat chicken in Vietnamese beef-noodle soup, topped with cilantro, onions and scallions. Served with bean sprouts, fresh basil, lime and sliced pepper.  $8.95
A very big bowl of steaming-hot broth, filled with tender chicken. The soup was flavorful and all add-ins were fresh and added depth of flavor to the dish.
Ga Nuong:  Vermicelli with grilled chicken. Served with lettuce, bean sprouts, carrots, sliced cucumber, crushed peanut and accompanied by a special sauce.  $9.25
A reasonably sized portion of fresh ingredients. The chicken was a bit dry but had a nice grilled flavor.
Dau Hu Xao Rau:  Stir-fried tofu and mixed vegetables stir fried in a special sauce, served with a choice of thin egg noodle, rice noodle or steamed rice.  $9.95
We chose thin egg noodle. Fresh and colorful. The sauce added a nice, slightly salty flavor.
Com Chien Rau:  Fried rice with vegetables.  $9.25
A lightly fried rice with no signs of greasiness or fat, filled with fresh, crisp mixed vegetables. We added some chili sauce to the mix and kicked the flavor up a notch. Nice combo of fresh and spicy.
Com Tam Tom Nuong:  Grilled shrimp broken rice platter, served with sliced cucumber, pickle and our sweet-and-sour fish sauce.  $9.95
Two skewers of fresh, moist shrimp. We added some hot/spicy sauce to the fish sauce for an extra kick.
Miss Saigon offers an adequate list of imported and domestic beers and wines and a range of non-alcoholic cocktails, specialty and soft drinks. We found the wait staff to be very quick, attentive, helpful and efficient. The service is fast, but we never felt rushed.
Make no mistake about it, Miss Saigon is a reasonably priced, casual dining restaurant that serves fresh, flavorful Vietnamese cuisine. It's the perfect spot for a quick, something-out-of-the-ordinary type of meal. It's simply delightful.

SRQ Reviews, the restaurant guide you need to find the best dining in Sarasota, Florida.
Share with a friend and create your own soup/sandwich special: Order 1 Banh Mi (Sandwich) and 1 Pho (Soup). You will leave happily satisfied!
560 N Washington Blvd ESarasota, FL 34236