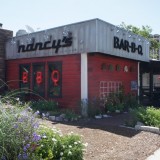 Nancy's Bar-B-Q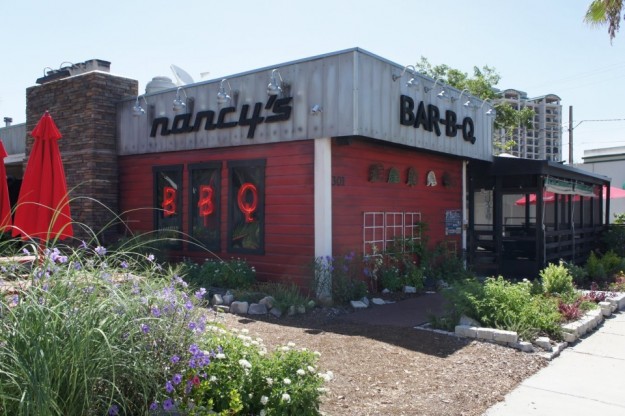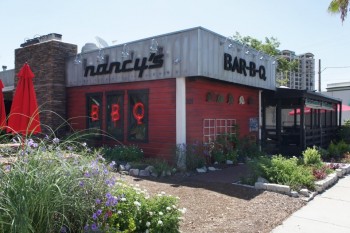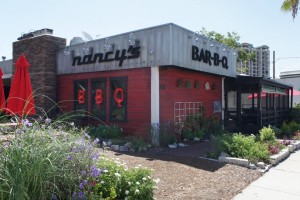 14475 SR 70E at Lorraine Road Bradenton, FL 34202
941-999-2390
http://www.nancysbarbq.com
View Photo Gallery
SRQ Reviews
on January 22, 2012
A Passion for Food and Cooking Inspires an Unlikely Combination
If one were asked to list a number of adjectives describing the typical Bar-B-Q Pit Master, I highly doubt Jewish white woman would be included.  However, Sarasota's own Nancy Krohngold, yes, a Jewish white woman, has been serving some of the finest North Carolina styled Bar-B-Q, to residents of Sarasota for a number of years.
Originally, serving her Bar-B-Q from a mobile cart in various events and locations throughout the city, Nancy partnered with the Caragiulo family (Caragiulos, Owens Fish Camp) to open a more permanent location.  After renovating a long standing building on the corner of Ringling Boulevard and South Pineapple Avenue with a distinct southern Bar-B-Q motif, the foundation of Nancy's new home began to take shape.  With its new location completed in March, 2011, Nancy's opened to pent up demand from loyal customers, and culinary curiosity from the uninitiated.  Needless to say, the opening exceeded expectations, and the restaurant remains busy.
The menu consists of barbecue pork, chicken, ribs, brisket, and salmon served in sandwiches, combo trays, or salads.  There are a number of hot and cold sides to accompany your meal.
For our meals we chose the following:
Brisket Sandwich:  All meat items include 2 sides.  We chose baked beans with pork and edamame succotash.  $9.45
The brisket was stringy, moist, and full of layered flavor.
Pulled Pork Sandwich:  All meat items include 2 sides.  We chose baked beans with pork and red skin potato salad.  $7.95
Very flavorful, smoky, we added some sweet sauce and it topped it off perfectly.
Chopped Salad:  Your wife wants this.  No sides with this item.  Romaine, blue cheese, bacon, corn and edamame mix, smoked sliced almonds, red bell pepper, scallions, herb vinaigrette. Topped with pulled chicken.  $8.95
Fresh made large portion, flavorful, colorful; a nice alternative for a lighter meal.
Texas Holy Trinity:  Ribs, Brisket, Texas Hot Link (hot or mild) served with 2 sides.  We chose baked beans and edamame succotash.  $18.95
Truly for the BBQ lover, the ribs were meaty and fall off the bone delicious, we added some spicy sauce to the brisket and enjoyed the "chipotle kick"; the sausage was mouth wateringly spicy and served with a nice mustard.
Pulled Chicken Tray:  Seven ounces on the tray, plus your choice of two sides. We chose cold cucumber salad and sesame slaw $9.95
A large portion of delicious pulled chicken! The side salads were very refreshing.
Nancy's Po'Boy:  Three ounces of beef brisket with three ounces of pork topped with creole mustard, creamy cole slaw and provolone cheese on a sourdough roll. Plus your choice of two sides. We chose mac and cheese and potato salad. $10.95
This "special" is outstanding … very juicy, filling and completely satisfying.
Smoked Portobello Mushroom Sandwich:  Qtr lb (4 oz) sliced, topped with sesame crunch slaw on a roll.  $7.95
Very earthy.  For the non-meat eater who wants a hearty sandwich.
2 Beef Brisket Tacos:  Made with fresh handmade corn tortillas. Homemade smoked tomato and jalapeno salsa, fresh chopped onion and cilantro plus 1 side.  $8.95
This is a "Friday Special". Make sure you get over early, they run out. It is the real thing!
Nancy's Bar-B-Q is set up as a counter service restaurant which means the food is readily available, ordered from the counter, placed on tray, paid for, and then you pick your own table or bar area for seating.  The staff are friendly, customer focused, and efficient.  Nancy's offers a reasonable selection of soft drinks, beer, and wine to accompany your meal.
To borrow from Dos Equis' Most Interesting Man in the World, "I do not eat BBQ everyday, but when I do, I am at Nancy's."  Could not agree more!
SRQ Reviews, the restaurant guide you need to find the best dining in Sarasota, Florida.
Nancy's offers a full range of alternative dining options including bulk a la carte (eat in or take out) and catering (12 or more) menus, for pick up or delivery. Nancy's own BBQ sauce is also available for purchase.
Nancy, besides being an awesome "smoker" is an awesome person. Please read our blog about Nancy and her commitment to the Sarasota community. Nancy Krohngold: Food, Fun, Community and Commitment.
14475 SR 70E at Lorraine RoadBradenton, FL 34202