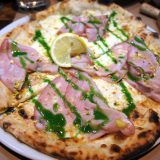 Napule Ristorante Italian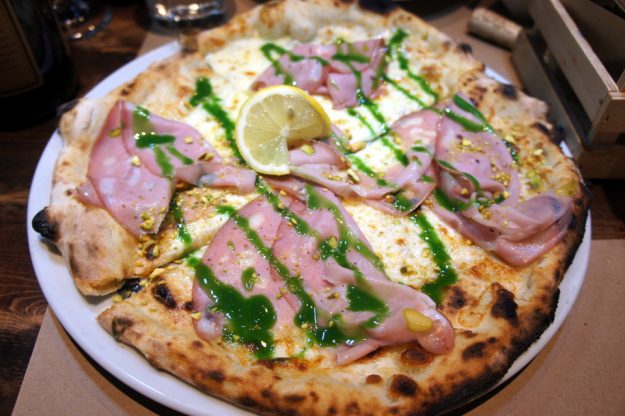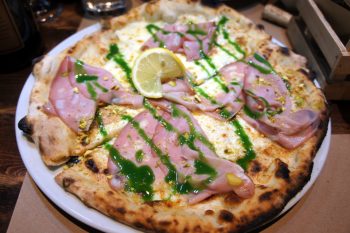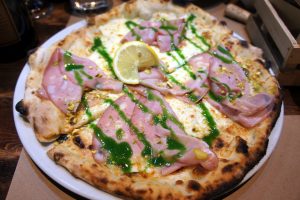 7129South Tamiami Trail Sarasota, Florida
941-914-8642
https://napulesarasota.com
View Photo Gallery
SRQ Reviews
on October 15, 2018
Hey Sarasota! Who is looking for a trattoria dining experience like no other?
It has been said, and this writer tends to agree, there are a disproportionate number of Italian restaurants in Sarasota. While it is true, Italian cuisine does offer a variety of food types, regional geographic diversity, and wide appeal for diners; differentiating one Italian restaurant from another poses a challenge in Sarasota. How does a restauranteur stand out?
One current example of a restauranteur creating a special Italian dining experience is Napule. Open for just a little more than a year, Napule is setting the standard for casual Italian dining in Sarasota. The former owners of Made in Italy (Venice, FL) have combined their talents once again to bring an authentic, homemade, family oriented restaurant…this time to the South Trail. Designed and built from the ground up, the restaurant space is open and contemporary; with ample amounts of glass, stone, and wood throughout. The large open aired kitchen, wood-fired pizza oven, and a good sized cocktail bar are all set to serve the always crowded, high energy, 2 story dining room. Please note, the decibel level inside the restaurant is high.
Offering an extensive menu of homemade pasta, bread, pizzas, imported meats, cheeses, and much more; making a selection is no easy task. For our meals we chose the following:
Naturale:  Mix greens, watercress, fennel, beets, and mixed grains.  $9.50
A very fresh salad, sweet beets, refreshing fennel and the grains make it hearty. Definitely can be a lunchtime meal.
Cesare Salad:  Romaine, crispy polenta, and shaved parmesan.  $8.95
Fresh, crisp, green and cold with a nice little snap. Warm polenta croutons soften the cheese, a nice surprise. The dressing was creamy not too garlicky.
Insalata di Polpo e Patate con Sedano e Noci:  Cold octopus salad with potato, celery, and walnuts. $13.95
Just one word…Fantastic! The octopus was so tender. Loved the combination of textures; chunky potato and crunchy celery.
Vitello Tonnato:  Roasted veal thinly sliced, served chilled covered with a creamy sauce flavored with tuna.  $15.95
Subtle tuna flavor not forward at all. No mayonnaise flavor. Very good.
Polipetti Alla Luciana:  Sauteed octopus with fresh tomato served with crostini.  $12.95
If you are an octopus aficionado, as am I, then this dish is for you. So, so very tender. Almost melts in your mouth. Use the bread to sop up the sauce.
Impepata di Cozze:  Sauteed mussels with olive oil, garlic, and parsley.  $13.50
Fresh and clean, these mussels are perfect for sharing.
Pistachio Pizza:  Mortadella, provolone, mozzarella, and pistachio cream.  $13.50
Have you ever tried pistachio pizza? Neither have I!
Unique in taste, this is an "Oh my" dish! Sweet, nutty, salty, savory. Paper thin crust.
Salisiccia e Funghi Pizza:  Tomato sauce, mozzarella, sausage, mushroom, and onion.  $12.95
Paper thin, crispy crust, lightly dressed, full of flavor, and very satisfying.
Diavoletto Panuozzi:  Mozzarella, spicy salami, and grilled eggplant.  $10.95
A unique sandwich made from pizza dough. It was crunchy on the outside, with a nice spicy kick to the salami. Very filling.
Fettuccine al Tartufo Nero:  Fettuccine with porcini mushroom and truffle cream.  $18.95
One of my favorite pasta dishes. This fettuccine was silky, creamy, earthy, and rich. True mushroom flavor forward. Delicious!
Zuppetta Allo Scoglio:  Swordfish, calamari, mussels, clams, and shrimp sauteed with a light tomato sauce.  $27.95
Such a clever presentation, it is in a special bowl with handles so you can pick it up to slurp the last of the sauce! A nice sized portion, filled with fresh seafood, mild and flavorful.
Costata di Maiale Farcita con Cime di Rape e Provola:  14 oz grass fed Tomahawk pork chop filled with rapini and smoked mozzarella, wrapped with speck. Served with truffle mashed potatoes.  $29.95
What an outstanding presentation. A large tender and richly stuffed pork chop full of flavor. Definitely a wow type of dish.
Pastiera Napoletana:  Ricotta cheese, dry candy fruit.  $7.95
Crumbly, not too sweet. Delicious! A great finish to the meal.
Chocolate Profiteroles:  Stuffed with Cream.  $7.95
I love profiteroles, these were great. Rich and gooey. A chocolate lovers delight.
Zuccotto:  Sponge cake stuffed with pineapple cream topped with pineapple glaze.  $8.95
An interesting, simple dessert. Light with pineapple sweetness.
Tiramisu:  With a twist of chocolate truffle.  $7.95
One of my favorites. Light and airy, coated with a hard shell of chocolate, a delightful presentation.
Napule offers a full bar service with specialty cocktails, an extensive wine list, beer, and soft drinks to accompany your meal. The wait staffs are very attentive, quick, and efficient. As we mentioned earlier, the restaurant can be noisy; especially in prime time dining hours. Keep that in mind.
Setting a standard may sound like a lofty line, but in the case of Napule, it is a truism. Setting the standard for casual Italian, Napule!
SRQ Reviews, the restaurant guide you need to find the best dining in Sarasota, Florida.
Must make reservations! Go on off hours early dinner/late lunch.
7129South Tamiami TrailSarasota, Florida