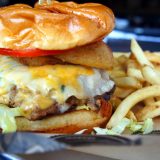 Oak and Stone, University Park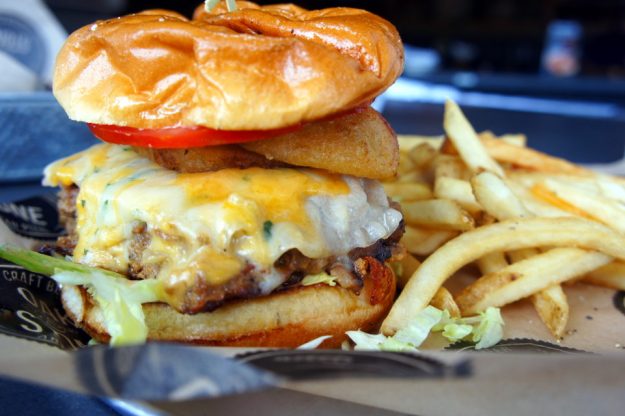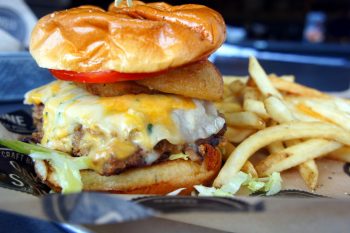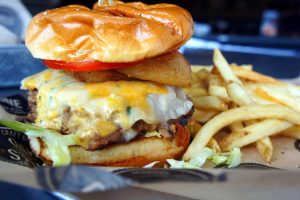 5405 University Pkwy University Park, Florida
941-225-4590
http://oakandstone.com
View Photo Gallery
SRQ Reviews
on October 3, 2017
Craft Beer, Artisan Pizza, and Craft Cocktails…A Match Made in Heaven!
Opened a little more than a year ago, Oak & Stone has carved out an appealing dining and drinking niche. Not your typical pizza place, Oak & Stone is an entirely new concept which melds the best attributes from the neighborhood pub, sports bar, craft beer bar, and specialty hand-made pizza place; into one unique experience.
Oak & Stone occupies a sizeable space in UTC Square at the corner of Honore and University Parkway. With soaring ceilings, an open kitchen area, large bar, indoor dining room, and outdoor seating, the setting is large but in no way overwhelming or impersonal. One differentiating characteristic of Oak & Stone, is the craft beer wall. With over 50 self-serve taps, the selection of craft beers is extensive and the self serve aspects (charged by the oz. and controlled by RFID technology) encourage you to try a variety of beers; a very cool application of technology, in a non-technical business.
Besides its ample selection of craft beers, the lunch, dinner, and brunch (Sundays only) menus offer a wide choice of quality bar food options to complement the beers. For our meals we chose the following:
Black 'n Bleu Steak Salad:  Seared sirloin,spinach, tomato, onion petals, pine nuts, Bleu cheese vinaigrette.  $17
Although our salad lacked the pine nuts, the greens were fresh, the meat very tender and well seasoned, and the onion petals added a great crunch.
House Mix:  Organic greens, strawberry, shaved veggies, citrus vinaigrette.  $6
A very simple, fresh, colorful, and crisp salad.
"Machos":  Bison chili nachos, cheddar, lettuce, pico, sour cream.  $14
This is a definite "Wow" dish! Fully loaded nachos full of color with a range of mouth watering flavors, and moist, tender bison with a spicy kick!
Wood Oven Wings:  Our wings are soaked overnight in our secret brine recipe then slow roasted in our wood ovens. They are topped with our signature hot butter sauce and bleu cheese crumbles and served with garlic toast and ginger honey mustard dipping sauce.  $12
A great wing rendition. No extra sauce needed! Moist, plump, meaty, and juicy. Nicely seasoned. Generous portion. As a starter, easily shared by 2 people.
San Marzano Meatball Sliders:  Fried fresh mozzarella.  $9
Another great starter for sharing. A tad salty for our taste but not overly so.
Classic Pizza:  Fresh mozzarella, basil, pizza sauce.  $10
An American style wood fired crust, dry, crisp and a bit chewy. A simple purist pie.
Sausage and Meatball Pizza:  Provolone, fried mozzarella, pizza sauce, basil.  $14
Another tasty pie.Thin crispy crust. Classic combination, great touch adding the fried mozzarella. Sweet and spicy.
Brunch Pizza:  "The Benedict", garlic sauce, white cheddar, Taylor pork, crispy bacon, caramelized onion, sunny eggs, house hollandaise.  $15
A unique and true breakfast pizza. Fully loaded with Big flavor.
Kobe Meatloaf Club:  Prosciutto, tomato, onion petals, melted cheddar, lettuce, special sauce.  $9
This was a very satisfying and filling hand held. Moist, filling. All expectations met. Good bun.
Griddle Burger:  White cheddar, lettuce, special sauce, onion petals.  $14
One could call this a high end Big Mac. Moist and tender with great flavor combinations. The fries were outstanding, crisp, fresh oil, salted perfectly.
Stone-fired Kobe Beef Meatloaf:  Sunny egg, mashed potato, onion petals.  $17
An excellent presentation, rich, satisfying, fancy comfort food. Not your mother's meatloaf.
In addition to its Craft Beer Wall, Oak and Stone offers a full bar service and soft drinks to accompany your meal. We found the wait staffs to be very friendly, fast, and efficient. One definitely feels welcome here.
How good is a friendly neighborhood bar offering a wide range of craft beers, drink options, and some really outstanding "bar food?" Really good! But do not take my word for it, try Oak and Stone for yourself.
SRQ Reviews, the restaurant guide you need to find the best dining in Sarasota, Florida.
Sunday Brunch, 11:00 – 3:00!
5405 University Pkwy University Park, Florida