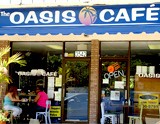 Oasis Cafe
SRQ Reviews
on March 22, 2015
A simple, casual, "go to spot" for breakfast or lunch!
Everyone needs a "go to spot" for breakfast or lunch.  You know, the kind of place where all the food is good, the prices reasonable, and the service friendly and attentive.  The type of place which makes you feel right at home.
We were introduced to the Oasis Café by friends who had it as one of their "go to spots" for breakfast.  Offering an array of breakfast and lunch items, home made pastries and daily specials listed on the blackboard, there is definitely something for everyone.  In fact, making a selection at times can be difficult because everything is so good.  Nonetheless, we chose the following:
Huevos Rancheros: Scrambled eggs with chorizo, onions, potatoes, black beans, and cheddar, in a flour tortilla shell.  $11.00
Spicy, lots of good flavors on the plate with soft corn tortillas, very filling.
Mel's Favorite: Spinach mushrooms and feta cheese scrambled with 2 eggs.  Served with fruit and toast.  $9.25
A nice blend of mild flavors from the spinach and mushrooms and the creamy texture of the feta.
Healthy Bear Creek Pancakes:  Whole grain pancakes with oats, cornmeal and spices.  We added granola, banana, and blueberries.  $7.50 plain, $9.00 with add ins
Hearty, seemingly healthy pancakes, so good it could be dessert!
Breakfast Wrap:  Scrambled eggs, veggies, black beans, roasted red pepper, hummus and cheddar served with fruit.  $9.25
A great combination of flavors and textures; although billed as a special it could be made to order any time.
Two Eggs with Toast:  $5.00
Prepared exactly as I asked.  The millet bread was delicious!
Blueberry and Lemon Scone:  $2.50
Fresh and dry, not too sweet, subtle flavor.
Low Fat Yogurt Sundae: With house-made granola and fruit.  $7.50
The fruit was fresh and the granola was "the real deal."  Yummy.
The Oasis Café offers a range of soft drinks, coffee, and tea to accompany your meal. The service is fast, friendly, and efficient. We noticed the regulars being greeted by the wait staff, as were our friends, when we arrived. In fact, the waitress knew exactly what our friends wanted right down to their smallest substitutions; impressive!
As I mention earlier, everyone needs a "go to" list, we just added the Oasis Café on Osprey Avenue to our breakfast and lunch list. If you try it, I am sure you will consider adding to your list as well.
SRQ Reviews, the restaurant guide you need to find the best dining in Sarasota, Florida.
If you have a preference for ingredients or preparation, let the wait staff know. They are very willing to make changes for their customers' preferences.
3542 South Osprey AvenueSouthgate South, FL 34239