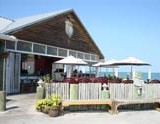 Old Salty Dog, City Island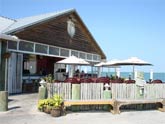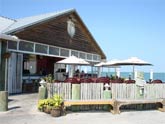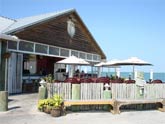 1601 Ken Thompson Parkway Sarasota, FL 34236
941-388-4311
http://www.theoldsaltydog.com
View Photo Gallery
SRQ Reviews
on January 2, 2011
"Old Florida," Family Friendly, Fun
An iconic, old Florida styled restaurant located on City Island, The Salty Dog is all about fun.  The City Island location (there is another Salty Dog located in Siesta Key Village) offers sweeping views of New Pass, the Longboat Key Bridge, and the Bay.  With most of its seating open-aired, The Old Salty Dog is the perfect spot to have a drink or casual meal while soaking up some sun and enjoying a great view. In fact, even on cooler days, you can get protection from the wind and still be outside soaking in the whole experience.  You can even bring your dog!
The menu is a casual collection of soups, starters, salads, sandwiches, seafood, burgers, dogs, and specialty items like the Fully Loaded Salty Dog as seen on Man vs. Food.
For our meals we chose the following:
The House Salad with Grilled Grouper:  The BIG salad, romaine lettuce, cherry tomatoes, cucumber, croutons, and grilled grouper $14.90
A large salad with very fresh ingredients.
City Island Po' Boy:  Fried shrimp and oysters served on a toasted Ciabatta roll, garnished with lettuce and tomato and a spicy Creole sauce on the side $12.95
A good sized roll filled with crispy shrimp and sweet oysters, the Creole sauce was nicely spiced and added a true Cajun flavor.
Oysters on the Half Shell:  Raw or steamed with lemons and cocktail sauce. 1/2 dozen or full dozen/market price.
Large, briney Texas Gulf oysters served with fresh cocktail sauce; delicious.
Traditional Fish and Chips:  Filet of cold water fish, deep fried in our special beer batter.  Served with a mound of golden french fries. $12.95
Two large fish filets, crispy golden batter, moist and flaky.
New Pass Mussels:  PEI mussels steamed and tossed in garlic butter and served with toast points 1.5lbs $9.95, 3lbs. $17.95, 5lbs. $30.95
Fresh, sweet steamed mussels with a nicely seasoned garlic broth.
Mahi Mahi Wrap:  Grilled mahi mahi in a warm flour tortilla with fresh romaine, and mango salsa. $14.95
Fresh and moist mahi mahi, mango salsa added just the right amount of sweetness.
The Loaded Salty Dog:  A quarter pound hot dog dipped in beer batter deep fried to a golden brown. Loaded with all the toppings, (as seen on the Travel Channel's Man vs Food.) American, Swiss, Cheddar and Pepper Jack cheeses, sauerkraut, bacon, grilled onions and grilled mushrooms. $13.95
Certainly not health food! Incredibly decadent, layers of flavor, not your everyday dining experience but worth a try.
The Old Salty Dog serves a wide variety of special drinks, beer, wine, and soft drinks.  Service was very quick, efficient, friendly and attentive.
With a broad menu, on the water setting, and a very friendly casual atmosphere, The Old Salty Dog is a "go to" place to grab a drink and a quick bite.
SRQ Reviews, the restaurant guide you need to find the best dining in Sarasota, Florida.
If you want to try the fully loaded Salty Dog, order all the toppings individually, and save $1.00.
1601 Ken Thompson ParkwaySarasota, FL 34236