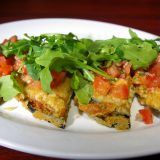 Opa! Opa! Greek Restaurant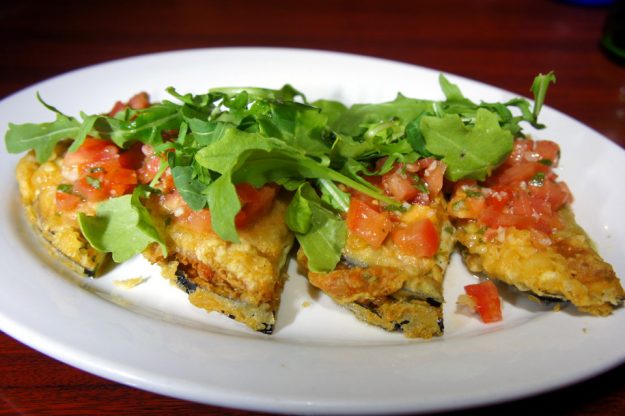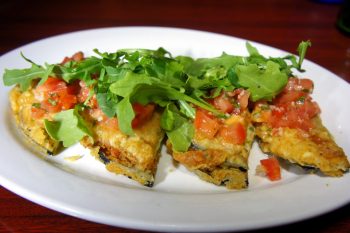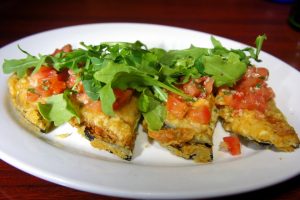 6525 Superior Avenue Sarasota, FL 34231
941-927-1672
http://opaopagreekrestaurant.com
View Photo Gallery
SRQ Reviews
on December 20, 2016
Opa! (Greek: Ώπα) is a common Greek verbal emotional expression used frequently during celebrations such as weddings or dancing in Greece.[1] In Greek culture, the expression sometimes accompanies purposeful or unintentional plate smashing.[2] It can also be used to express shock, especially when having just made a mistake.
Located on Superior Avenue in Gulf Gate, Opa! Opa! is a celebration of Greek cuisine. With a simple, understated ambience; the restaurant is small and welcoming. There is a busy open kitchen overlooking the casual dining room.
With a focus on authenticity, Opa! Opa! offers a broad selection of homemade Greek staples and a nightly list of fresh Mediterranean specialties.
For our meals we chose the following:
Charred Broiled Octopus Appetizer:  $10
A very simple presentation. A tad chewy but offers good flavor.
Stuffed Eggplant:  With saganaki cheese and fresh tomatoes and basil.  $10
A light, not in the least bit heavy, with a bright, fresh flavor. Our dish was missing the basil but arugula was a fine substitute.
Chicken Breast Special:  Stuffed with spinach and feta, topped with saganaki cheese and lemon sauce. Served with soup or salad.  $25
The salad was fresh, crispy, and flavorful, the feta was a bit dry but offered a welcomed tangy element to the salad. Insiders refer to this dish as the golden egg. A large sized chicken breast that is truly stuffed; rich, creamy, sweet, salty, lots of flavors going on in this dish. Very filling!
Lamb Chops (4):  Marinated in lemon and olive oil. Charbroiled and seasoned with Greek herbs. Served with a choice of 1 side and soup or salad.  $21
A classic rendition of tender lamb, marinated and grilled to perfection. The ideal complement to a Greek salad.
Greek Combination Platter:  Combination of dolmathakia, Moussaka, pastitsio, and spanakopita. Served with choice of side and soup or salad.  $19
Dolmathakia, Grape leaves stuffed with ground beef, rice, and Greek herbs.
Mild stuffing of rice and beef, tender grape leaves, light lemony sauce.
Spanakopita, Spinach, Feta cheese, onion, and a special blend of spices, baked in a phyllo dough crust.
Creamy, flaky, buttery flavored phyllo…pure goodness.
Moussaka, Baked eggplant, potato, and spiced ground beef topped with Béchamel sauce.
Rich and creamy, the perfect item for a cool evening, very filling and extremely satisfying.
Pastitsio, Seasoned ground beef and layers of macaroni, topped with Béchamel sauce.
Served side by side with the Moussaka this pastitsio was also a very filling item. Super Greek comfort food at its best. Value alert!! The combination platter can easily be shared by 2 people.
Shrimp Santorini:  Vanni's favorite! Baked with fresh tomato, basil, garlic, and olives, topped with melted feta cheese. Served with choice of side and soup or salad.  $18
Tender shrimp cooked to perfection, with a savory briny flavor.
Baklava:  $4
Sweet but not too sweet. Cinnamon, honey and nuts wrapped in thin flaky crust…the perfect combination! One of my favorites!
Opa! offers an adequate selection of Greek beer and wine to accompany your meal. The wait staffs are friendly, knowledgeable, offering suggestions on items to order, and efficient; providing a delightful dining experience.
So why not give Opa! Opa! a try and celebrate an authentic Greek dining experience?
SRQ Reviews, the restaurant guide you need to find the best dining in Sarasota, Florida.
6525 Superior AvenueSarasota, FL 34231