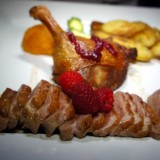 Ophelia's on the Bay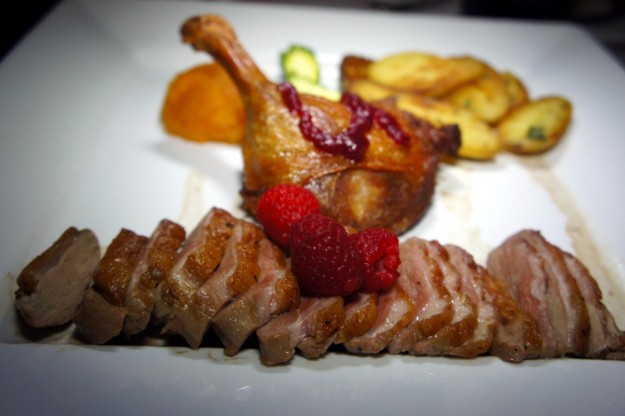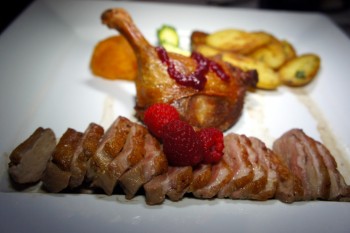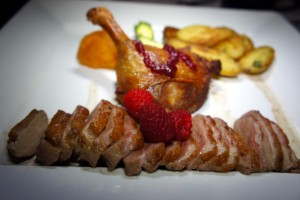 9105 Midnight Pass Road Siesta Key, FL 34242
941-349-2212
http://www.opheliasonthebay.net
View Photo Gallery
SRQ Reviews
on February 9, 2010
Understated elegant dining in a tranquil, natural setting with stunning waterfront views…
Need we say more? Located on the southern end of Siesta Key, Ophelia's low profile presence easily blends into the natural setting.
Upon our arrival, we were warmly greeted by the parking attendant.  While striking up a conversation, we learned he worked at Ophelia's on the Bay for over 17 years.  This tenure, especially for a parking attendant, struck us as unusual. However, it speaks volumes about the philosophy and management of Ophelia's.  We made a note to check the tenure of other staff and found it to be equally compelling in terms of longevity.  Interestingly, we were not only impressed by the professionalism of the staff, but most definitely felt as if any person waiting on us treated us as if they were an owner.  A characteristic we attribute to commitment, cultivated over time.  Given this initial impression, we were anxious to try the food.
Ophelia's menu is extensive, but changes daily depending upon the availability of fresh ingredients. For our dinners, we choose the following:
Eggplant Crepes:  Mascarpone, Buffalo mozzarella, ricotta, spinach, tomato basil sauce $15.00
Light thin crepes with a silky smooth filling, a must try dish for any eggplant lover.
Assorted Spring Greens:  Caramelized pecans, watermelon radish, blueberries, cran-raisins, buffalo mozzarella, mustard vinaigrette.  $13
Fresh, wonderful combination of sweet flavors.
Bonus Secour Oysters:  Applewood bacon,caramelized onions, worcestershire, tabasco, sambuca, baby spinach, grana padano, horseradish infused bearnaise sauce.  $15
Very rich, filing, with strong bacon flavor.
Mahi-Mahi:  Coconut and macadamia crumb crust, tropical fruit jam, habanero potatoes.  $30
Thick cut of fresh fish. Loved the flavors combination of the crust and jam. Potatoes very good, but no kick.
Tenderloin of American Veal:  En sous vide with rosemary, marsala scented mushroom and garlic saute, horseradish bearnaise, brown buttered herb spaetzle.  $36
Rosemary throughout! Super tender. Served with Bearnaise, but no need for additional sauce.
Two Preparations of Duck:  Seared breast with red wine raspberry gastrique, crispy leg quarter with cardamom apples, roasted fingerling potatoes.  $36
Two cooking methods, 2 totally different flavors. Both delicious. Rich, nice layer of fat. Gives a silky mouth feel. Earthy.
Genuine American Red Snapper:  Key lime poblano relish, jumbo lump blue crab guacamole, sweet potatoes $30.00
Sweet and spicy with just a subtle hint of heat mixed with the flaky texture of the snapper; a nice combination.
Wild Tasmanian King Salmon:  Warm grilled onion and tomato salad, dill emulsion, fingerling potato and vegetable hash $29.00
Sweet and firm; salmon is always a favorite.
Long Bone Ribey Chop of Veal:  Rosemary-garlic perfume,  crispy cippolini and maytag bleu salad, balsamic syrup, grana risotto.  $39
Beautiful presentation, tender, moist, perfectly prepared.
Key Lime Pie:  With whipped cream $9.00
Sweet, tart, and tangy; a great rendition of a Florida favorite.
Belgian White Chocolate Mousse:  Infused with Frangelico and Served with Fresh Berries and Fresh Whipped Cream.  $10
It actually looked sexy…And tasted delicious!
The bread service is unique. Ophelia's on the Bay serves a fresh baked, warm bread infused with roasted garlic; absolutely delicious and a great way to start a meal. There is a good selection of domestic wines and a full bar service as well.
Ophelia's offers something for everyone. An extensive menu, traditional or casual dining, indoor our outdoor seating, great food, served by a well tenured and customer oriented staff, who can ask for more?
SRQ Reviews, the restaurant guide you need to find the best dining and new restaurants in Sarasota, Florida.
If you are a boater and would like to reach Ophelia's, it is accessible at marker 48 on the intra coastal waterway. Also, nightly, order before 5:45pm, $25 for a 3 course meal, ask your waiter for the special menu. (Excludes holidays.).
9105 Midnight Pass RoadSiesta Key, FL 34242