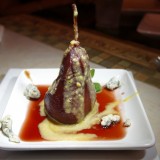 Ortygia Ristorante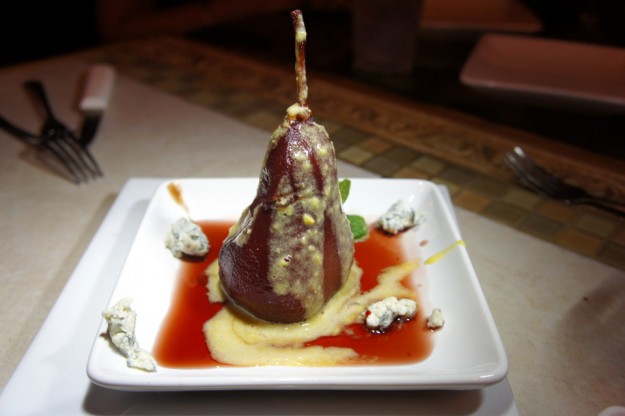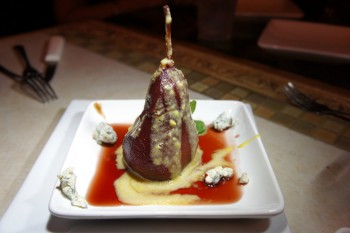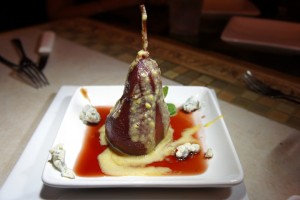 1418 13th Street West Bradenton, FL
941-741-8646
http://www.ortygiarestaurant.com
View Photo Gallery
SRQ Reviews
on January 17, 2012
Regional Sicilian Cuisine in a Most Unusual Locale…
If I were asked where to find an authentic Sicilian restaurant, my answer might be New York, New Jersey, or perhaps Philadelphia. Honestly, Bradenton would not be at the top of my list, until now!  Chef Gaetano Cannata, a second generation Sicilian who originally hails from Hoboken, New Jersey (home to Frank Sinatra) opened his own restaurant, Ortygia about 5 years ago in downtown Bradenton.
Occupying a small, fully renovated, and very cute Florida cottage, Ortygia sets the stage for home styled Sicilian cooking.  Eclectic décor, a large courtyard space, and a warm, friendly staff project a comforting casual atmosphere from which to dine and explore new dishes.
Sicilian cuisine is different from southern Italian; influenced by its proximity to North Africa, Sicilian dishes tend to be savory, sweet and sour, and often use olive oil, wine, and red wine vinegar (no balsamic here) for flavoring.
For our meals we chose the following:
Torta di Carciofi:  Fresh hand-made tart with artichoke & caramelized onion, baked in a hand-rolled crust with a touch of sweetness.  $8.50
Well prepared, flakey pastry, sweet and  delicious.
Torta Rustica:  A timeless Scilian classic. Ricotta filled tart with provolone and parmegiano reggiano in a layer of proscuitto in our hand rolled crust.  $9.50
The crust had a touch of sweetness to it, the filling rich and flavorful.
Insalata di Lenticchia Siciliana:  Organic Montana Black Beluga lentils tossed with extra virgin olive oil, fresh fennel, red onions, black olives and fresh Costa Rican mint from our garden.  $7.50
An unusual combination of flavors and textures, very good, the mint gives the lentils a certain lightness.
Finocchio Arrostito:  Fresh fennel roasted in a chardonnay cream with black olives and pancetta. Finished with a pecorino bread crumb crust.   $9.00
Rich, creamy.
Peperone Ripieno:  Sweet red bell pepper filled with a mixture of aged provolone cheese, golden raisins, fresh tomatoes, pine nuts and black currants.  $8.50
Award winning dish, I can see why. Great combination of flavors, rich and satisfying.
Grilled Harissa Lamb:  Lamb loin chop grilled with housemade mild Tunisian harissa. Served with a side of our eggplant caponata and black beluga lentil salad.  $11.50
Very flavorful. Very difficult to not pick up the lamb chop with my hands and eat every last morsel.
Pollo con Carciofi:  Boneless breast of chicken sautéed in white vermouth & lemon, with artichoke, black olive, spinach & kissed with imported Sicilian Caprino.  $17.00
A very ample serving, the chicken was moist, the veggies included eggplant, tarragon seasoning, very nice.
Cotoletta di Pollo:  Sicilian comfort food at its finest! Boneless chicken breast dusted in homemade bread crumbs, sesame seeds and parmesan, sauteed in extra virgin olive oil until golden brown.  $15
Tender, juicy, cooked perfectly.
Farsumagru:  Sirloin stuffed with prosciutto, provolone, sweet sausage, egg, asparagus, and pancetta, slowly braised in red wine and tomato.  $18.00
A real Sicilian comfort dish, luscious and full of flavor, one word; delicious!
Swordfish or Salmon:  In marsala with large capers and fennel seed.  $21.50
We chose salmon. The fish was prepared perfectly, fresh, moist, and flavorful.
Sicilian Baklava:  $7
Lots of wonderful organic ingredients and not too sweet! Absolutely delicious!
Poached Pear with Gorgonzola:  $7
Great texture and combination with cheese.
Chocolate Mousse Pate with Raspberry Sauce:  Three rectangles of cold chocolate mousse with almonds and raspberry sauce. $7.00
Wonderfully satisfying, a delightful way to top off a great meal.
Ortygia offers an adequate selection of wine, beer and soft drinks to accompany your meal. We found the wait staff to be very friendly, courteous, and helpful; we were even visited by Chef Cannata.
Looking for an alternative to the typical Italian cuisine?  Perhaps interested in trying something new, yet familiar?  Why not consider an authentic Sicilian restaurant which is warm, cozy, and offers food full of flavor?  It is not hard to find.  In fact you only need to look as far as Bradenton!
SRQ Reviews, the restaurant guide you need to find the best dining in Sarasota, Florida.
1418 13th Street WestBradenton, FL