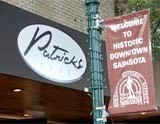 Patrick's 1481
SRQ Reviews
on July 23, 2011
Something Old is Something New Again
Sometimes all it takes is a change of scenery, or in this case a change of venue, to make a stand out impression.  Such is the case with the new location and moniker of Patrick's Restaurant newly renamed to Patrick's 1481.  Having served the Sarasota community from its Sports Pub themed Five Points location for a number of years, Patrick's recently moved to the former Braza location at 1481 Main Street.  What a difference!  A large, bright, high ceilinged space with outdoor seating provides a very comfortable, friendly type of meeting and eating space.  Even though the décor has changed, the sports themed roots have not been abandoned.  In essence, Patrick's has created a new look and feel which maintains familiarity for their regular customers while appealing to new customers.  Well done.
The menu at Patrick's 1481 has essentially remained the same with a casual dining orientation.  Offering soups, salads, appetizers, entrees, burgers and sandwiches, the menu provides a wide selection from which to choose.
For our meals we chose the following:
Flatbread Bruschetta:  Tomato, spinach, feta with a balsamic reduction.  $8.00
Great appetizer or personal "pizza"
Achiote Chicken Tostadas:  Four grilled chicken tostadas with avocado black bean relish. $9.00
Very tasty appetizer, it had crunch and flavor.
Buffalo Wings:  $9.00
Perfect for watching "the game"!
Poor Peter's Portobello Burger:  Portobello mushrooms, roasted red peppers, goat cheese, lettuce and tomato.  Choice of fries or cole slaw.  $8.00
The peppers add great flavor to the vegetarian "cheese burger".
Tuna Burger:  6 oz grilled ahi tuna served with lettuce and tomato.  Choice of fries or cole slaw. $11.00
A nice presentation of tuna with a wasabi kick.
The Small Caesar Salad:  A nice sized portion of romaine, nicely chilled, and appropriately covered with a garlicky dressing and croutons.  $5.00
If you like garlic, you will enjoy this dressing; however the garlic is strong. I truly enjoyed it.
Cheese Burger:  A burger covered with your choice of American, Swiss, cheddar, monterey jack or bleu cheese; served with your choice of fries or Cole slaw.  $7.95
A classic juicy burger.
The South Beach Burger Salad:  Patrick's famous burger on a tossed salad with a choice of cheese (we chose Swiss) and dressing (we chose the vinaigrette.)  $10.95
What a great idea for those of us on the Atkins or South Beach diets!
We found the wait staff to be friendly, attention oriented, efficient and consistent.  As expected, Patrick's offers a full bar service with a good selection of beer, wine, and soft drinks.
Patrick's 1481, a friendly, lively place, located in the heart of downtown Sarasota, serving good food and drink; now that is a place which can become one of my faves.
SRQ Reviews, the restaurant guide you need to find the best dining in Sarasota, Florida.
Now that Patrick's has moved to their new home, at 1481 Main Street, they have outdoor dining and they are "Pet Friendly"!
Happy Hour 4:00pm-7:00pm Daily.
1481 Main StreetSarasota, FL 34236