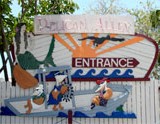 Pelican Alley Waterfront Dining
SRQ Reviews
on August 15, 2009
Old New England seafarer charm dockside on the Intercoastal.
Perhaps it is the history of the locale, or maybe the character or age of the building, but when you take your 1st step into Pelican Alley you feel as if you stepped back in time.  Originally the spot for an "old Florida" fishing club," the area and ownership interests have evolved over some 50 years, yet maintained its historical nautical connection.
With the sense of a local establishment, slightly off the beaten path, serving local customers, and welcoming new ones, Pelican Alley offers a couple of options for seating: Courtyard seating with picnic tables, indoor seating with ample glass for viewing, and a small outdoor area adjacent to the dock.  Even though there were many windows, the inside dining room seemed too dark for lunchtime dining.  We chose the outdoor space and enjoyed the view of the Intercoastal and the busy drawbridge.  It provided a visual and auditory experience to accompany our meal. It was delightful.
Although there are non-seafood choices on the menu, make no mistake, Pelican Alley's culinary focus is seafood.
Our meals consisted of the following:
Tuna, Shrimp, and Salad:  A chilled filet of seared yellowfin tuna and cold cocktail shrimp served on a large house salad with choice of dressing.  $9.70
Broiled Grouper (when available): Broiled in garlic herb butter with rice and slaw.  Market Price
Fish Sandwich: Broiled, Cajun-broiled, or fried fish filet on a Kaiser roll, with lettuce, tomato, and onions on the side.  $9.20
Although the presentation was very basic, we found the food to be fresh, well prepared, and most importantly tasty.  A full bar service, beer, wine, and soft drinks are available to compliment the meal.
If your roots take you back to the ambience of an old New England fishing town or you have an inkling for seafood with a Florida twist, then Pelican Alley is worth the trip.
SRQ Reviews, the restaurant guide you need to find the best dining in Sarasota, Florida.
1009 West Albee RoadNokomis, FL 34275