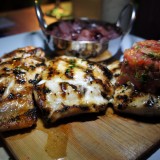 Phillippi Creek Village Oyster Bar
SRQ Reviews
on February 16, 2013
Dine-mark™
noun
1. A special mark of distinction, recognizing a restaurant's quality, unique characteristics, and longevity
If there is one restaurant in Sarasota which deserves a dine-mark, it has to be the Phillippi Creek Restaurant & Oyster Bar.  In the "Old Florida Tradition", The Creek offers a genuine, very casual, family oriented, waterside dining experience in a rustic setting.  With indoor and outdoor dining areas and a new Tiki Bar, the Creek is large; however, the configuration makes the space feel smaller and personal.
The menu at the Creek is large and extensive.  Although there are non-seafood items such as salads, burgers, chicken, and pasta; make no mistake this menu is about fresh seafood and plenty of it!  With multiple types of preparation, the seafood is prepared just the way you like it.
For our meals we had the following:
Oysters on the Half Shell:  Market Price.  $10.00 ½ dozen
Fresh shucked gulf oysters, creamy and full of liquor.
Wahoo Ceviche Cones:  Key lime juice, sriracha, cilantro, ginger, garlic, salt, blue corn tortilla cones.  $9.95
A terrific presentation, fresh, crisp, refreshing. Very creative.
House Salad:  $5.95
Fresh, big portion, carrots, peas, cucumber, red cabbage.  A perfect way to start the meal.
Florida Cobb Salad:  Crispy grouper bits, applewood smoked bacon, egg, avocado, mango, Maytag bleu, Valencia orange vinaigrette.  $16.95
A great combination of flavors, colors, and textures…very fresh and filling.
Calypso Salmon Salad:  Tomatoes, cucumber, green beans, chick peas, sweet plantain, Key West vinaigrette.  $13.95
Plentiful, fresh, the soy sauce honey glaze on the moist salmon was delicious.
Grilled Tilapia Santa Fe Salad:  Grilled pineapple, black bean salsa, avocado, queso blanco, tortillas, roasted vinaigrette.  $16.95
The fish was fresh, moist and sweet; the salad was flavorful.
Grouper Ruben Sandwich (Special):  English cheddar, chipolte aioli, crispy potato wedges.  $14.95
A creative interpretation of an "old Florida" classic, a great mix of flavors, moist, and mouth filling, served on a soft warm bun.
Buffalo Oysters:  1/2 dozen  $13.95
Very tasty, nice kick!
Seafood Kabob:  Shrimp, grouper, lobster, with teriyaki pineapple topping. Served with choice of french fries, baked potato or rice, with hush puppies and coleslaw.  $19.95
Veggies were firm and crisp, the grouper was amazingly sweet, shrimp and lobster fresh and moist.
Ahi Tuna Special:  Charbroiled or blackened.  $21.95
This piece of tuna was fresh, cooked to temperature, and very flavorful. My mouth waters just writing this description.
Seafood Feast (Special):  Seafood stuffed 1/2 Maine lobster, crab crusted jumbo shrimp, creamy potato mash, grilled asparagus, lemon scampi sauce.  $23.95
A winner!  Everything was fresh and delicious!  Great value!
Mahi Mahi :  Char grilled or blackened.  Served with hush puppies, cole slaw, and your choice of potato, rice, or steamed vegetables.  $21.95
All was fresh and tasty! Even the sides were great!
Creek Combo Pot for 2:  Each pot contains 2 dozen oysters, ½ lb. of shrimp, 2 ears of fresh corn, onions, celery, and fresh baked garlic bread with a choice of toppings (Snow Crab, Stone Crab Claws, Alaskan King Crab, ½ sea scallops.  Market Price
A large pot filled with sweet, delectable steamed seafood, a great mix of flavors, meant to be eaten with your hands! Finger licking goodness.
Key Lime Pie:  $5.95
If you like your key lime pie tart…this is the place to have it!  Good graham cracker crust.
Phillippi Creek Restaurant & Oyster Bar offers a full bar service, wide selection of beers and wines and, of course, soft drinks.  We found the wait staffs to be very friendly, quick, efficient, and attentive making the dining experience pleasurable.
We are often asked "Where can we get good seafood in Sarasota?" The answer is simple, Phillippi Creek Restaurant & Oyster Bar, for a taste of "Old Florida" in a rustic, family friendly, waterside setting. Get your Grouper on at "The Creek."
SRQ Reviews, the restaurant guide you need to find the best dining in Sarasota, Florida.
Although "The Creek" is open every day of the year, except Thanksgiving, reservations are not accepted. At times it can be very busy. So, plan accordingly. Also, daily specials are creative so make sure you hear the specials before ordering.
5353 South Tamiami TrailSarasota, FL 34231