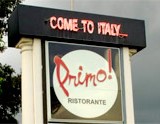 Primo Ristorante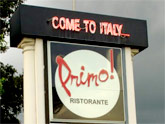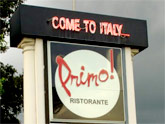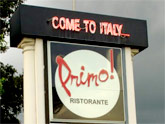 8076 North Tamiami Trail Sarasota, FL 34243
941-359-3690
http://primo-ristorante.com
View Photo Gallery
SRQ Reviews
on December 18, 2009
Big tastes! Big Portions! Big Italian! That is Primo Ristorante….
Just north of Braden Ave and the SRQ airport, the "Old School" Primo Ristorante stands on its own.  Destination dining Italian style, Primo offers "over the top" Italian décor, wine bottles, coffee pots, antique style Italian ads, and photos adorn all the walls and multiple rooms.
With a large selection of salads, wood fired brick oven pizzas, pasta, seafood, meats, and all the classic Italian dishes, making a selection can be a challenge.
We chose the following:
Lobster Ravioli:  tossed in lobster bisque brandy sauce and asparagus  $11.00
Pillowed pasta, generously filled, with a rich creamy sauce.
Sea Bass Positano:  topped with artichoke, shrimp, and pinot butter sauce  $24.00
Fresh, firm, with a lemon butter flavored sauce.
Veal Modena:  topped with balsamic glaze, prosciutto and fontina cheese  $22.00
Tender pieces of pounded veal in a salty sweet sauce.
All of the entrees are served with pasta, Primo salad, and muffalato bread, in addition, you can substitute a Caesar salad for an additional $2.00. Primo offers a broad selection of beer and wine to accompany your meal. We chose the light Trebbiano to accompany our meal $6.00.
With an extensive menu, very large portions, good food, and affordable prices, this is an ideal spot for family friendly dining; just the type of place I remember visiting when I was a child.
SRQ Reviews, the restaurant guide you need to find the best dining and new restaurants in Sarasota, Florida.
Special: Spaghetti and meatballs for 4 people only $9.95!! Take out only.
8076 North Tamiami TrailSarasota, FL 34243